One of the most reliable among the banks in India is the Bank of Baroda. It is among the 13 nationalized banks in the country, owned by Gujarat. It offers banking and financial services at a global level. Bank of Baroda net banking is known for its premium care.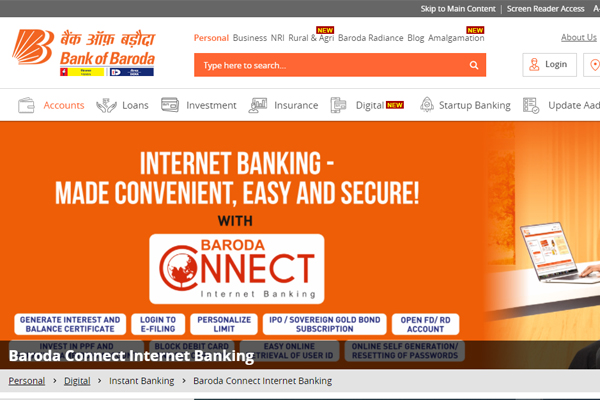 Bank of Baroda is considered the second-largest bank that was serving the country, right after State Bank of India. It has its headquarters in Vadodara and its corporate office in Mumbai. It has 8500+ branches across the world, serving 131 million customers.
To make banking faster, Bank of Baroda makes its services available at your fingertips with its net banking facilities. IMPS, NEFT and RTGS facilitate quick fund transfers. All you need is the IFSC code, used for safe and fast transactions between banks.
Keep reading to find out how easy it is to register for the online banking facilities of Bank of Baroda.
Bank of Baroda Internet banking: How to activate?
Bank of Baroda's internet banking facility, i.e., Baroda Connect, is there to provide round-the-clock support to its customers. All your personal and official banking options are just a click away. You just need your ID and password to access your accounts.
To get started on this journey, you have to follow a few simple steps as mentioned below:
1) Start by downloading the net banking form as a Retail (i.e., individual) user or a Corporate user (i.e., non-individuals like a company, firm, HUF, etc.) from the bank's website home page. You can even get in touch with the nearest branch for this.
2) Fill out the form with all necessary details, and get it signed by the signatory, i.e., the account holder. If it is a partnership firm or a joint account, there will be multiple signatories who should all sign this form before its submission.
3) The form, once duly filled and signed, needs to be submitted at the branch where you will maintain your account for processing. This is called your base branch.
4) Once processed, you will receive your unique User ID via email. Later on, you can retrieve your ID by clicking on the "Forgot User ID" option on the login page.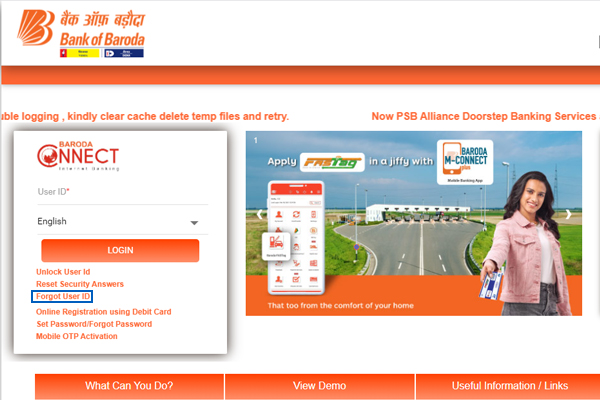 5) After receiving the User ID, you'll need to set a unique password by clicking on the "Set Password" option, which you will find on the login page of the bank's site.
One advantage that you will get as a retail customer is that you can register for Baroda Connect from your home or office – as long as you have a debit card. You don't need to visit the base branch. There's an option to register online using your debit card.
How to Transfer Funds Online in Bank of Baroda?
Bank of Baroda net banking is available for all its customers. The best thing about this facility is that it is quick and easy to use. But more importantly, it is absolutely safe. You can transfer money to any bank account using just five simple steps as follows:
1) Start by logging in on Baroda Connect.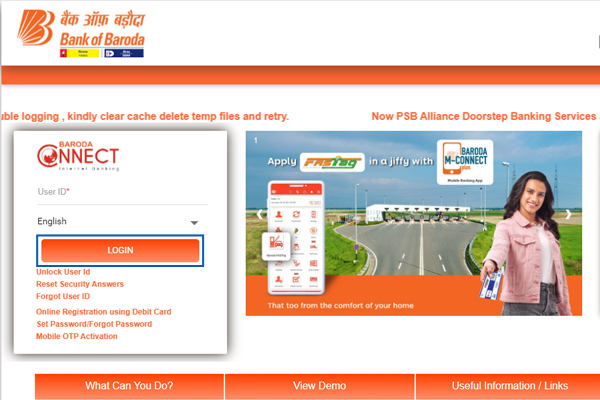 2) Find the Transfer option.
3) Select NEFT/RTGS to move funds to other banks.
4) Add all the necessary details.
5) The final step is to just hit the transfer option.
It's absolutely simple, and you can do it from your home or office within minutes. All banking options will be available for you 24/7.
How to Add a Beneficiary to the Bank of Baroda?
To transfer funds, it's best to add the recipient as a beneficiary, which is a one-time process. Depending on the bank and the branch where they hold their account, you will need to use the Bank of Baroda IFSC code or the code of the other bank.
The entire process is divided into two parts – a) the registration of the beneficiary and b) the Confirmation of the beneficiary.
Beneficiary Registration
1) After logging into the website, select the Fund Transfer option.
2) Choose a transfer option, i.e., NEFT/RTGS. It can be an interbank transfer to a non-BoB account or a Third Party transfer within the bank.
3) Select the 'Register Beneficiary' option.
4) Add the Bank of Baroda IFSC code of the beneficiary. If you do not know it, you can search for the code in the given link.
5) Also, add the name and account details of the beneficiary. Make sure that all the details added are correct before submitting the details for Confirmation.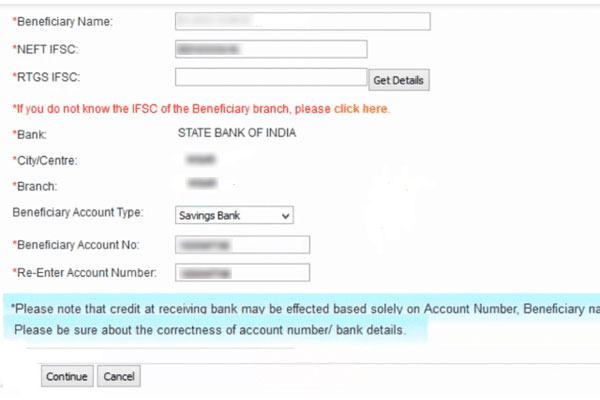 Beneficiary Confirmation
1) Once the details are checked, you will receive a text message and an email with a tracker ID and a notification about the availability of the facility.
2) Click on the Beneficiary Confirmation link and enter the tracker ID.
3) View the beneficiary details displayed on the screen. Check the details and Send for Confirmation to Beneficiary to complete the registration process.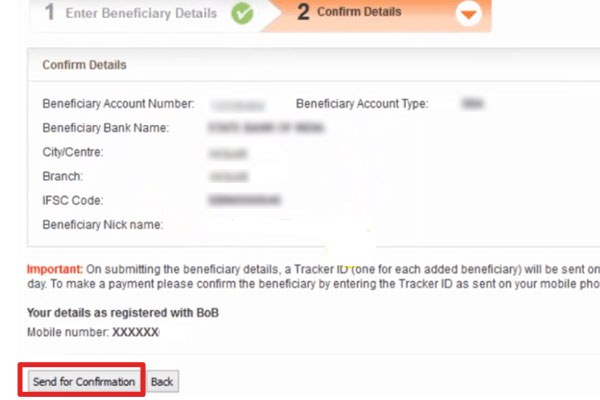 This is a one-time process for each beneficiary, and you can choose this beneficiary to send funds repeatedly without having to key in the same details regularly. You can also send funds without beneficiary registration, which is helpful in one-time transfers only.
How to Check the Balance in Bank of Baroda?
Use traditional, offline methods and modern, online methods to check your balance in Bank of Baroda. Offline methods include updating the passbook or using the Debit card at a BoB ATM counter. You can send a missed call or text or call their customer service.
Online methods include net banking. If you have activated your net banking facility, all you have to do is use your User ID and Password to log into your account details on the bank website. Then, you can choose the View facility to check your account balance.
In addition, you can check your account balance using the Bank of Baroda mPassbook mobile app that allows you to check your balance. It records your transactions, too. You can try the mobile banking app M-Connect Plus to access all bank statements.
How to Change Mobile Number in Bank of Baroda Account Online?
Earlier, hanging your registered phone number used to be a long and arduous process at the bank. However, you can complete a major chunk of the job at home, thanks to net banking. Here's what you need to do to complete the process in a few simple steps –
1) Visit the bank website and find the option to Download Forms.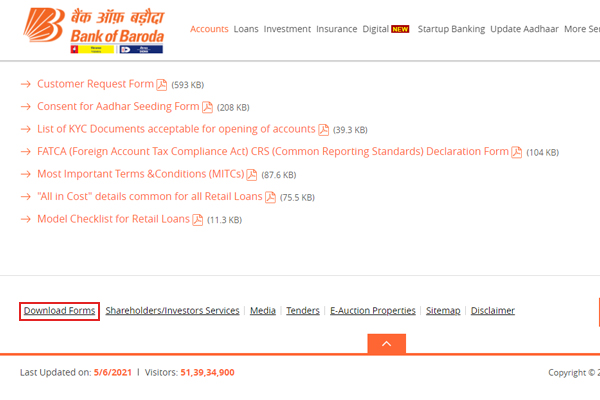 2) Select the option for Mobile Number Updation to view the registration form in PDF format.
3) Print this form and fill it out, mentioning your new number, along with other details.
4) Submit this form, along with KYC details, at your BoB bank branch.
Your number will be updated within 4-5 days. While part of this process still requires you to visit the bank, you can complete several steps at home or in the office instead of spending hours at the bank just to obtain the form and complete the remaining steps.
Transaction Limits and Charges Applicable
Bank of Baroda has certain limits on the number and the amount of transactions you can perform. They are as follows:
Retail Customer
Services
Self A/c
3rd Party BoB Ac. (₹)
NEFT and
RTGS (₹)
Transaction
Single Transaction
Unlimited
200000
500000
NA
Daily Limit
Unlimited
400000
1000000
5
Weekly Limit
Unlimited
1200000
3000000
35
Monthly Limit
Unlimited
3000000
5000000
150
Yearly Limit
Unlimited
15000000
40000000
1820
Corporate Customer
Services
Self A/c
3rd Party BoB Ac. (₹)
NEFT and
RTGS (₹)
Transaction
Single Transaction
Unlimited
500000
1000000
Unlimited
Daily Limit
Unlimited
1500000
5000000
Unlimited
Weekly Limit
Unlimited
4500000
20000000
Unlimited
Monthly Limit
Unlimited
10000000
50000000
Unlimited
Yearly Limit
Unlimited
60000000
300000000
Unlimited
Bank of Baroda charges minimal amounts for online transactions. They are as follows (GST excl.)
| | | |
| --- | --- | --- |
| Service | Details | Charges (₹) |
| Net Banking | EPFO/ESIC Collection/IRCTC Ticket Booking | 10 |
| | Password Reprinting | 25 (Retail) & 50 (Corporate) |
| IMPS | ₹1000 or less | 1 |
| | ₹1001-₹25000 | 1.5 |
| | ₹25001-₹200000 | 5.5 |
| NEFT | ₹10000 or less | 2.25 |
| | ₹10001-₹100000 | 4.75 |
| | ₹100000-₹200000 | 14.75 |
| | ₹200001 and above | 24.75 |
| RTGS | ₹200000-₹500000 | 28 (9am-12pm), 29 (12pm-3.30pm), & 33 (after 3.30pm) |
| | Above ₹500000 | 55 (9am-12pm), 56 (12pm-3.30pm), & 61 (after 3.30pm) |
| BBPS (Electronic) | ₹1000 or less | 5 |
| | ₹1001-₹2000 | 15 |
| | ₹2001 and above | 25 |
Frequently Asked Questions
1) How to Reset the Bank of Baroda Net Banking Password?
To reset your Bank of Baroda net banking password, visit the bank site and enter your User ID on the login page. Then, find the Reset Password option and click on it.
Then choose the option to Reset your Password using the Debit Card. On the following pages, you'll need to enter card details, OTP, and a new password before Confirmation
2) How to Unlock My Bank of Baroda Net Banking Account?
To unlock your BoB net banking account, visit the bank site to enter the User ID. Then, find the link that mentions that your account is locked.
Once you proceed, you'll need to enter your password and answer Security Questions. You'll also have to enter your phone number to send you an OTP. Once you enter that, your account will be unlocked.
3) How to Apply for Net Banking Bank of Baroda?
To apply for Bank of Baroda net banking, simply visit their website and download the form available for retail/corporate users. Fill out and submit the signed form at the BoB branch where you have your account.
You will soon receive a User ID. Visit the bank site and, using this User ID, set your password to get started with Baroda Connect.
4) Are there any Charges for Using BOB's Internet Banking Services?
To get started with Baroda Connect, i.e., Bank of Baroda net banking, you don't need to pay any charges separately.
However, for your transactions like NEFT and RTGS, you will be charged meager amounts by the bank based on the nature and amount of your transaction and your account. These charges may vary from ₹1 to ₹50.
5) Can I Use Baroda Connect to Pay My Loan Installment?
Bank of Baroda is among the most reliable banks in India for education loans. It is also easy to repay your education loan on a monthly basis using BoB Net Banking.
Once you log into your account, all the details regarding your loan will be available for you to view. You can go ahead and make your EMI payment from here.