One of the most trusted banks in India is Canara Bank, operating in the country for more than a hundred years. It has made banking easy for Indians, and Canara Bank net banking has made it extremely convenient for customers to access the bank's services.
With the help of Canara bank's net banking facilities, you will be able to check your account balance, send money to other accounts, pay bills, and do much more. All these can be done without leaving your house – just with the help of your login ID and password.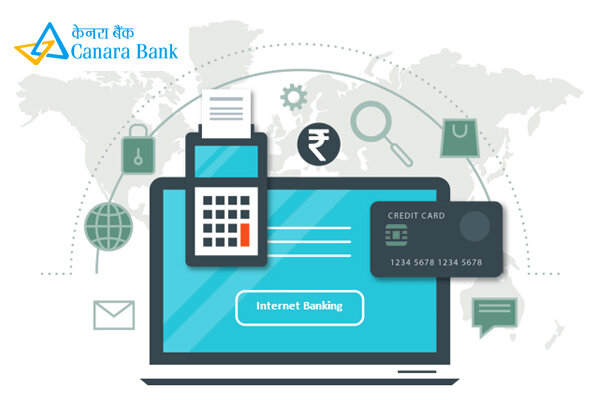 Before the net banking era, one of the greatest pains was to stand in line at the bank to make an online fund transfer. But gone are those days – as you can now send money anywhere with net banking. You just need the IFSC code for the recipient account.
Are you new to online banking operations? Then keep reading to learn more about Canara Bank net banking. How to Activate Canara Bank Net Banking?
How to Activate Canara Bank Net Banking?
To register for Canara Bank's net banking facilities, you can visit the branch where you have your account. You can also complete it sitting at home so that you do not have to waste too much time at the bank. The steps to register for online banking are as follows:
1) Visit the Canara Bank official website.
2) Near the top of the home page, you will find the "Net Banking" tab. Click on it.
3) On the new page, choose the "Net Banking – Retail (New)" to be redirected.
4) Then, click on the New User button.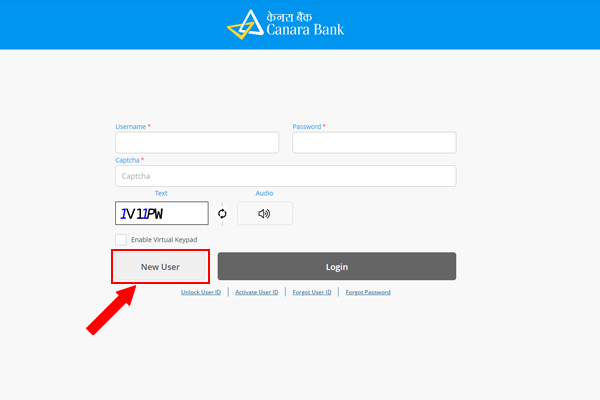 5) Read the Terms and Conditions and select the "I Agree" option.
6) Add the details in the form, such as your account number, debit card number, customer ID (available in the passbook), etc. Click on the "I Agree" button.
7) Enter the OTP. You'll receive a text with the OTP on your registered phone number. If you don't, clock on "Regenerate OTP". click on "Submit".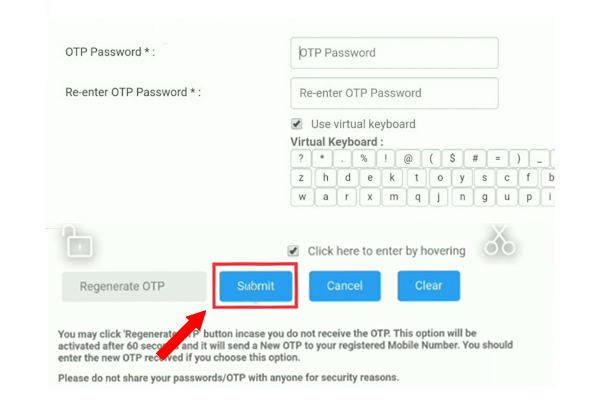 8) You will now be able to create a new password. It's ideal to use alphabets, numbers, and special characters in your password. Click on "Submit".
9) Upon successful registration, you will see your new User ID. Click on "OK".
How to Login Canara Bank Net Banking?
Thus, you will be able to complete your Canara Bank online banking activation process. After that, you can use your User ID and password to access your account. The steps of logging in are fairly simple in this case as well. Here's what you have to do about that –
1) Visit the Canara Bank official website.
2) Click on the "Net Banking" tab.
3) Select the "Net Banking – Retail (New)" option.
4) Add your User ID and password, along with the Captcha, to log in.
That's all you need to do to access the banking facilities offered by Canara Bank. You can access the facilities on the bank's website. You can also download the net banking app on your smartphone and use the app to avail the banking facilities.
How to Reset Transaction Password in Canara Bank?
It is recommended that you change your banking password regularly after registration. You may also forget your password as a result of not using the facilities for a long time. You will have to reset your password. For that, take the following steps:
1) On the login page, select the "Create/Reset Password" option.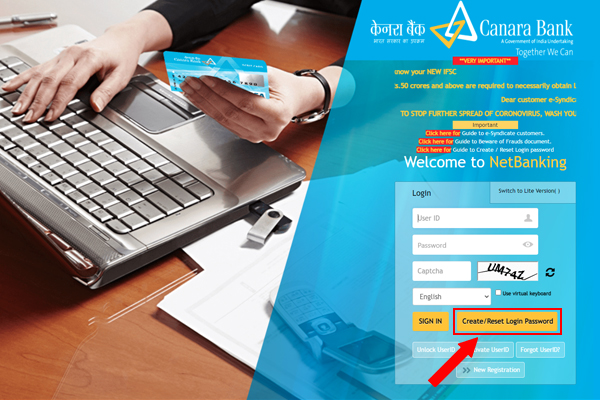 2) In the form appearing in the popup window, you will need to add the required details, including Debit Card/Aadhaar/PAN/Passport number.
3) Add a new password and click on "Submit" to reset the password.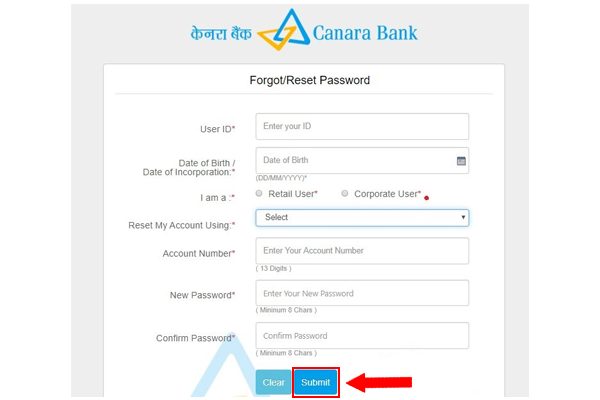 You are all set to use net banking again. You will need to remember this password. But it is recommended that you don't make the password too easy and predictable just to make it memorable. An alphanumeric password with special characters can be strong.
How to Transfer Money Online in Canara Bank?
Once you have activated the net banking facility for your Canara Bank account, you can send money to any account using the bank's site or the phone app. You can use fund transfer methods like NEFT, IMPS, and RTGS. But first, you'll have to add a beneficiary account.
To add beneficiary, you need to take the following steps:
1) Log in to your account using your User ID and password.
2) Select the "Fund Transfer" tab on the dashboard.
3) Click on the "Beneficiary Maintenance" option and select "Add Beneficiary."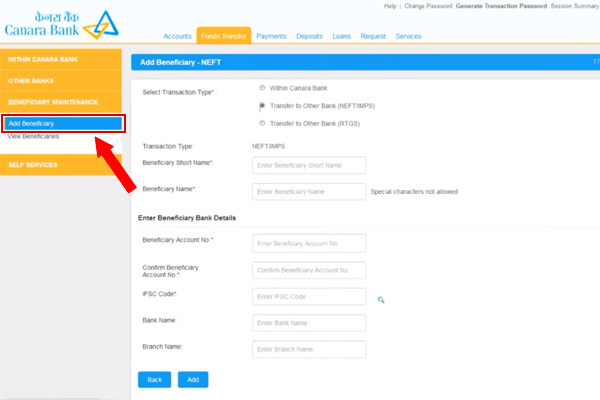 4) Select to transfer funds "Within Canara Bank", "RTGS", or "NEFT/RTGS", depending on the recipient account's bank and the transferable amount.
5) Based on the option you select, you'll get an on-screen form. Fill it out with the details of the recipient's account and click on the "Add" Button and then Confirm after reviewing the details you enter.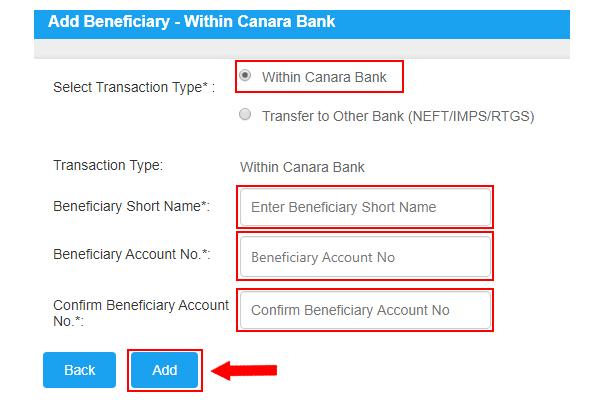 6) Add the transaction password and the OTP that you'll receive as a text message.
7) Click on "Submit" to add the beneficiary to your list of recipients successfully and save the details for later usage.
To transfer money to this beneficiary, take the following steps:
1) Select the "Fund Transfer" option.
2) Click on "Within Canara Bank" or "Other Banks", based on the recipient's bank. You can choose NEFT, IMPS, or RTGS after clicking on "Other Banks".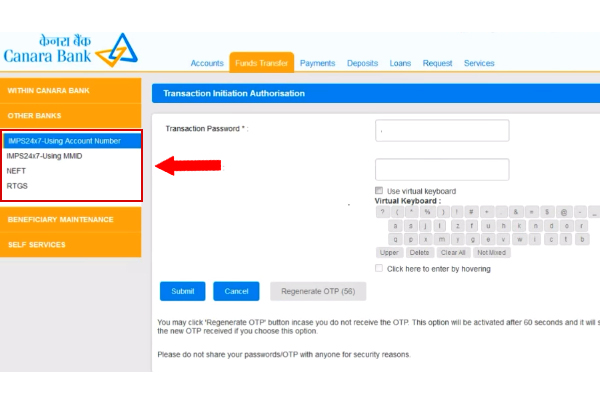 3) Select a name from the beneficiary list. The details will be automatically added.
4) Select "Confirm" and add OTP before choosing "Submit" to complete the transfer.
Canara Bank net banking makes fund transfer possible in an instant. But you'll need the IFSC of the recipient account. You may have to use a Canara Bank IFSC code or the IFSC Code of a different bank, depending on the bank and branch of the target account.
How to Check Balance in Canara Bank?
Checking your account balance is an easy task. This can be done using both online and offline methods. The online ways of checking your account balance involve using Canara Bank net banking and phone app. For that, you'll need to do the following:
1) Visit the website. Or open the phone banking app (CANDI) or e-Passbook app.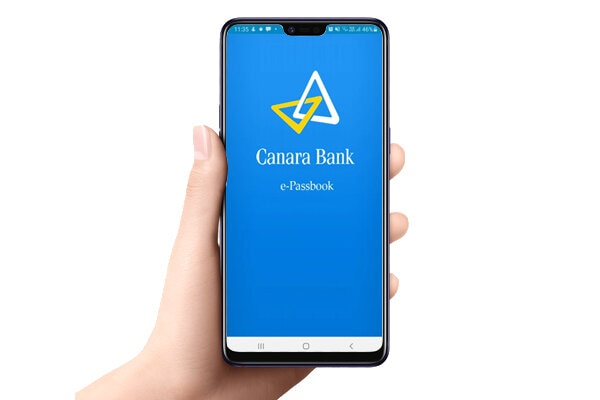 2) Add your login details to access the portal.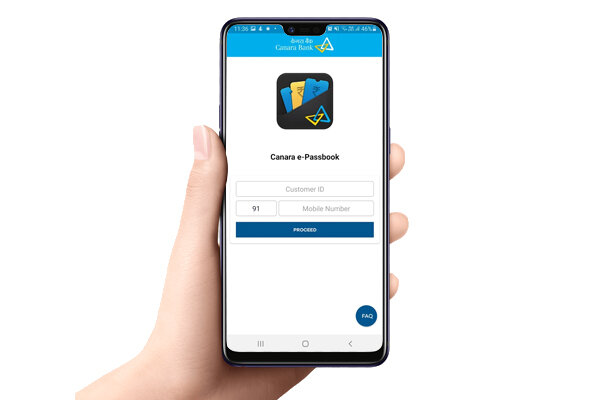 3) Find the account balance and other details.
In addition, you can also choose offline methods. You can update your passbook at your nearest bank branch to find the details. Using your debit card at the bank ATM, you will be able to check the balance. You can also call the bank at the toll-free number for help.
How to Change Mobile Number in Canara Bank?
If you're planning to change the mobile number registered with Canara Bank, you have to follow the steps mentioned below:
1) Visit the branch of Canara Bank, where you hold your account.
2) Request for a form for KYC Details Change from the relationship manager.
3) Fill out the form with your account details and add your new phone number.
4) Sign the form and submit it along with copies of KYC documents and ID proof.
An executive at the bank will acknowledge your request and process it after proper verification of the details. After proper validation, the mobile number will be changed. You will receive a text message on your new number to acknowledge the change.
Transaction Limits and Charges Applicable
Canara Bank charges minimum charges for net banking services. The charges for various fund transfer methods are as follows:
Transaction Type
Amount Limit
Charges
(GST excl.)
RTGS
₹2,00,000 to ₹5,00,000
₹24.50
Above ₹5,00,000
₹49.50
NEFT
Below ₹10,000
₹2.25
₹10,001 to ₹1,00,000
₹4.75
₹1,00,000 to ₹2,00,000
₹14.75
Above ₹2,00,000
₹24.75
IMPS
Below ₹5,000
NIL
₹5,000 to ₹25,000
₹5
₹25,000 to ₹1,00,000
₹10
₹1,00,000 to ₹2,00,000
₹15
FAQs
1) Why is my Canara Bank Net-banking Locked?
Your Canara Bank net banking facility may be locked if you have entered the wrong password thrice. To settle this, you can visit the bank website and choose "Unlock User ID". You will have to enter your User ID and other personal details as part of the verification process.
2) Can NRIs access the Net Banking Services?
If you're a non-resident Indian and want to open a bank account in Canara Bank, you can do so without any inconvenience. You can also access the net banking service offered by them. Canara Bank provides special facilities for NRI customers and is known for making NRI banking easy.
3) Is Canara Bank Net Banking Safe?
Canara Bank net banking is considered one of the safest avenues for performing your banking services online. Whether you want to transfer funds or check your balance, you can use the website or the banking app, which are completely secure, thanks to multiple verification steps.
4) Can I use two Canara Bank accounts under one user ID?
It is possible that you have more than one account at different branches of Canara Bank under the same name and KYC details. In that case, you can still access the details of all the accounts using the same user ID and perform the necessary net banking activities.
5) What other services can I avail on the Canara Bank Net Banking Portal?
Canara Bank net banking portals bring all the banking facilities to your fingers. You can check your account balance, transfer money to any account, view and download transaction statements, request a new cheque book, open recurring deposit and fixed deposit accounts, etc., with the help of online banking.