HDFC bank offers exclusive net banking services to customers. It facilitates carrying the financial transactions based on customer's convenience and time. HFDC netbanking is available at all times without restrictions and is easy to operate.
The bank's online banking facility lets you complete any transaction within a fraction of seconds. There is no need for you to stand in long queues at the bank branch to transfer funds. HDFC online banking does everything for you.
Here, the IFSC code plays a significant role in net banking. IFSC code identifies the bank branch on the NEFT network. It helps in carrying out transactions electronically by routing or sending messages to a specific bank branch.
IFSC Code is mandatory for all types of online funds transfers that include NEFT, RTGS, and IMPS.
Here is a blog that will guide you on HDFC bank online banking.
Features of HDFC Bank Net Banking Facility
HDFC bank customers can transfer funds either between their accounts or another account within HDFC bank or to another bank's branch with internet banking. Following are the features of HDFC online banking.
Customers can quickly request and open an online bank account. It is simple to operate, and you can use the account for various other purposes like paying bills, doing recharges, and transferring capital between multiple accounts. It also enables customers to view their transactions and account statement.
The net banking facility is fast and effective. Customers have the facility request a Cheque book, Demand draft, opening new accounts, and termination of loan accounts.
The bank facilitates the customers to avail themselves the online banking services from anywhere and any time of the day. You can even access the services on public holidays.
HDFC online banking keeps your account and lets you know in case of fraudulent activity or threat to the account much before it poses any severe damage within seconds.
The net banking facility updates you regularly on bank products like investment options and loans. With this, you can also avail a lot of shopping and purchase offers.
How to Register for HDFC Net Banking?
1) Visit https://www.hdfcbank.com/assets/popuppages/netbanking.htm.
2) Click on Register at page's bottom.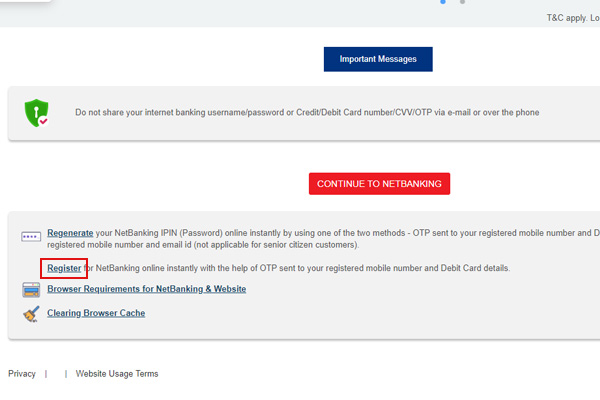 3) Enter customer ID and press 'Go.'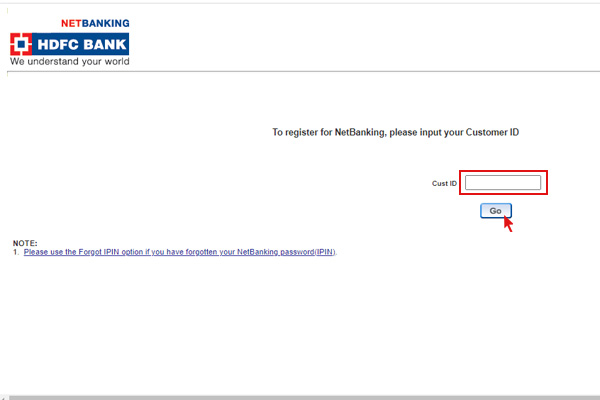 4) The bank will send an OTP on your registered number.
5) Enter the OTP and debit card-related details.
6) A screen will appear that will allow setting IPIN to access HDFC net banking.
7) Enter the HDFC customer ID, debit card number, and PIN or TIN.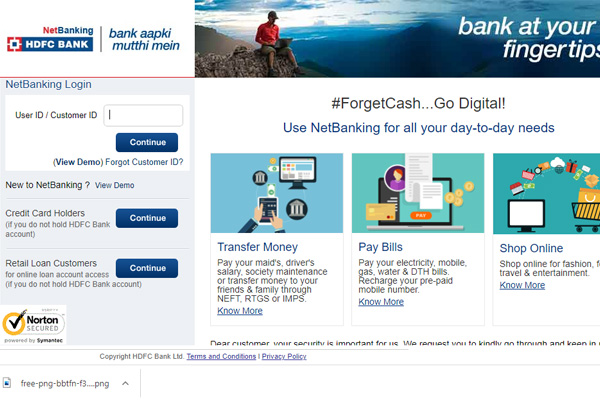 8) The bank representative will take your registration request and initiate the process.
9) You will receive your IPIN through the mailing address you register with within five working days.
How to Transfer Funds using HDFC Net Banking?
1) Log in to HDFC net banking portal. https://netbanking.hdfcbank.com/netbanking/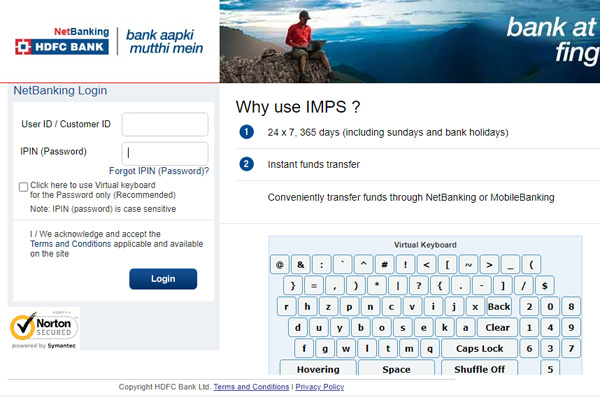 2) Click on Fund Transfer.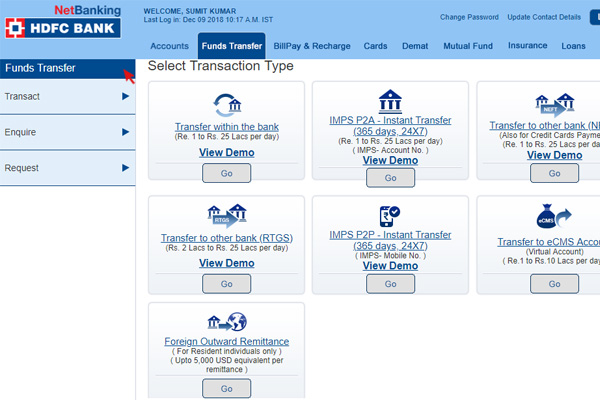 3) Select transfer type based on your requirement and click Go.
4) Accept terms and conditions. Now, click on Continue.
5) Verify the details that you enter and click on Confirm.
6) Save the transaction reference for future use.
How to Add Beneficiaries to HDFC Bank?
1) Log in to HDFC net banking portal with customer ID and password.
2) Click on Fund Transfer.
3) You will get a Request Option. Click on that.
4) Next, click on Add a Beneficiary.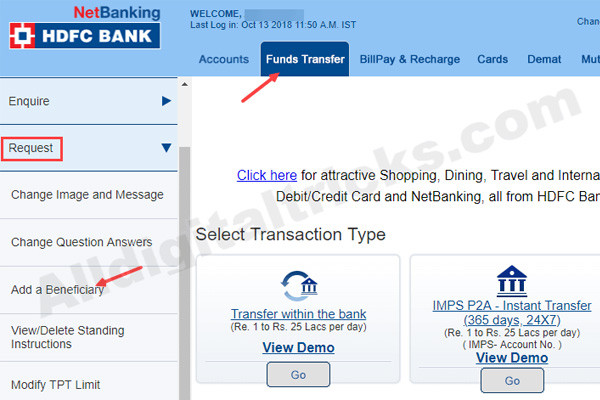 5) Select transaction type and add beneficiary account number, HDFC bank IFSC code, name, and email id. After entering the details, click on Add.
6) You will get an OTP to validate the transaction.
7) The beneficiary activation process will take around 30 minutes after adding.
How to Reset the Password for HDFC Net Banking?
1) Log in to HDFC net banking portal and enter your customer ID.
2) Click on Forgot IPIN password.
3) Enter your customer ID and click Go.
4) Enter the OTP that you receive from the bank to authenticate your debit card or email.
5) On completion of the authentication process, you can reset your IPIN or password immediately.
6) Once the IPIN is reset, you can log in to your net banking account.
How to Pay Bills & Recharge Using HDFC Bank Net Banking?
1) Log in to HDFC net banking website.
2) Select 'Bill Payments' Option or 'Recharge' option.
3) A list of bills will appear like electricity, gas, water, post-paid mobile, and subscriptions. Likewise, you can recharge prepaid mobile, DTH, and broadband& data card.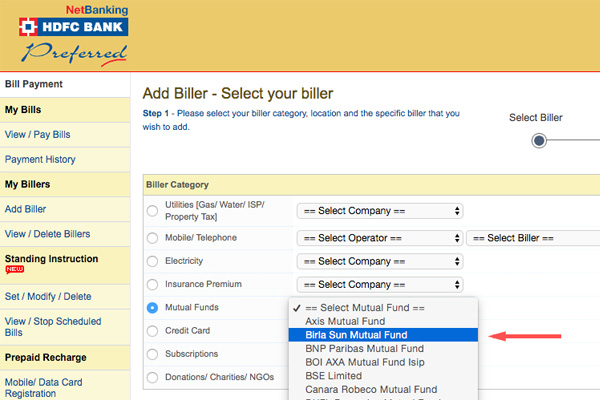 4) Select the specific bill or recharge.
5) Enter the bill details and amount.
6) Confirm the payment.
How to Pay HDFC Credit Card Bills through Net Banking?
1) Log in to the HDFC net banking website –https://www.hdfcbank.com/assets/popuppages/netbanking.htm. 
2) Go to 'Bill Payments.'
3) Enter the credit card details and complete the registration. Click on submit.
4) Enter OTP that the bank sends you on a registered mobile number.
5) Click on 'View/Pay Bills' and select the biller.
6) On the next page, choose the HDFC account number from where you want to transfer funds.
7) Enter the correct amount to pay. Cross-check the details again and click on 'Pay Now.
8) Click on Submit to complete the payment.
Transaction Limits and Charges Applicable for Online Fund Transferring
Transfer mode
Maximum Transfer limit (per day)
Charges
NEFT
Rs 25 lakhs
Below Rs 1 lakh – Rs 1+
GST
Above Rs 1 lakh – Rs
15+GST
IMPS
Rs 2 lakhs
Rs 1- Rs 1 lakhs – Rs 5+
GST
Ra 1 l lakh – Rs 2 lakh –
Rs 15 +GST
RTGS
Minimum – Rs 2 lakhs
Maximum – Rs 25 lakhs
Rs 15+GST
HDFC Net Banking Customer Care
HDFC bank offers exclusive net banking customer care services to support customers in every way. It values the relationship with customers and the importance of their satisfaction.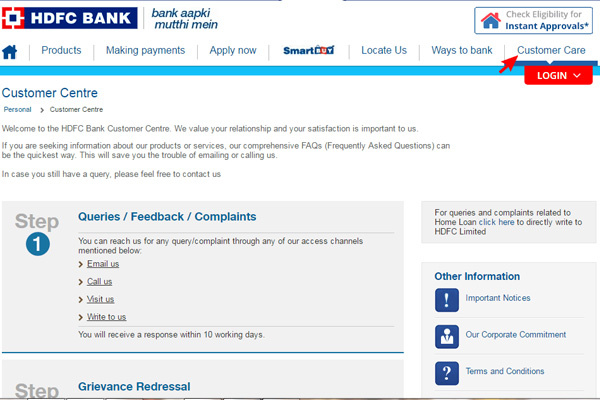 You can get in touch with the bank anytime for all the online banking needs. The bank offers easy communication and quick redressal of grievances. HDFC customer care support team is available 24*7. It has a toll-free number and different customer care numbers for different cities.
FAQs
1) How can I receive my PIN?
Your PIN is not shared online by HDFC because of security reasons. The bank will send the PIN to you by post.
2) How will I receive confirmation of a payment that I have made?
Once you complete making a payment using Bill Payments, you will receive a reference number for each successful payment made. On a later date, you can also refer to transaction history to verify the transaction.
3) Does HDFC levy charge for internet banking?
No, HDFC does not charge for utilizing internet banking services. However, if HDFC customers transfer funds through NEFT, IMPS, and RTGS, the third party's bank may levy charges.
4) Who can apply for corporate internet banking?
An entity that falls under the corporate category and has an account in HDFC bank can utilize corporate net banking. The entity can be an individual, a small firm, enterprise, government organization, trust, or a large conglomerate.
5) What will happen if I have registered for mobile bill payment and changed my service provider?
If you have registered for paying a mobile bill under the HDFC bank's BillsPay service and then change the service provider, your existing billing details will become invalid. You will have to de-register the BillPay facility concerning the previous service provider.
You can do it by submitting a written request at the nearest branch. If you want to Register the facility again under the new service provider, you can go to 'Add Biller' option on the bank's internet banking website.