IndusInd Bank is the new Indian bank offering transactional, commercial, and electronic banking services and products. You can avail a wide array of IndusInd net banking offers, which are available 24*7 at your fingertips.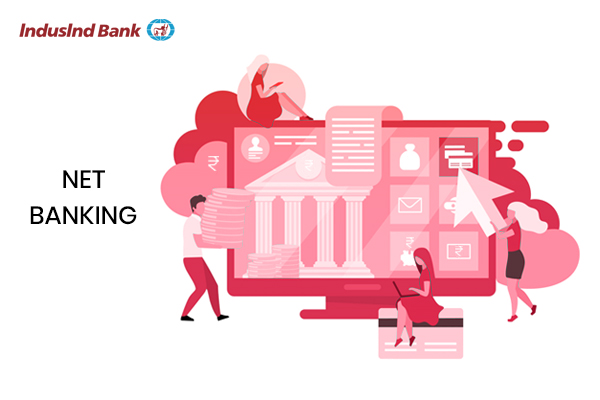 Apart from internet banking, IndusInd also offers retail banking, corporate banking, and commercial banking. IndusInd net banking, popularly known as IndusNet, is not only safe and convenient but user-friendly as well.
This blog will discuss the IndusInd bank net banking registration process, login, and fund transfer methods step by step. Hence, keep watching this place to know everything about the same.
Features and Services Offered by IndusInd Bank Net Banking
IndusInd Bank net banking is quite easy to use, and it saves you enough time that you otherwise would have spent in bank queues. There are multiple features available in IndusInd net banking like-
Account Inquiry 
IndusNet allows you to monitor and control your account transactions easily from anywhere. With this feature, you can download account statements of the past twelve months, check transaction history, see images of issued cheques, check your debit card details like reward points, transaction limits, IndusMoney balance, etc.
Bill Payments 
With IndusInd net banking, paying bills has become easier. IndusInd Bank comes with a feature called IndusNet BillPay, which allows its customers to pay all types of utility bills. Now you can pay your electricity, DTH, mobile, or telephone bills in just a few clicks.
Additionally, you will receive alerts when your bill is due and will be able to view your billing history. You can also set an automatic schedule for making these payments.
Monetary Transactions
IndusNet has made transferring funds online quite easy. You can send money to IndusInd bank accounts and to other third-party bank accounts as well with the help of IndusNet financial transactions.
Additionally, NEFT, RTGS, and IMPS services are also accessible through IndusNet fund transfer, and you can pay your credit card bills too.
Mutual Funds 
Mutual funds have become one of the most popular investment options currently in the market. IndusNet allows you to keep track of your investments and monitor your mutual fund investments.
Online Shopping 
Online shopping with IndusInd Bank net banking gets much easier and safer. IndusInd Bank's website comes with advanced security features to ensure that all your transactions are totally risk-free.
Service Requests 
You can request a debit card online shopping activation or block your card in case of loss of debit card through IndusInd Net banking service.
Submit a request for demand draft, checkbook, or stop payment of cheques.
You register for mobile updates, update the bank about changes in your registered address or mobile number or email address, check your account statement, submit a request to change your IndusMoney limit, and more.
You can open fixed deposit accounts through IndusInd net banking and also sweep-in deposits and request for grouping of customer IDs.
Additional Services 
Apart from the services mentioned above, IndusInd net banking offers few other services as well. These include setting IndusNet inbox alerts, setting customized emails or SMS, interacting with your personal banker, checking foreign exchange rates, checking details of your auto loan, etc.
How to Activate IndusInd Bank Net Banking?
Here you will get to know the step-by-step method of activating or registering your IndusInd Bank net banking. But to register for IndusInd Bank internet banking, you need to have a valid IndusInd Bank customer ID and debit card and your DOB and PAN card number.
Let's check the process-
Method one
1) Visit the official IndusInd Bank website.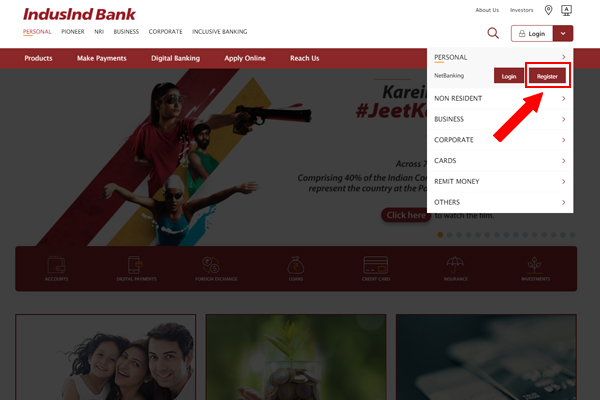 2) Click on "register."
3) Enter your customer ID/ username
4) Enter registered email ID and mobile number
5) Debit or ATM card details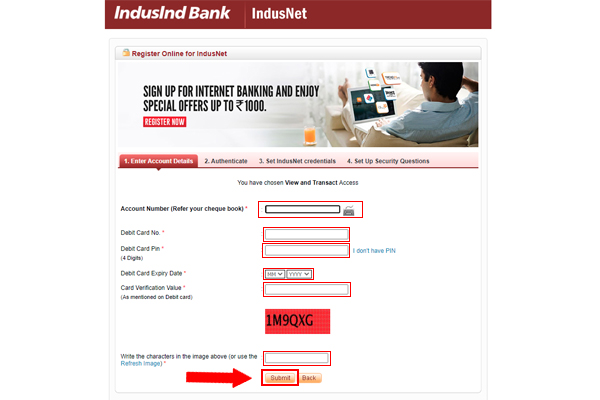 6) Enter date of birth
7) Enter either one of PAN card, voter ID, or passport details
8) After entering these details, notifications will be sent to your mobile number and email id about the registration of IndusInd internet banking.
Method Two
1) Contact IndusInd Bank customer care to register for Internet banking.
2) Give your telephone verification number and customer ID, or verify your account details.
3) The customer care executive will register your net banking registration request.
4) Finally, you will receive your net banking details through courier within a few days.
Method Three
1) Visit your IndusInd Bank customer care to activate IndusNet.
2) You need to fill up a form with all the necessary details
3) After successfully submitting the form, you will receive your user ID via SMS on your registered mobile number
4) You will receive both the login and transaction passwords on your registered address within 7 to 10 working days.
5) You will receive an SMS after the dispatching of your passwords from the bank CPC
6) You will find the tracking details of your speed post in the SMS
How to Log in to IndusInd Bank Net Banking?
Follow these steps to log in to the IndusInd Bank net banking facility.
1) Go to the IndusInd bank website and enter your username and password. 
2) Choose from the account summary, fund transfer, and service request.
3) Click on sign in, and you will be logged in to your IndusInd internet banking account.
You can also log in to your IndusInd bank internet banking account through the IndusInd Bank mobile app. The login steps are similar to the website ones.
How to Reset Password and Unlock IndusInd Bank Net Banking?
Follow these steps to know how you can reset your password-
1) Go to the login page
2) Click on "online preferences" at the top
3) Select "reset transaction password."
4) Enter the current password, then enter the new password you want to set
5) Press reset, and it's done
How to Change Mobile Number in IndusInd Bank Net Banking?
These are steps to follow IndusInd Bank net banking mobile number-
1) Visit your nearest IndusInd Bank branch
2) Fill up the KYC form
3) You'll have to fill in details like account number, account holder name, account type, etc.
4) Click on the box that says change registered phone number
5) Enter the new phone number you wish to register
6) Put your signature and submit the form.
How to Transfer Funds using IndusInd Bank Net Banking?
To transfer funds using IndusInd Bank net banking, follow these steps-
1) Login to IndusInd bank online banking portal  
2) Click on "fund transfer."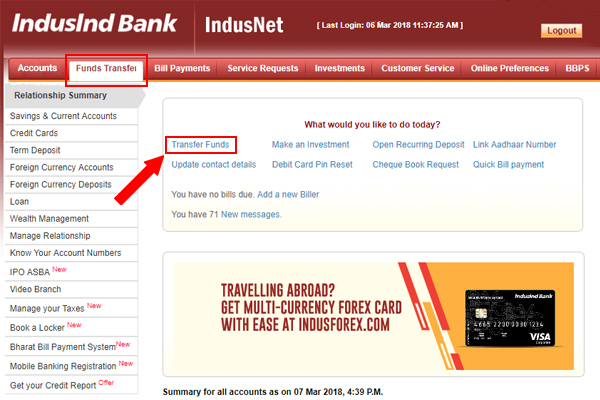 3) Select between IMPS, NEFT, or RTGS fund transfer mode
4) Click on "fund transfer to an account number."
5) Enter recipient/ beneficiary account number, IFSC code, account type, and the amount to be sent.
6) You will have to enter the authentication OTP
7) After entering the OTP, your transaction will be successful, and you will receive a confirmation message
You can send money following the same method for intra and inter-bank transfers. To send money through any of the above methods, you will have to know the IFSC code of the beneficiary account. The IFSC code helps in identifying the branch irrespective of its location.
You can find the IndusInd bank IFSC code of all branches through the https://findyourbank.in/ website or through the find your mobile bank app. 
FAQs
How Many Attempts Can I Make while Entering the Login Password? 
You can make three attempts to enter the login password. If you fail to enter the correct password after three attempts, your account will be blocked, suspecting it to be an unauthenticated login attempt.
Can I See the Transaction History From Two Years Ago? 
No, you can't view your transaction history from two years ago. IndusNet gives you the option to check your transaction history for the last year.
Can I Pay My Friend's Bills Through My Account on IndusNet? 
Yes, IndusNet gives you the option to pay anyone's bills through it.
How Can I Get the IndusInd Bank User ID? 
You need to visit your nearest IndusInd bank branch and fill up a form registering for internet banking. After successfully submitting the form, your internet banking user ID will be sent via SMS.
Is Customer ID and User ID the Same? 
Yes, the customer ID and the user ID are the same. It is a unique identification number for customers holding any type of account with IndusInd Bank.