State Bank of India(SBI) is a Public Sector Indian multinational bank. It has a rich heritage and legacy of over 200 years. SBI Net banking portal provides personal banking services for retail and corporate customers online. The facility helps enquire or transact your SBI account 24*7.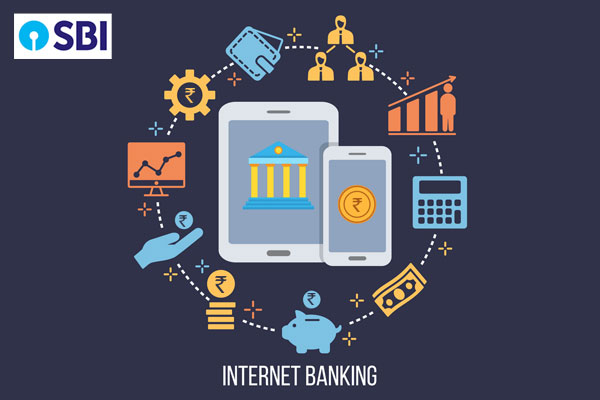 Net banking saves time and costs as you do not need to go to the bank branch for routine transactions. It lets you operate your account from the comfort of the office or traffic jams.
It enables you to pay the bills, statutory dues, and taxes without waiting in the queues. SBI online banking also facilitates bulk salary, tax, utility bills, and pre-paid card top-up payment. Here is a complete guide to illustrate SBI net banking.
How to Activate Net Banking in SBI?
Net banking is now secured with OTP (One Time Password) and debit card credentials to protect your money. Here are the steps to activate SBI online banking.
1) Go to SBI's net banking homepage – onlinesbi.com.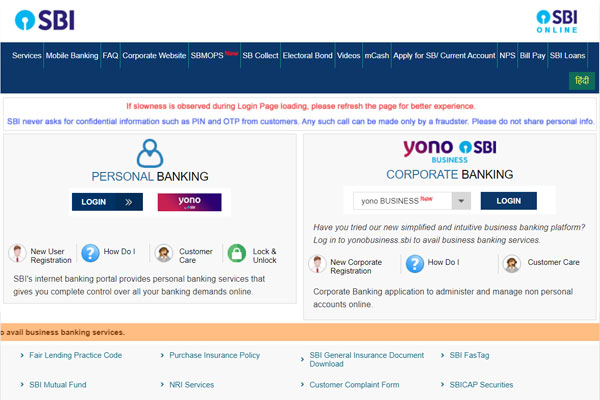 2) Click on the "New User Registration/Activation" link.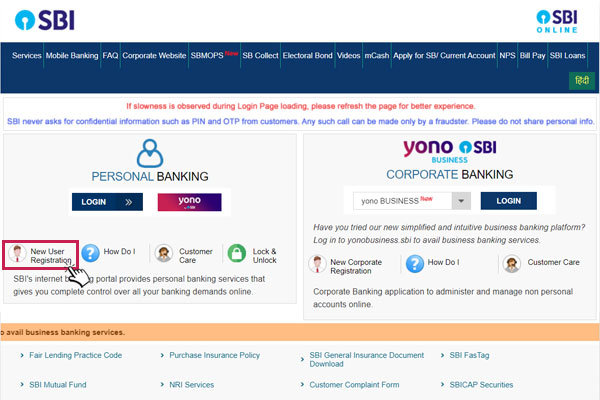 3) Enter the details required. This includes account number, branch code, CIF number, registered mobile number, and the facility you need. Finally, click on the Submit button.
4) You will receive OTP on the registered mobile number. Enter OTP once you receive it.
5) Select an ATM card to proceed with activating the services. You don't have to worry if you do not have an ATM card. Your branch will complete your registration process.
6) Note down the temporary username and create a log-in password. Ensure that the password is eight characters long with a combination of upper- and lower-case letters. It should also have one special character and at least one number. Then, re-enter the password and submit it to complete the registration.
7) You can now log in with a temporary username and create a new password.
8) Now, create a permanent username of your choice.
9) After clicking on accept terms and conditions, set the log-in and profile password: select hint questions and answers for them.
10) Enter your date and place of birth along with your registered mobile number.
11) Your registration process is complete.
How to Login to SBI Net banking?
Below mentioned are the steps to log in to SBI online banking.
1) Visit the official SBI net banking website – onlinesbi.com. It has a log-in option for personal and corporate banking.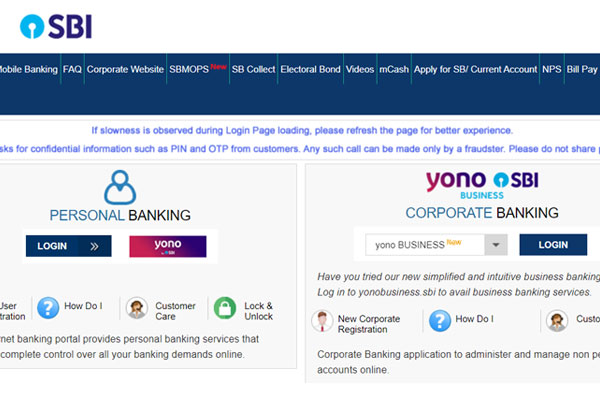 2) Click on the 'log-in' button in the personal banking section.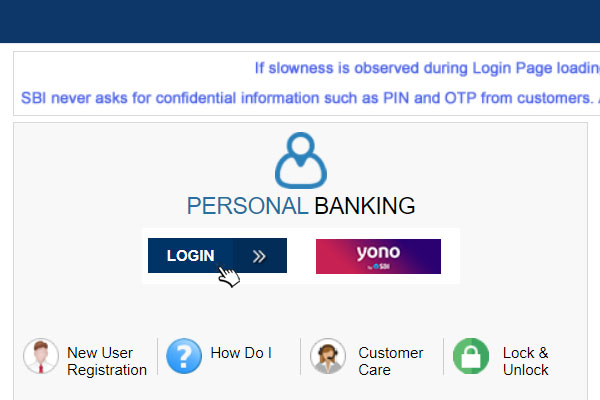 3) Enter your username and password details to log in to your account.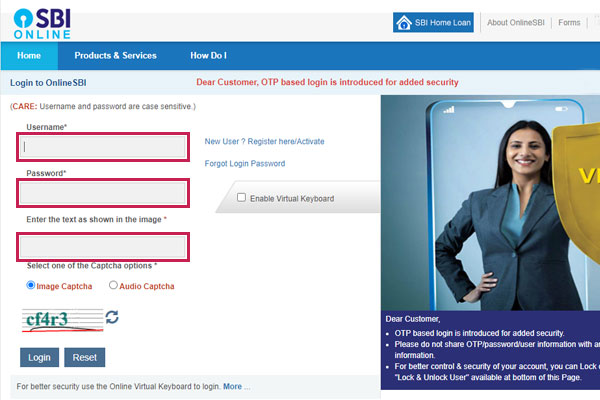 4) Next, you will be head towards a page from where you can access all information related to your account and conduct transactions.
How to Check the Balance in SBI Net Banking?
Click on the 'Account Summary' option. It is available under Quick Links. A list will display your SBI accounts. Click on 'click here for balance' against the specific balance you want to check.
How to Transfer Money through SBI Net Banking?
Before transferring money online, make sure to add the recipient as a beneficiary to your account. You will also require specific details like beneficiary name, account number, and SBI IFSC code.
If your beneficiary's account number is in another bank, there you will need the IFSC code of that bank. Have you ever wondered about where to get your IFSC code?
'Find Your Bank' is a website that has an app as well. It works in the following manner-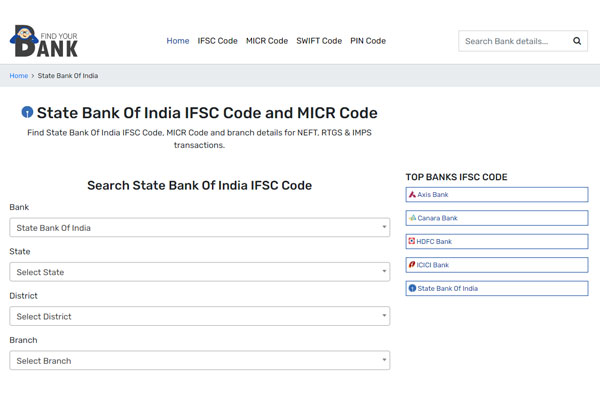 Please enter the details it asks, like bank and branch name, state, and district, on the home page.
You will get the IFSC code once you submit the details.
You also find MICR and SWIFT codes for any bank you want from the 'Find Your Bank' app.
Here are the steps to transfer money through SBI net banking
1) Log in to SBI's online portal.
2) If you want to transfer to an account within SBI, click on 'Account of others- within SBI' under the payments tab. However, if you have to transfer the amount to another bank's account, click on 'Other bank transfer'.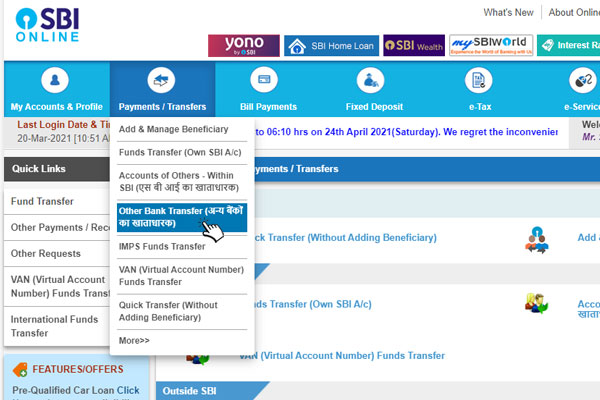 3) Choose the transaction type you wish to make and click on 'Proceed'
4) You will get a list of account types that have already been added as a beneficiary. Choose the account to which you wish to transfer money.
5) Now, enter the amount that you have to transfer. If you have any remarks, add them.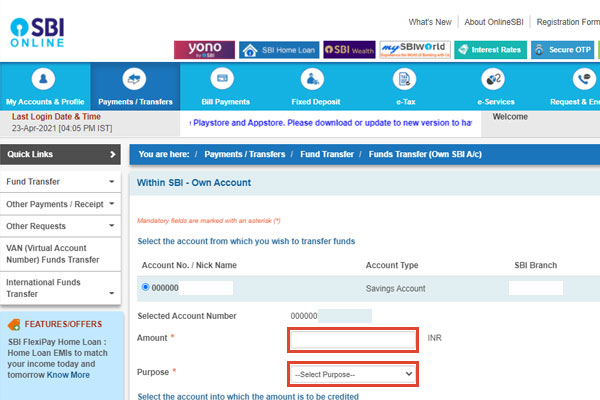 6) You also have the option to instruct the appropriate time of fund transfer.
7) Select the checkbox and the terms and conditions and click 'Submit'
8) You will get a preview of all the details entered. Cross-check them and click 'Confirm'.
9) You will receive a high-security password to complete the process on the registered number. Enter the password and click 'Confirm.'
10) You will get a confirmation message to mark the completion process.
How to Transfer Money Without Adding Beneficiary in SBI Net Banking?
Do you know an SBI account holder can transfer money even without adding a beneficiary through SBI net banking? Transfer money by following the below steps
Log in to your SBI internet banking account. Under the 'Payments/Transfers' drop-down menu, select 'Quick Transfer (Without Adding Beneficiary).
Enter the required details like beneficiary account number, transfer code, IFSC code, amount, purpose, and click on the submit button.
Revise the entered details that you have entered and click on 'Confirm' to proceed.
Enter the high-security password that will be sent to your registered mobile number to complete the transaction.
You will get a transaction ID to check the transaction status.
How to Pay Bills Online through SBI Net Banking?
It is pretty simple to pay bills online through SBI net banking. Firstly, log-in onlinesbi.com and then use the 'Add Biller' feature. You will be able to select the billers to make payment. Select the city to add a biller to your list. Also, enter a nickname and biller-specific details.
How to Change Username in SBI Net Banking?
Have you forgotten your SBI internet banking username? Do not need to recover or change it? Here are the steps.
Deactivate your SBI net banking. You can do so by visiting the home branch with your ID proof.
Re-register for internet banking online or from the home branch.
Now, you change your username.
How to Reset SBI Net Banking Password?
Every SBI transaction is secured by passwords. You might need to reset your transaction password. Follow the steps to reset SBI net banking password.
Visit onlinesbi.com. Click 'Forgot Login Password' on the log-in page.
In the drop-down menu, select 'Forgot My Login Password' and 'Next.'
Enter details like bank account number, username, birth date, mobile number, and country.
You will receive an OTP once you submit the details correctly.
After entering OTP on the screen, you will get a drop-down menu. Select 'Change log-in password using profile password.'
Enter correct profile password. You can enter a new password and retype to confirm.
Your new SBI net banking password is set now.
Transaction Limits and Charges Applicable for Online Fund Transferring
Transaction type
Per Transaction Limit
Overall Daily Limit
Charges
IMPS
Rs 2 lakhs
Rs 2 lakhs
Nil
NEFT
Rs 10 lakhs
No limit
Up to Rs 50,000 – Nil

Rs 50,000 to Rs 1 lakh – Rs 20

Rs.1 lakh to Rs.1,29,000- Rs.10 + Rs.0.50 per Rs.1,000 in excess of Rs.1 lakh

Rs.1,29,000 and above: Rs.25 per transaction
RTGS
Rs 10 lakhs
No limit
Rs 25 per transaction
SBI Net Banking Customer Care
SBI is committed to offering the best internet banking services to customers. The bank has a customer support team available 24*7 to solve customer issues. It also has a helpline and toll-free numbers that are accessible from landlines and mobile phones.
Customer Care Numbers: 1800 11 2211, 1800 425 3800
FAQs
What to do if I forget my SBI net banking user name?
If you forget your internet banking username, you will have to visit your SBI home branch and request re-registration.
In what time does it take to activate SBI online banking?
If you are holding a single account with an ATM card and mobile number that is registered, you will have an instant registration and activation. You will need to approach the branch to create credentials for you in case of joint account holders.
Is SBI Net Banking Safe?
Yes, SBI net banking is safe. The bank uses advanced technology to secure customer's money and information. Further, basic precautions from the customer side like secrecy of OTP, password, user id, and other details will ensure security.
What is SBI online banking toll-free number?
If you have any queries or complaints related to SBI net banking, you can call the toll-free number 1800-112-211
What is a profile password?
There are two passwords in SBI net banking. One is log-in, and another is profile password. The log-in password helps access internet banking facility while profile password enables to change or access details of the net-banking profile.