South Indian Bank is a popular bank in India. It has 924 branches and four service branches, along with 20 regional offices and 53 extension counters all over India. These are connected to each other and other banks by the South Indian Bank Net Banking platform, SIBerNet.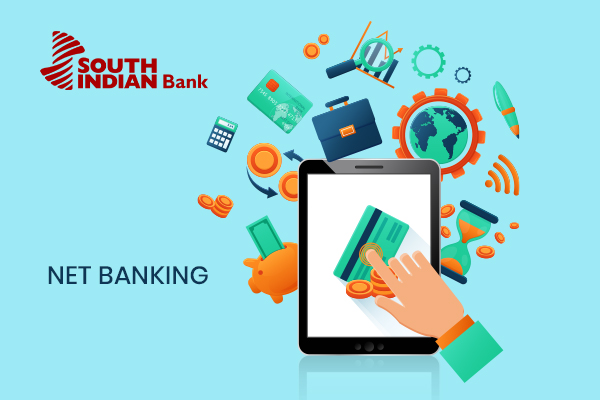 Like all major private and public banks operating in India, South Indian Bank offers its customers net banking services, and their platform is known as SIBerNet. It is available in the form of the bank's official website for desktop usage and a smartphone app called SIB Mirror. 
This net banking service by the bank makes banking easy for account holders. Customers can transfer funds to any other SIB branch or an account at other banks in India with the help of SIBNet. You can also check account balance and transactions, etc.!
However, to make the best of online banking services by South Indian Bank, you must know all about registration, login, password setting and resetting, fund transfers, and more. Today, you will learn all about these activities using SIB Net Banking. So keep reading.  
South Indian Bank Net Banking
South Indian Bank's net banking platform, SIBerNet, offers a variety of online services to its customers. That includes individuals, business establishments, non-profit organizations, associations, etc. You can have savings and current accounts at SIB.
The world has gone digital and India has been an active player in this scene. With Digital India's slogan on every lip, the banking sector has stepped into the digitization of its operations. SIBerNet is such a platform that has almost literally brought the bank to your desk/palm.  
All you need is an internet connection and a phone or laptop. With these two, you can access the platform and its services 24×7 on any day of the year. You can be at home, in the office, or traveling and none of these should stop you from performing banking operations.  
In the last couple of years, especially during the pandemic, digital operations have entered every home. SIBerNet has ensured that every function, from fund transfers to deposits, can be accomplished smoothly by the account holders at South Indian Bank.
South Indian Bank is a private sector organization that has proliferated and earned people's trust with its incredible service. The same efficiency is seen in the online banking app and website, making online banking smooth, quick, and absolutely safe.
Features and Benefits of SIBerNet
SIBerNet is an advanced net banking platform that strives to make customers' lives more manageable with the help of the internet. It is available at all times and everywhere, whether you are an individual or represent an organization. SIBerNet makes life much easier!
With South Indian Bank internet banking, account holders can get quick access to their bank statements and details with no need to physically update the passbook, transfer funds to any bank from the comfort of their home, and pay bills without stepping out.
With the help of SIBerNet, you can pay insurance premiums and credit card debt, complete e-commerce transactions, start fixed deposit and recurring deposit accounts, and more. You can even schedule monthly bill payments on this platform, manage payees, etc.
This platform also comes in handy if you want to pay the loan EMIs and taxes. Apart from payments or fund transfers, there are other activities you can perform here, like requesting demand drafts, stopping cheque payments, tracking receivable payments, etc.
Corporate accounts, where only a few individuals can gain access, come with a separate set of advantages. These include adding beneficiaries for bulk payment, higher transaction limits upon request, multiple user access from different locations, etc.
Using SIBerNet, you can access your account using your customer ID and password and view or change details like contact number, address, email id, etc. If you have multiple accounts at the bank, including loan accounts, they can all be connected on this single platform.
The platform also allows you to make inquiries and place requests about account balance and statements, cheque books, interest rates, etc. SIBerNet is an entirely safe platform, thanks to Infosys' security software and Verisign's Digital Certificate.
The bank complies with global standards of security measures to keep away viruses and cyber-attacks. For corporate accounts, security features include multi-level approval, access limitation or restriction, view-only facility, and more to ensure every transaction's safety.
How to Register and Activate South Indian Bank Net Banking?
To access SIBerNet and avail of the beneficial facilities, you need to register and start an online banking account. SIB net banking registration is an easy process. We have listed the steps below, but first, you must have an active SIB bank account.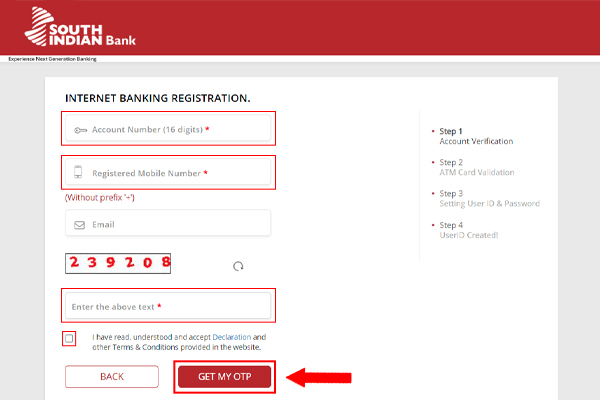 There should be no existing net banking account on SIBerNet for your bank account. You will need to visit your nearest branch to register if you have a joint account or a corporate account. Retail customers with an active ATM card can register for net banking online.
You must also ensure that your mobile number is connected to the bank account. Once these are done, you can take the following steps to register 
Step 1: Visit South Indian Bank's official website.  
Step 2: Check the tab of Online Banking and select 'New Registration'. 
Step 3: On the following page, select 'Continue to Register'.
Step 4: Here, find the 'New User Registration' option and click on it. 
Step 5: Provide your Account Number and Registered Mobile Number on the next page. Don't forget to provide the Captcha code. 
Step 6: Click on 'Continue' to receive an OTP. Enter that and select 'Submit'. 
Step 7: Enter your Card Details after that and Click on 'Submit'.
Step 8: Set a Username, Password, and Transaction Password as per your preference.
Your Internet Banking Registration and Activation will thus be complete. 
How to Login to SIBerNet?
South Indian Bank net banking login process is pretty simple. If you have the necessary details and internet connection ready, you can use a few simple steps to log in. If you have not already registered, you have to follow the steps mentioned above.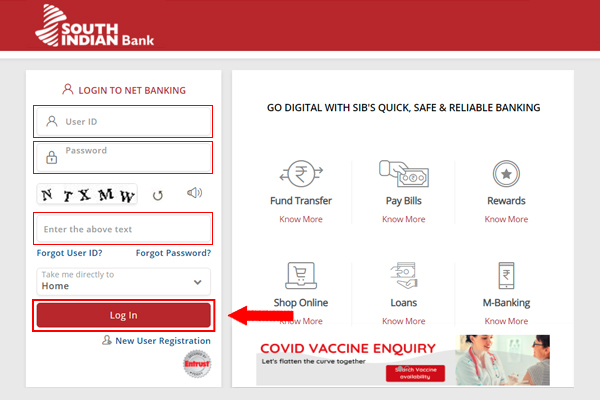 Once you are registered, and your account is activated, you will be able to log in using your User ID and password, which you have set during the process of registration and activation. The steps of logging in are fairly simple after that 
Step 1: To log in, you have to visit the login page.
Step 2: Here, enter the 'User ID' and 'Password'.
This two-step process will give you access to online banking services. If you want to access it from your smartphone, you can download the SIB Mirror app and use the same ID and password for login purposes. After that, you will be able to perform various banking activities.
Logging in as an individual provides full access to all services. But if you attempt to access the platform on behalf of a corporate entity, services may be limited. Corporations have officials handling banking operations. They may have different rights and responsibilities.
Your User ID and password are mandatory for logging in. Without these two, you will not be able to log in. But in case you forget your login credentials, you will need to click on the 'User ID' or 'Forgot Password' option and reset the credentials and follow the onscreen instructions.    
How to Transfer Money Online in South Indian Bank?
One of the significant benefits of online banking is fund transfer without the hassle of cheques, deposit slips, queues, etc. As a customer of SIB, you can transfer funds to any bank in the country, as well as within the bank, whether or not it's at the same branch.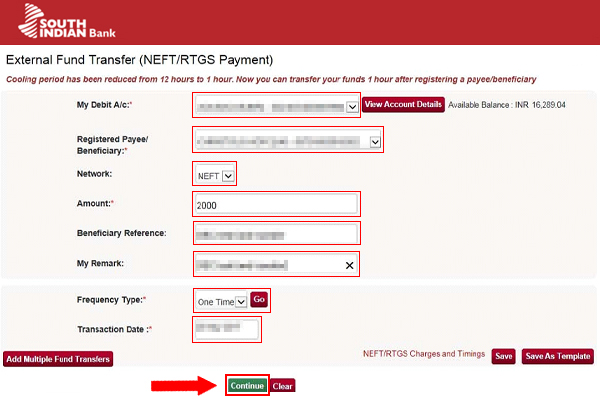 To avail of online money transfer, South Indian Bank account holders must first register and activate their online banking account. After that, you'll need to add the details of the beneficiary, i.e., the receiver, including the IFSC code. Then, you have to choose a transfer method.
 To transfer funds, you have to take take the following steps
Step 1: Login to SIB Net Banking. 
Step 2: Find the 'Fund Transfer' section and click on Third Party 'Fund Transfer'.
Step 3: Provide the following information about the receiver
Receiver's account number
Receiver's bank
Network
IFSC of the receiver
Step 4: Choose the transaction frequency to record if it is One Time or Recurring.
Step 5: Add the transaction date to mention if you want to that day or another.
Step 6: Enter the 'Transaction Password' and 'OTP'. Submit to continue.
SIBerNet allows you to save the details of your receivers. This allows you to transfer money to their account regularly without entering their banking details every time.
How to Add Beneficiaries to Transfer Money?
Use the following steps to add beneficiaries:
Step 1: 'Login' to SIBerNet. 
Step 2: Select the option 'Add or View Payee/Beneficiary' under 'Fund Transfers'.
Step 3: Add the Account Details of the Beneficiary. 
Step 4: Submit the OTP that you'll receive on your phone number.
Step 5: You'll need to confirm the account details twice.
For beneficiaries within the bank, the addition will be instant. For external beneficiaries, you'll need an hour to see the new addition. To ensure that your beneficiary received the amount on time, you must mention all the account details correctly, including the IFSC.
The IFSC is a code to identify a bank and the branch to which the beneficiary bank belongs. Suppose you enter an incorrect South Indian Bank IFSC code, but the other details are correct. In that case, there is a possibility that the bank's internal system will make the transfer successfully anyway.
However, if you are making an external transaction, it is essential to ensure that the IFSC is correct. Otherwise, the transaction amount will be returned to your account, and the whole transfer process will have to be repeated. It is easy to find the right IFSC.
To do that, you can either check the receiver's passbook or bank statement. You can also check the official website of the RBI, the organization responsible for assigning the codes to banks. Or, you can check the Find Your Bank website or mobile app.
Transactions Limits and Net Banking Charges on SIBerNet
If you want to transfer funds to an account, there are three modes of doing so
RTGS
For Rs 2 lakhs and above.
Real-time settlements (Monday-Saturday, 7.00 am to 5.50 pm).
NEFT
No upper/lower limit.
Batch-wise hourly settlement throughout the day.
IMPS
Upper limit of Rs 1 lakh (personal) and Rs 2 lakhs (corporate).
Real-time settlement throughout the day.
The charges applied on the transactions depend on the amount and whether or not it is an external or internal transfer. The charges include the following (excluding GST) 
Type of Transaction
Amount
Within SIB
Outside SIB
RTGS
Rs 2-5 lakhs
More Rs 5 lakhs
Rs 12.50
Rs 25.00
Rs 12.50
Rs 25.00
NEFT
Up to Rs 10,000.00
Rs 10,000.00-1 lakhs
Rs 1-2 lakhs
More than Rs 2 lakhs
0
0
0
0
Rs 1.25
Rs 2.50
Rs 7.50
Rs 12.50
IMPS
Below Rs 1,000
Rs 1,000-Rs 1 lakh
Rs 1-2 lakh
Rs 5.00
Rs 5.00
Rs 5.00
Rs 15.00
Rs 15.00
Rs 15.00
How to Reset Password on SIBerNet?
Without your password, you will not be able to log in to SIBerNet to avail online banking facilities. However, if you do forget your password, you can reset it easily. The steps of the South Indian Bank transaction password reset procedure are as follows
Step 1: Visit the SIBerNet login page. 
Step 2: Click on the 'Forgot Password' option. 
Step 3: Once the new page opens, choose the option to set a password using a debit card. Click on 'Continue'.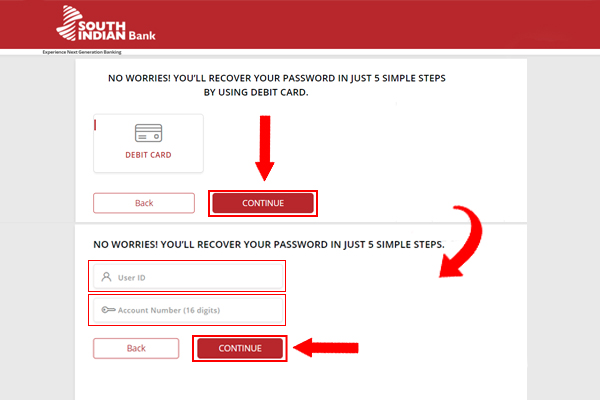 Step 4: On the following page, add your debit card number, card expiry date, and ATM Pin and select 'Continue'.  
Step 5: At this point, you will receive an OTP on your registered mobile number. Add it in the given space and click on 'Submit'. 
Step 6: After that, you will be prompted to reset your password for Login and Transaction. Once you do so, click on 'Continue' to activate the new password.
How to Check Account Balance Using SIBerNet?
Checking the account balance using SIBerNet is an extremely easy task that can be performed anytime, anywhere. The steps of balance check on SIBerNet are as follows
Step 1: Visit the SIBerNet page and log in using your credentials like User ID and Password to continue.
Step 2: Find the 'My Accounts' tab and select 'Operative Accounts' from there.
Your account balance will be available for viewing purposes here. You can also check the mini statement. You can also download and view the full statement by clicking on Account Statement.
Frequently Asked Questions
How Can I Add a Payee in South Indian Bank Net Banking?
To add beneficiaries in South Indian Bank net banking, you need to select the 'Add or View Payee/Beneficiary' option under 'Fund Transfer' and enter the required details of the payee's account, including the IFSC. You can select a nickname for a payee, too.
What is the Transaction Password in SIB Net Banking?
The transaction password in SIB Net Banking is a special password used for transactions like fund transfers, online purchases, digital ticket booking, etc. This alphanumeric code is not the same as the login password, which is used to gain access to SIBerNet. 
How Do I Get a SIB Mirror Password?
To be able to use the official SIB app SIB Mirror, you need a password. For that, you have to enter the last four digits of your account number. Then, add your registered mobile number, where you'll receive an OTP, using which you can set a new password.
How Can I Unlock My South Indian Bank User ID?
You don't need to be stressed if you forget your SIB user ID. Just visit SIB's official login page and select the Forgot User ID option. Then, use your details like mobile number, email ID, and account number. Validate the OTP you'll receive to get the User ID on your email.
How Can I link My Number to My South Indian Bank Account Online?
To link your phone number to your account, you will need to visit your nearest branch and obtain the KYC form. There, you can add a new number and request for it to be used as your registered number linked to your account. You can find the KYC form on SIB's website.
What is the South Indian Bank Customer Care Number?
South Indian Bank has made it possible for customers to reach them easily, thanks to their readily available customer care service. You can give feedback, get information, or share complaints at their toll numbers: 800 102 9408, 1800 425 1809, +91 484 2388555 (NRI).