Bank details are crucial to initiate any kind of transaction and if you are well versed with the terminologies then you can never go wrong with the transaction process. The IFSC codes and MICR codes are the two values that are needed in creating funds transfer from one account to another. But what are actually they? Can one find IFSC code through MICR code? What are their significance and how to figure out these numbers? Here is a little snapshot!
IFSC
Indian Financial System Code is the address code for one user to the other. All kinds of RTGS and NEFT transactions need IFSC to be initiated through RBI. It is simply an 11 character unique code for each of the bank branches. The first four digits correspond to the identity of the bank, 5th digit is always zero and the last 6 characters display the branch code which has been allocated to every single genuine branch of each bank. The number is unique and helps in National Electronic Funds Transfer.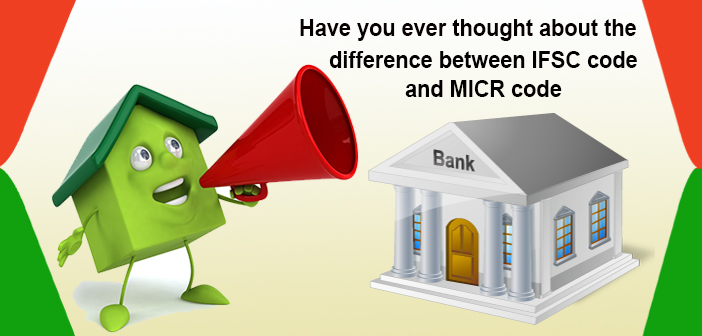 MICR
The acronym for Magnetic Ink Character Recognition contains 9 digits numbers and can be found at the bottom of the cheque. It is then followed by cheque number and each of the bank branches has its own unique MICR code. Though MICR code are hard to remember, if you are able to understand what they mean it becomes easier to retain them in mind.
Just like the IFSC code, the MICR codes are divided in 3 different parts. The first three digits represent the city PIN that is mentioned within the address of the branch itself. For example the PIN Code for a bank in Hyderabad, Madhapur will be 500. The following 3 digits are the bank codes that are being allocated by the RBI, Reserve Bank of India. Say the above mentioned bank is allocated code 002 then it becomes 500002. Moving on the last 3 digits, they are the Bank Branch codes for that particular bank.
Simplifies it means Pin Code + Bank Code + Bank Branch Code
How to Find IFSC code Through MICR code?
Though it might be easier to learn the MICR code and one might need it for offline transactions, the fact is that most of us don't care what IFSC code is until and unless we sit to make an electronic funds transfer. Knowing the IFSC code is mandatory and in case you don't, then browsing through the entire list of branch IFSC codes your specific bank has in India can be tedious and daunting.
There are websites online that can help you find IFSC code through MICR code. You just have to click on the link, fill into the MICR code and they will check records and come up with the accurate IFSC code for that code. Since the branch and city details are mentioned within MICR code it gets easier to identify and confirm from bank and give you the answer!