UCO Bank net banking offers a unique personalized banking experience to the customers. It has added convenience by allowing access to your bank accounts 24*7 and various services like bill payments, funds transfer, and account statements.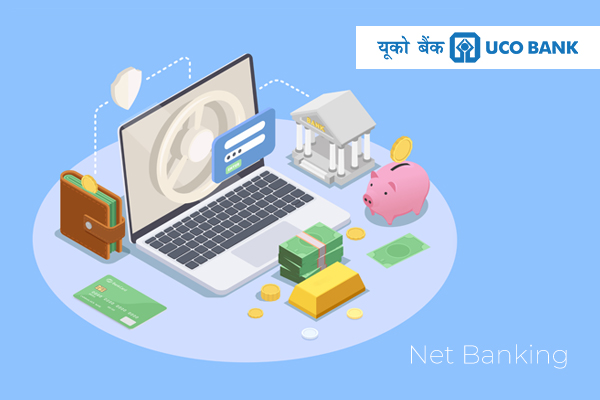 UCO Bank online banking allows you to open recurring deposits, fixed deposits, or other accounts. You can apply for different loan types online without the need to stand in long queues.
UCO bank's online services allow you to use the online services anytime without any restrictions saving your time and effort. The bank also offers retail, commercial, kids' and investment banking services.
But you need to know the details of UCO bank net banking services to use them appropriately. So, the article includes details like the net banking registration process at UCO bank, login procedure, change passwords, and fund transfer ways.
UCO Bank Net Banking
UCO bank is an undertaking organization of the Government of India and a commercial bank. It was founded in 1943, having its head office in Kolkata and more than 3000 service units across India.
The bank participates in almost all economic segments like agriculture, service, industry, and infrastructure.
UCO Bank offers exclusive net banking services like quick funds transfers, the status of transactions, various payments like taxes, prepaid and postpaid mobile recharges, credit card, and DTH charges.
The bank's net banking link accounts like FDs, loans, RDs, and insurance under one single user login. You can access all accounts with a single online banking login account.
UCO Bank Customer Care and IFSC code
UCO Bank offers customer care services to avoid banking hassles. The customer care team is active and helps customers resolve their issues and queries in less time. Account-holders can contact UCO bank toll-free number 18002740123.
You can ask all queries related to banking products and services like loans, deposit accounts, bill payments, funds transfer, and many more. Also You have the option to contact the customer service team by sending an email to [email protected] and file your complaint here.
You can send an SMS to '9230192301' if you have lost your misplaced debit card.
UCO Bank IFSC code
IFSC of Indian Financial System Code is mandatory for transferring online funds from one bank to another. It is an alphanumeric code of 11 characters that the RBI assigns for correctly identifying each bank branch participating in an online cash transaction.
You will need an IFSC code for a specific UCO branch to which you have to transfer money.
But what to do if you do not know the IFSC code of a UCO bank branch? You can locate the correct code from the 'Find Your Bank' website. It is an online user-friendly search tool that enables you to find the valid IFSC code. Following the below steps –
Visit the website https://findyourbank.in/
Enter details like bank name, state, district, and branch on the home page.
After clicking o, you will get the correct IFSC code of the UCO bank branch.
You can find the IFSC code of other banks on the website.
The website can help you find the MICR and SWIFT codes of the various banks. Find Your Bank is also available for download from the Android Play store.
UCO Bank Net Banking Registration
You can follow the below steps for registering to UCO net banking online-
Visit UCO bank online banking portal ucoebanking.in
Click on the new registration.
Enter your account number
Provide one of your last five transactions amount and type.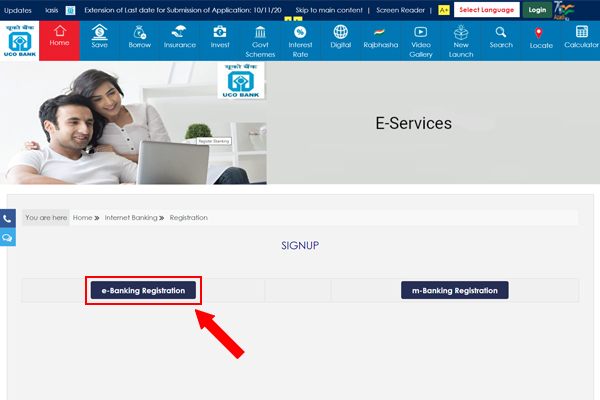 If you do not remember the transaction, you can give a missed call on 09213125125 to get the last transaction details.
After entering the details, select I agree
Click on submit.
Provide the OTP you receive on your mobile number on the next screen.
Enter your debit card number, PIN, and expiry date
The bank will send a temporary User ID and password for details verification.
You can log in to the UCO bank internet banking website with the user ID and password.
Your user ID will activate within two days of issuance.
You can change the login details after logging in for the first time and set the transaction password for UCO bank online services.
Follow the process to register offline-
Visit your nearest or home branch.
Get the form for registering UCO bank net banking.
Fill in the details like address, mobile number, email id, account number and submit the necessary ID proofs.
The bank will consider your request and send you a user ID and password.
Login with the details and change the password.
How to Login?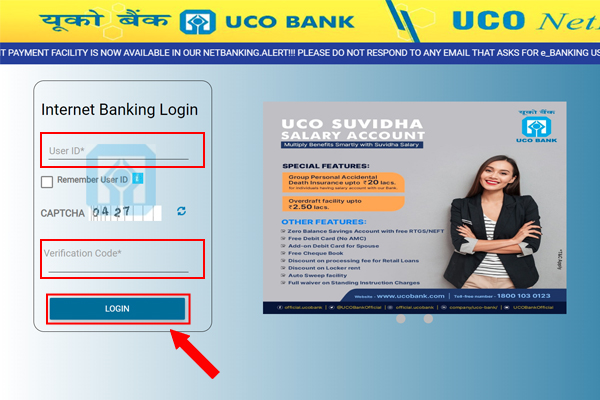 Visit UCO bank e-banking page ucoebanking.in
Click on the UCO bank login image.
Click on continue.
Enter user ID and login
Enter the password and a captcha code.
Click on the login button.
You can now access your UCO bank online account.
How to Reset password in UCO bank Net Banking?
Visit the UCO net banking website.
Click on e-banking.
Select password reset.
Enter your user ID, primary account number, and one of the last five transaction amounts and types.
Select agree. Click on submit.
Enter OTP that you will get on your mobile number and confirm.
Enter a new password and confirm.
How to Transfer Money and Services available on UCO Bank Net banking?
Different transaction types are available in UCO bank-
NEFT – UCO bank offers MBanking Plus application for transferring funds through NEFT. You will need a UCO bank IFSC code and the beneficiary's account number for the transaction.
RTGS – RTGS is a quick and immediate mode of online money transfer. You can use the MBanking Plus application for carrying transactions from UCO bank to another branch or any other bank.
UPI – The Unified Payments Interface transfers funds through a virtual payment address in real-time. You require the beneficiary's mobile number or UPI ID. You can use BHIM UCO UPI/MBanking Plus for utilizing the service.
IMPS – It is an instant mode for funds transfer. You need the beneficiary's account number, MMID, and phone number for the transaction. You can use the MBanking Plus application for transferring up to Rs 5,00,00 if a beneficiary is added.
Process to Transfer Funds
Visit UCO bank's online banking portal.
Select transfer money
Select within UCO bank if you have to transfer money to another UCO bank account.
Enter beneficiary's name, account number, and IFSC code.
If you have to transfer money to another bank, choose another bank.
As you enter the IFSC code, you can transfer the UCO bank to another bank.
Enter the amount you have to transfer.
Enter your banking PIN.
Your account will be debited.
You will get an SMS regarding the transaction.
Advantages of UCO Bank Net Banking
UCO bank account holders have the following advantages.
24*7 Availability
UCO bank internet banking services are available 24*7. You can view your bank account statements and make instant funds transfers.
Financial Transactions
UCO Bank online banking allows funds transfer between accounts instantly irrespective of whether both accounts are of UCO bank or a different bank. You can make bill payments like credit cards, tax, EMI, and utility bills like light and water.
Other financial benefits include opening an FD account online, FD renewal, opening a sovereign gold account, and a PPF account. You can link all UCO bank accounts to a single customer ID, inquire about balance online, and view account statements anytime.
Convenient
UCO bank internet banking is a convenient option for accessing banking services. You can avail almost all services without the need to visit the bank and stand in long queues. You can perform any banking activity at your convenience and time.
Organized
UCO Bank net banking makes it easy to track the history of all the transactions you made with your UCO bank account. The details of funds transfer and other related works will reflect in the transaction history. It exhibits details like bank account number, payee's name, amount, date, and time.
You get access to all information without losing any of it.
Secure
You can quickly transfer money through UCO net banking through different transaction types, including NEFT, IMPS, and RTGS. Your account and transaction remain safe with a password and unique user ID.
Easy to Use
UCO bank online services are easier to use. The bank provides a site map and demo, making the process easier for the customers.
FAQs
How do I find my UCO user ID?
You will get your UCO net banking user ID and password from the home branch once you have submitted your request. If you cannot determine your user's name or ID, contact UCO Service Desk at 405-974-2255 or visit the branch personally for additional help.
How can I register my email id in UCO Bank?
You can give a missed call to 9223222000 with the mobile number that is registered with UCO bank. The call will automatically disconnect. Then, you will receive a link through an SMS from the bank. Follow the link to register your email ID.
What is the process to check my UCO account balance online?
You can check your UCO bank balance online by logging into your net banking portal. You can also use mobile apps like UCO bank M-Banking and UCOSecure to check balances online.
How can I activate my UCO debit card?
Open UCO bank mBanking mobile application.
Login and tap on other service options.
Select debit card activation. Select your account number.
Enter the card number and expiry year and month.
After submitting the details, the bank will activate your debit card.