City Union Bank IFSC Code, MICR Code and SWIFT Code
IFSC code plays a major role in all your online banking transactions. It is a unique code of mostly eleven digits that correspond to each branch of a particular bank. City Union Bank IFSC code is a vital part of the Bank as it helps both the Bank and its customers in effortless online fund transfers.
If you are new to the system of online transactions and don't know where you will find the IFSC code, read the below pointers carefully.
IFSC code is easily available on the bank passbook
You can also find it in the chequebook
Any bank's respective IFSC code can also be taken from the Reserve bank of India website
You won't be able to make any type of online fund transfer without entering a valid IFSC code, as it is the main component that segregates the branch locations of all the banks.
City Union Bank IFSC code
City Union Bank IFSC code, like all other Bank IFSC codes, is made up of eleven digits. The format of the City Union Bank Delhi Rohini Branch IFSC Code is CIUB0000244 is similar to the rest of the Bank's IFSC codes. The first four digits represent the bank name, the fifth code is zero, and the rest correspond to the specific branch.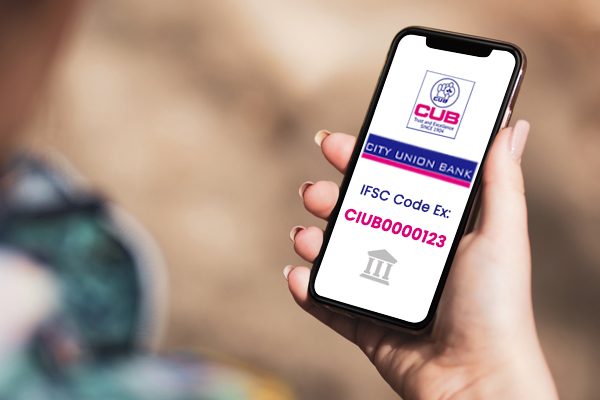 It is necessary to know your City Union bank IFSC code because, without it, you won't be able to transfer money. If you have enabled online banking for your City Union bank account and want to avail of its benefits like online fund transfer, the IFSC code is a must.
For instance, if someone has to send you an online payment, you need to provide them with your bank account details, including the IFSC code. It helps City Union Bank or any other bank identify your branch address and name, which is crucial for online fund transfer. Further, it helps to avoid any discrepancy while transferring money.
City Union Bank MICR Code
The Magnetic Ink Character Recognition (MICR) code can be found in your City Union Bank account's cheque leaf. Additionally, you can also find the MICR code on the bank website.
City Union Bank MICR code is required to quicken cheque processing and allow their encashment. Further, the MICR code of the bank aids in locating its branches, no matter where it is located.
MICR code consists of nine-digit codes. It is required during the electronic clearance system, also known as ECS. The first three digits of the MICR code signify the city name, the second three codes signify the bank code, and the final three represent the branch code.
MICR code simplifies the process of fund transfer as these codes are readable by machines and have zero chances of errors as against the manual process. You will need the MICR code mainly during the cheque clearance process.
What is the Swift Code of City Union Bank?
Swift code or Society for Worldwide Interbank Financial Telecommunication code is an eleven-digit unique code. You will need City Union bank's Swift code when transferring money internationally.
Swift codes make receiving and transferring money online way easier and faster. It's also considered a secure way to make international transactions.
City Union Bank Swift code or BIC (Business Identifier codes) is an eleven-digit code. The first four characters represent the Bank's international presence. The fifth and sixth codes represent the country of the Bank's branch, and the 7th and 8th codes represent the location. The last three codes represent the branch location of the Bank's respective branch.
How to Find IFSC Code, MICR Code and Swift Code of City Union Bank?
You can find City Union Bank IFSC code, MICR code, and Swift code on the https://findyourbank.in/ website. Below is the step-by-step guide to avail the same.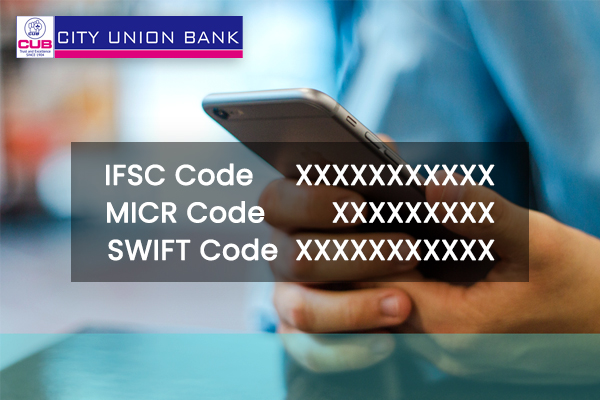 Enter bank name
Select state
Enter district
Select branch name
Once you enter these details, you will get the IFSC, MICR, and Swift codes.
City Union bank also comes with its own mobile app where you can find the City Union Bank IFSC code, MICR code, and Swift code. In the mobile app, find the respective tabs for each category, and you will have to enter information like city, district, and state. Once you enter all necessary information, the app will provide you with the IFSC, MICR, and Swift codes.
Additionally, you can find IFSC and MICR codes on the City Union bank passbook, Cheque book and website. You can find it on the Reserve Bank of India website too.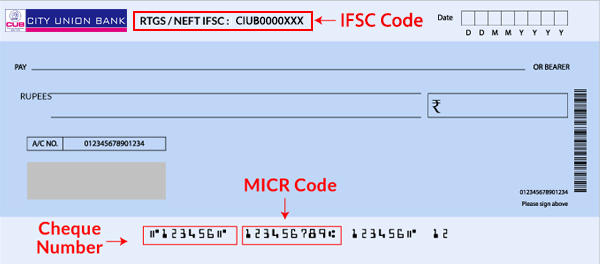 To find City Union Bank's Swift code, you can call customer care, and they will provide you with the necessary information. You can check the Swift code in recent bank statements as well.
How to Transfer Money through the NEFT, RTGS & IMPS process of City Union Bank?
NEFT, RTGS, and IMPS are quick methods of transferring funds online. These allow you to transfer funds to similar or different bank accounts. You can transfer money through NEFT, RTGS, or IMPS by following these steps: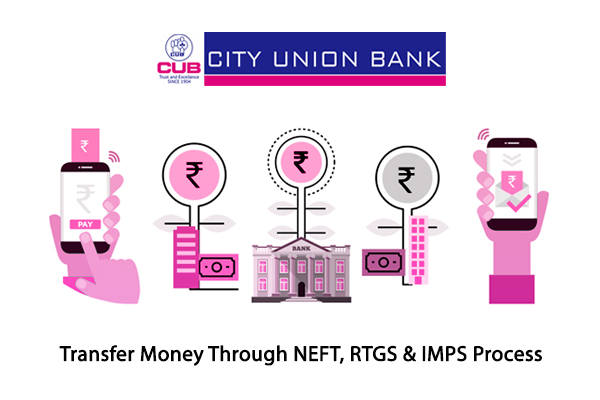 Go to the official website or mobile banking app of the Bank.
For website users, go to personal banking and log in. App users can simply log in as it is already registered with their account.
Go to fund transfer.
You can choose between NEFT, RTGS, and IMPS methods of transfer.
Enter beneficiary details like account holder's name, account number, IFSC code, bank name, mobile number, etc.
After the beneficiary is added, enter the amount you want to transfer
Click on confirm, and your money will be transferred.
Few other features are NEFT, RTGS, and IMPS money transfer is-
Transfer Mode

Transaction Limit
Charges
Timings
NEFT

Maximum limit

Rs. 50000

No charges
Available 24*7, 365 days

IMPS

Minimum limit

Re. 1

Maximum limit

Rs. 2 lakh

Upto Rs. 1 lakh- Rs. 5 per transaction

Rs. 1,00,001 to Rs. 2 lakh- Rs. 15 per transaction

Available 24*7, 365 days

RTGS

Maximum limit

Rs. 2 lakh and above

No charges

Monday to friday- 8 a.m to 5.30 p.m

1st and 3rd Saturdays- 8 a.m to 5.30 p.m
About City Union Bank
Initially named Kumbakonam Bank Limited, City Union Bank has its headquarters in Tamil Nadu. It was established as a union company on 31st October 1904. Later on, the Bank opened its first branch in 1930, and the name was changed to City Union Bank in 1987.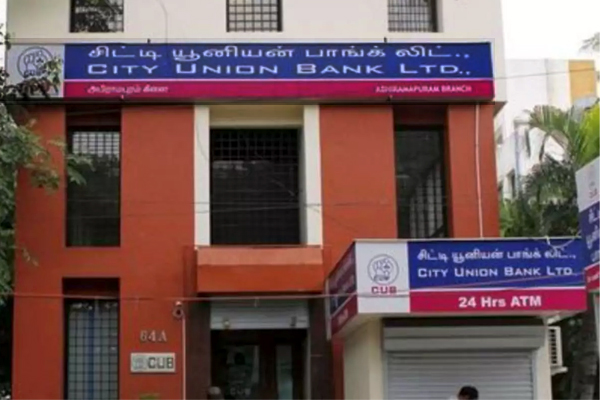 The Bank provides services like net banking, mobile-service kiosks, mobile banking, bulk note acceptors, and the like.
The Bank currently has seven branches and 1762 ATMs all across the country. City Union Bank offers loans to small business holders to large industries as well as to individuals. As per the financial year 2016, the Bank's market capitalization was Rs. 12 529.92 crore.
Now let's check the information about City Union Bank's account types and interest rates-
| | |
| --- | --- |
| Account Type | Interest Rate |
| Basic savings account | 4% p.a |
| General savings account | 4% p.a |
| City Union Bank Excel account | 4% p.a |
| Young India savings accounts | 4% p.a |
| Junior India savings account | 4% p.a |
| Salary savings account | 4% p.a |
| Pradhan Mantr Jan Dhani Yojana | 4% p.a |
Documents required to open a bank account at City Union Bank are
Photo id proof: PAN card, Aadhar Card, Passport, Voter id, driving license.
Address proof: Passport, Aadhar card, Voter Id, utility bills (electricity, water, telephone, and gas), driving license.
Age proof: Birth certificate, school id, Passport, Aadhar card; in case of children below school age, a declaration from the parent or local guardian is needed.
Passport size photo
The candidate will have to fill up the form duly along with submitting these documents.
FAQs
1. What is the BSR code of City Union Bank?
Basic Statistical Return (BSR) is a seven-digit unique code. It is required to identify the branch where tax is deposited. It is mainly required to pay income tax payments. It is different for each branch.
2. How to get the IFSC code of City Union Bank?
You can access the IFSC code of Bank through the City Union Bank website or their mobile bank app, or you can also access it through the https://findyourbank.in/ website.
3. Is City Union Bank Internet Banking a Safe Option?
Yes, City Union Bank internet banking is a safe option as you can secure it through a password that is only known to you. Make sure you set a strong password using letters, numbers, and symbols so that it is not accessible to anyone.