Kapol Co Operative Bank IFSC Code, MICR Code and SWIFT Code
The significance of specific bank credentials, such as the IFSC code, is often less known. The Indian Financial System Code is a mandatory credential in various financial transactions. Similarly, the Kapol Co-Operative Bank Ltd IFSC code identifies your bank branch.
The IFSC code's primary function is identification. The IFSC code identifies a bank's branch, and the Reserve Bank of India issues it. Transactions made via electronic fund transfer platforms such as NEFT, RTGS, and IMPS require the IFSC code.
The RBI also keeps track of all transactions using the IFSC code to guarantee safety. Another unique credential is MICR, which is very significant. The MICR code is present on your check leaf, and the bank uses it in order to process and authenticate cheque payments.
Refer to the extensive guide if you are curious to find out more about these codes and want to learn how to utilize them to conduct electronic transactions.
Kapol Co-operative Bank IFSC Code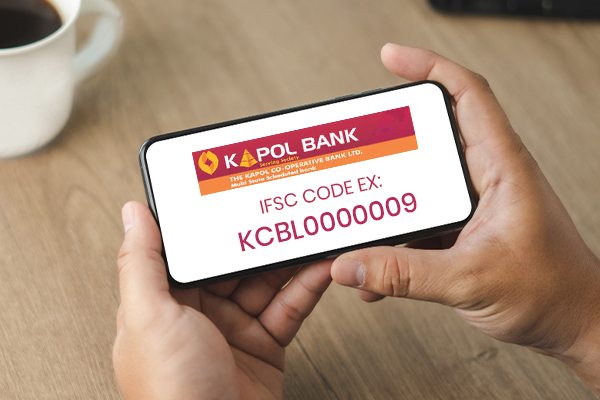 The Kapol Co-Operative Bank Ltd IFSC code is a unique 11-digit alphanumeric number. You can find it in your bank passbook and other financial bank documents. It's one of the most important details to fill out when making several internet transactions and payments.
This code enables you to do paperless transactions in a secure and straightforward manner. The IFSC code is in the layout 'CDEF0456789' and has a specified format. For example, The Kapol Co-Operative Bank Kandivali branch, Mumbai IFSC Code is KCBL0000009.
This code is in three parts: the first four digits (KCBL) reflect your bank's name, the fifth is always a zero (0), and the last six digits (000009) represent your bank branch.
Kapol Co-Operative Bank MICR Code
The MICR Code for Kapol Co-Operative Bank Ltd. is a distinct nine-digit code. This code will be available on your check leaf. But, it serves a wholly different purpose. It enables the identification and authentication of cheque payments.
The authorities produce the code using MICR or Magnetic Ink Character Recognition technology. The MICR code is nine characters long and is in the layout '123456789'. For the Kandivali branch of this bank, the MICR code is 400076009.
The city name is represented by the first three digits (400), which aligns with the PIN code used for postal addresses. The following three digits (076) represent your bank, and the last three digits (009) give you your bank branch.
How to Find the IFSC and MICR Codes of Kapol Co-Operative Bank?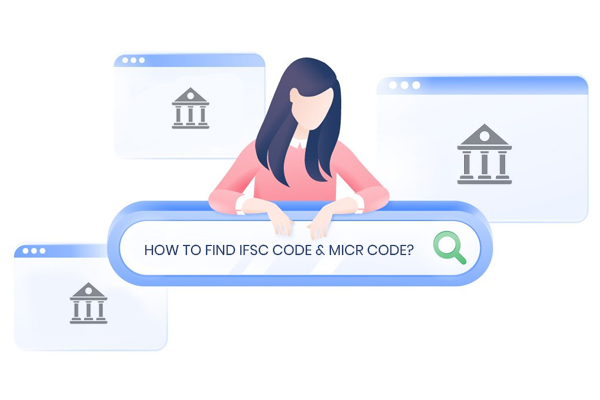 The Kapol Co-Operative Bank Ltd IFSC code and MICR code are necessary credentials one must remember at all times. They can help you finish payments via a variety of techniques. You can obtain these codes in a number of different ways. These are below:
Find Your Bank
Find Your Bank is one of the best ways to retrieve your IFSC and MICR codes, and it is a simple website. This site also offers a lot of other banking-related information. To obtain your branch's IFSC and MICR code, simply go to its official website and provide the following information:
Name of the bank
State
District
Branch
Click 'Enter'
Once you enter all of the above information, hit enter, and the search results will show you all of the essential codes. Find My Bank has also come up with a cutting-edge mobile app that makes obtaining codes even simpler.
With just a number of clicks, you will be able to easily use the mobile app to access various other services.
Bank Documents
Important credentials are always present in the documents and records that your bank provides you. On your bank passbook and cheque book, you may find the Kapol Co-Operative Bank Ltd IFSC code and MICR code.
RBI
The Reserve Bank of India's official website is another place where you can get your IFSC code and MICR code. The Reserve Bank of India maintains a database of all IFSC and MICR codes for Indian bank branches.
Netbanking and Mobile Banking
Another option to obtain these codes is through your bank's Netbanking or Mobile interface. You must log in first by using your username and password. After logging in, you may browse the available alternatives and pick the best one to get the codes you want.
Contact the Bank
Don't worry if neither of these methods outlined above works. You can simply contact the customer service department of your local bank branch, and they will walk you through the necessary steps.
How to Transfer Money using Kapol Co-Operative Bank's NEFT, RTGS, and IMPS Systems?
People prefer electronic financial transfer techniques like NEFT, RTGS, and IMPS to offline banking in this digital age since they are more convenient and efficient. With a few details, you can use these services from the comfort of your own home.
You'll need the following credentials in addition to the Kapol Co-Operative Bank Ltd IFSC Code:
The transaction value
Name of the beneficiary's bank
Beneficiary's name
Remitter's account number
Beneficiary's account number
The beneficiary's branch's IFSC code
If applicable, sender-to-receiver information
When making many payments via electronic transaction platforms, these details will always come in handy.
NEFT (National Electronic Fund Transfer) Or National Electronic Fund Transfer
The Reserve Bank of India introduced the NEFT or National Electronic Fund Transfer System, which is one of the most widely used means for transferring payments fast. It works in batch settlements and depends on the DNS (Deferred Net Settling) mechanism.
The details of the NEFT service provided by Kapol Co-Operative Bank are:
Timings
Available at all times
Charges applicable

Rs 2.50 up to Rs 10,000/-
Rs 5 above Rs 10,000/- and up to Rs 1 Lakh
Rs 15 above Rs 1 Lakh and up NIL to Rs 2 Lakh
Rs 25 above Rs 2 Lakh

Settlement
Half-hourly batches
Maximum and Minimum limits
No limits on NEFT
GST applicable.
Netbanking or mobile banking services can help you make NEFT payments. Log in to the platform, then pick the NEFT option. Then, fill up the relevant details to add your beneficiary. Make sure you go through the terms and conditions before completing the NEFT transaction.
RTGS
Another electronic transaction method is RTGS, or Real-Time Gross Settlement, which works on a real-time settlement. The term "real-time" refers to transactions that are performed only at the time of receipt and are based on a gross or individual system.
Because RTGS payments are non-reversible, it is typically used for more significant amounts. Here are the details of the RTGS service provided by Kapol Co-Operative Bank:
Timings
Bank working hours
Charges applicable

Rs 25.00 per transaction of Rs 2 lakhs to Rs 5 lakhs
Rs. 50.00 above Rs. 5 Lakh

Settlement
Real-time
Minimum and maximum limit

The minimum limit is Rs. 2 lakhs
There is no maximum limit
GST applicable.
Log in to the Kapol Co-Operative Bank net or mobile banking account to send money using the RTGS service. Then you must choose the RTGS fund transfer option and enter the Kapol Co-Operative Bank IFSC code as well as the other credentials stated before.
Before you complete any transfer, double-check the information you fill in and then carefully read the terms and conditions.
Immediate Payment Service (IMPS)
IMPS is an immediate or rapid electronic fund transfer system that operates 24 hours a day, 365 days a year, including holidays. When it comes to money transfer methods, it is a popular choice because the settlement is instantaneous, and the approach is quite convenient.
The details of the IMPS service provided by Kapol Co-Operative Bank are as follows:
Timings
Available all times
Settlement
Instant
Charges

Up to Rs. 1 Lakh - Rs. 5
Rs. 1 Lakh to Rs. 2 Lakhs - Rs. 15

Minimum limit
Rs. 10
Maximum limit
Rs. 2 Lakhs
GST applicable.
You can access the Kapol Co-Operative Bank's net or mobile banking portal to use the IMPS service. To perform an IMPS transaction successfully, you will require:
MMID stands for Mobile Money Identifier.
The beneficiary's MMID code
Beneficiary's bank account number
Your cell phone number
Beneficiary's AADHAR card number
Beneficiary's branch's IFSC code
Log in to the Kapol Co-Operative Bank's mobile application with your credentials to access the IMPS service. Then, from the various fund transfer options list, select 'IMPS' and provide the relevant information, as described earlier.
During the transaction, you will receive a passcode that you must enter in order to complete the transaction successfully. The bank will deliver an affirmation text message with the transaction number to your relevant cell phone number once you verify the payment by using the passcode.
This indicates that your transaction was successful. You can monitor the transaction by using the transaction number given to you. It will also assist you in the event of any inconvenience.
If you want to receive money via one of the aforesaid electronic transfer techniques, you must give the remitter your bank account and branch information.
About Kapol Co-Operative Bank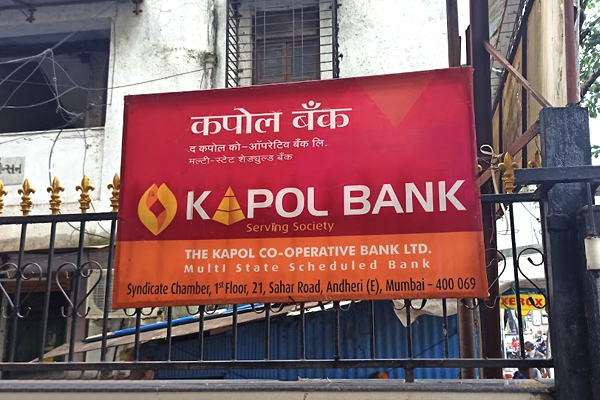 Late Rajratna Shri Khushaldas Kurji Parekh, an educationalist, socialist, and reformist, founded the Kapol Co-Operative Bank Ltd. in 1939. The bank's primary goal is to help the impoverished and economically disadvantaged members of society.
The bank is working hard to achieve and meet the founder's above goals. Kapol Co-Operative Bank Ltd has retained its long record of being the quickest increasing bank in the country. The bank currently operates in the states of Gujarat and Maharashtra, and it has 15 branches and 14 ATM stations.
It provides services, including deposits, loans, insurance, and much more, to its customers. The bank continues to follow its founder's objectives by making financial assistance available to the underprivileged and needful.
Frequently Asked Questions
1) Who is eligible for Opening a Kapol Co-Operative Bank Ltd Bank Account?
Kapol Co-Operative Bank accounts can be opened by anyone who is a resident Indian, a non-resident Indian (NRI), Hindu Undivided Family (HUF), or individuals, associations, partnerships, or businesses permitted by the RBI.
Under the supervision of a guardian, minors can also open a savings account. At the time of application, the applicant must also have Proof of Address (POA) and Proof of Identity.
2) What Information do you require for transferring funds using Kapol Co-Operative Bank Limited?
To transfer funds using Kapol Co-Operative Bank Limited, the sender must have:
The amount of transaction
Beneficiary's bank name
Beneficiary's name
Account number of the remitter
Account number of the beneficiary
The Kapol Co-Operative Bank Ltd IFSC code of beneficiary's branch
3) What exactly is MMID?
The Mobile Money Identifier code, abbreviated as MMID, is a seven-digit number that the bank assigns to all registered customers who use the mobile banking service. A valid MMID code helps complete an IMPS transaction.
4) What does the Acronym IFSC stand for?
The Indian Financial System Code is abbreviated as IFSC. It's a nine-digit code used to identify your bank branch and allows you to make various online fund transfers.
5) How can I make an Online Money Transfer from One Bank account to another?
You can utilize Kapol Co-Operative Bank's Netbanking or Mobile Banking services to explore the many fund transfer methods accessible on the menu for online fund transfers.
Fill in vital credentials like your IFSC code and other credentials provided in the article to send money via the NEFT, RTGS, or IMPS payment systems.