Standard Chartered Bank IFSC Code, MICR Code and SWIFT Code
Thanks to advanced mobile apps, online banking has come into the spotlight these days. But more than ever, business owners and retail customers rely on net banking for multiple functions. Standard Chartered Bank IFSC Code is changing the way of making financial transactions.
Today's fast-moving world has replaced in-person visits to a bank branch with online banking. It offers multiple web-based features to make online financial transactions. These include bill and tax payments, cash transfers, loan applications, and cheque deposits.
You can access online banking through the bank's mobile app or computer. You need a bank account with a secure password and a stable internet connection that lets you access your account from any place.
However, using net banking without adequate knowledge involves risk. So, the blog presents thorough information on Standard Chartered online banking.
Standard Chartered Bank IFSC Code
If you practice online banking regularly, you must have come across the IFSC code. But are you aware IFSC code's significance, and why is it mandatory for online transactions? IFSC Code facilitates customers to make quick funds transfers. It has 11 characters that combine numbers and alphabets. RBI assigns a uniqueIFSC code to each bank that is unique with zero discrepancy possibility. Standard Chartered Bank IFSC Code regulates online cash transfer.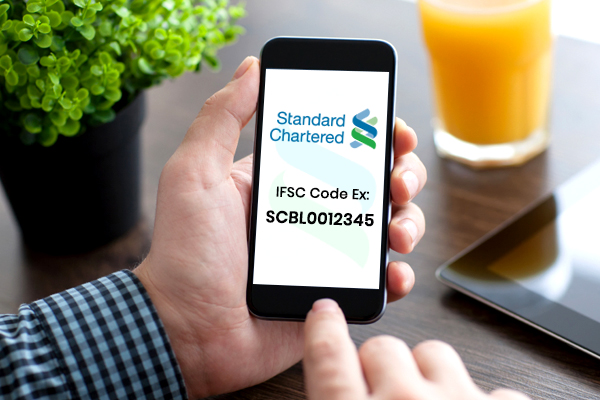 The code correctly identifies the source and destination bank. It ensures that transactions through RTGS, NEFT, IMPS, and money transfers through the bank are safe. The code combines alphabets and numbers.
For example, the Standard Chartered Bank Chennai Rajaji Salai branch IFSC Code is SCBL0036078. The initial 4 letters represent the bank name, while the last six are the specific branch code. The 5th digit is a universal zero.
Standard Chartered Bank MICR Code
Do you know there is a specific code at the bottom of each cheque besides the cheque number? It is the MICR code printed on cheques with Magnetic Ink Character Recognition. It is a 9-digit code that is critical in monetary transactions and identifying Standard Chartered Bank's cheques.
You require a MICR code for filling up financial transaction forms like SIP or investment forms. The code participates in ECS or electronic clearing systems that result in faster cheque processing. It verifies the paper documents in the bank.
For example, the MICR code of Standard Chartered Bank, Grindlays Garden, Chennai is 600036007.
The first 3 digits are the city code that aligns with the postal address' pin code, followed by the following 3 digits that signify the bank code. The last 3 numbers represent the specific branch code.
Standard Chartered Bank SWIFT Code
If you are someone who does international transactions, then you might have come across SWIFT code. SWIFT code is slightly similar to Standard Chartered Bank IFSC code. SWIFT code identifies a particular branch while conducting international transactions. SWIFT code consists of numbers and letters that the banks use for transferring messages. The code is a little costly and can make you pay higher based on the rates of transactions.
The Standard Chartered Bank SWIFT Code Mumbai is SCBLINBBXXX. The first 4 characters are alphabets representing bank code followed by country code which is the following 2 letters. Following is a combination of letters and numbers that represent location-based code. The last 3 characters are either letters or digits that signify the branch code.
How to Find Standard Chartered Bank IFSC Code, MICR Code & SWIFT Code?
Now that you know the bank code details, it is essential to understand where you will find the Standard Chartered Bank IFSC Code, SWIFT, and MICR code. You can find the correct codes from multiple sources like bank websites, bank apps, and third-party websites. One of the reliable sources of finding the code is the 'Find Your Bank' website. Follow the below steps to access the website and find the correct code.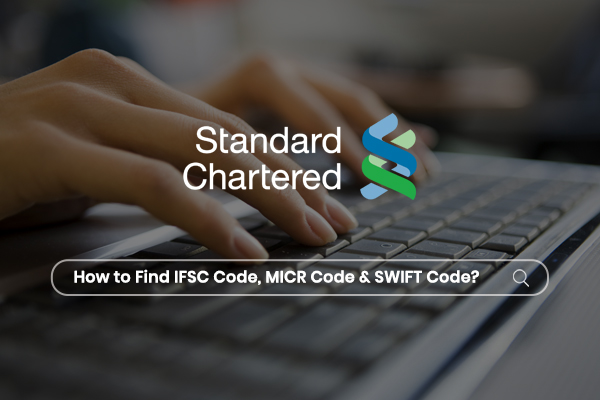 Visit the 'Find Your Bank' website.
Enter your details like bank and branch name, state on the landing page.
Click on submit button.
You will get the standard Chartered Bank IFSC Code. The website will also generate SWIFT and MICR codes.
'Find Your Bank' has an app that you can download and find the correct bank codes. The additional sources from where you will get the correct branch codes are –
Passbook
Your Standard Chartered Bank passbook mentions the IFSC and MICR code of the branch you have an account.
Cheque book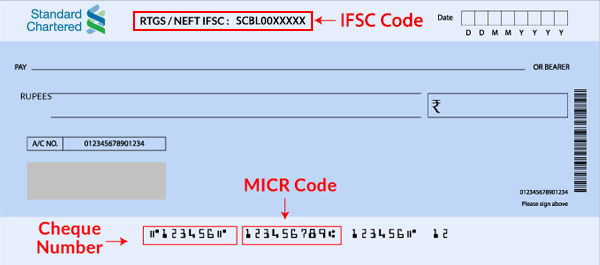 Your cheque contains the Standard Chartered Bank IFSC Code on the top corner. You can find the MICR code at the cheque's bottom immediately next to the cheque number.
RBI official website
RBI has an official website https://www.rbi.org.in/Scripts/IFSCMICRDetails.aspx from where you can find the correct codes of the particular branch.
Net banking
You can visit Standard Chartered Bank's online banking website. Here, you can easily find the bank branch code.
Standard Chartered Bank statements
You will get the branch codes from bank statements if you have an online account. Sign in to Standard Chartered Bank online account and evaluate your bank statements to access the codes.
How to Transfer Money through Standard Chartered Bank NEFT, RTGS & IMPS processes?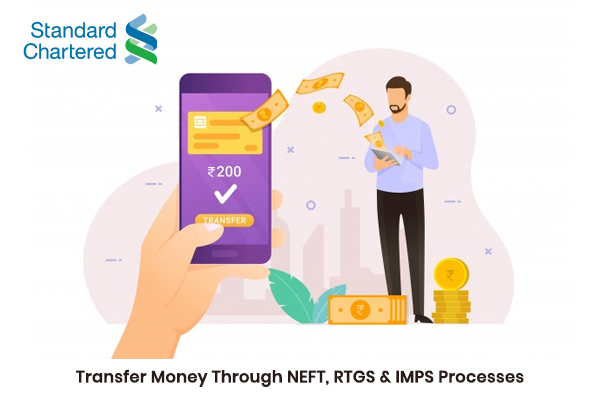 NEFT
NEFT works on deferred net settlements and is suitable to transfer small amounts in batches on an hourly schedule. National Electronic Funds Transfer is available for savings/current account holders with the Standard Chartered Bank.
You can transfer funds online from one branch to another of the Standard Chartered Bank or from one bank to another bank. The bank levies a minimal charge for carrying transactions through NEFT.
The Standard Chartered Bank has no minimum and maximum limit for the amount you can transfer through NEFT. The bank charges less than Rs 2.50 for transactions up to Rs 10,000 and not exceeding Rs 5 for Rs 10,000 – Rs 1 lakh.
The bank charges not more than Rs 15 for Rs 1 lakh – Rs 2 lakh. There is a charge not exceeding Rs 25 for the transaction of above Rs 2 lakh – Rs 5 lakh. It charges not more than Rs 25 for the amount above Rs 5 lakh – Rs 10 lakh.
You will need the receiver's name, account number, bank, branch, and IFSC code to be transferred for NEFT transactions.
RTGS
RTGS or Real-time Gross Settlement transfer funds individually and not batch-wise. It makes RTGS the fastest mode for transferring money online. The Standard Chartered Bank ensures that each transaction is completed at the customer's request.
RTGS is a robust and integrated payment system that transfers funds on an irrevocable basis. The Standard Chartered Bank enables you to transfer Rs 2 lakh to other banks with RTGS enabled service.
The bank does not charge RTGS through the bank branch, while it charges Rs 2 per transaction in net banking through RTGS. The transfer timings for the bank are 8 am -4 pm. You will need the receiver's name, bank, branch name, IFSC code of receiver's bank, account number, transfer amount, and receiver's remark.
IMPS
Immediate Payment Service (IMPS) is an instant electronic funds transfer service within banks. It enables access to the bank account and conducts money transmission immediately, securely, and cost-effectively.
IMPS is available on public holidays, including Sundays and Saturdays 24*7. It is an inexpensive service that enables customers to use mobile instruments to access their bank accounts. The Standard Chartered Bank sets a maximum limit of Rs 2 lakh.
The bank charges Rs 5 per transaction up to a transaction of Rs 1,00,000 while Rs 15 for Rs 1,00,001 – Rs 2 lakh. All Standard Chartered Bank current and savings account holders registered for net or mobile banking or those having a legal MMID (Mobile Money Identifier) can use IMPS.
You will need the beneficiary's name and account number to avail IMPS facility. You will need the beneficiary's MMID for phone-to-phone transfer while IFSC code for the phone-to-account transaction.
About Standard Chartered Bank
Standard Chartered Bank is operating since 1858. It has 100 branches in 43 cities, making it the most significant international bank in India. The main client segment includes corporate, retail, private, commercial, and institutional banking.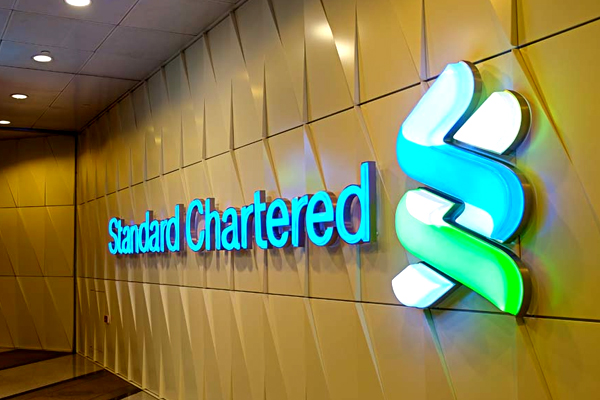 The bank utilizes in-depth local knowledge and global capabilities to offer various products and services for individual and business clients. It ensures to offer the best banking experience to the clients.
Different savings account types-
Standard Chartered Bank offers 4% p.a. interest on your savings account of above Rs 50 lakhs. It provides 3.5% p.a. on savings account for up to Rs 50 lakhs balance.
Documents required for opening a savings account –
2 passport size photos
Photo ID – Aadhar card, Voter ID card
Address proof –driving license, passport
Savings Account name

Eligibility

Employee banking account

Resident individual

Foreign national

Prime savings account

Resident individual

Family banking savings account

Resident individual

SuperValue Account

Resident individual

Foreign national

Hindu Unified family
FAQs
1) Does Standard Chartered Bank have the same SWIFT code for all branches?
No. Standard Chartered Bank has a unique SWIFT code for each branch in India.
2) What will be the results of an incorrect IFSC code?
It is mandatory to provide the correct IFSC code to the bank for completing the transaction. However, if you mention an incorrect IFSC code, the bank will reroute the funds back to your account.
If the funds get transferred to the wrong account, contact Standard Chartered Bank's support staff for immediate help.
3) Is it possible to transfer funds without an IFSC code?
It is not possible to identify bank accounts without an IFSC code. So, IFSC is mandatory for transactions between two different banks. However, you do not require an IFSC code for a transaction within the same bank.