Ujjivan Small Finance Bank IFSC Code, MICR Code and SWIFT Code
Online fund transfer has become a lifesaver for people as now they can send money to their relatives, children, and parents from anywhere in the blink of an eye. IFSC code is a vital factor in this regard which ensures safe and secured fund transfer. Ujjivan Small Finance Bank IFSC Code is also necessary if you are sending money from this bank.
The primary function of an IFSC code is to identify the branch location of a bank so that money is transferred without any nuisance. IFSC code is an eleven digit alphanumeric code consisting of both numbers and characters, and it is administered by the RBI.
You will require the IFSC code when transferring funds via online transfer modes like NEFT, RTGS, etc. In this blog, you will learn about IFSC and MICR code in detail, along with various fund transfer methods. So let's dive in.
Ujjivan Small Finance Bank IFSC Code
The Ujjivan Small Finance Bank IFSC code has eleven characters. The first four characters here stand for the bank name, the fifth character is zero, and the last six characters correspond to the branch location.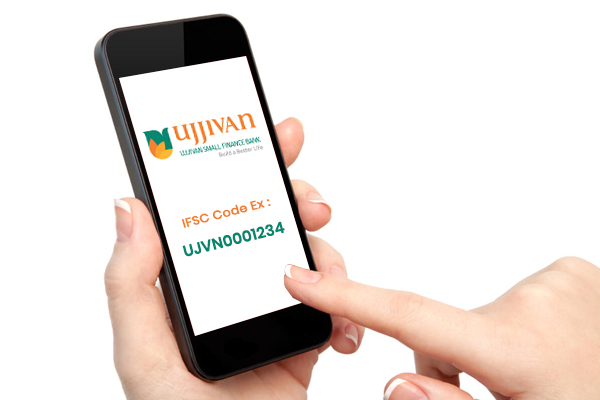 Every branch of the Ujjivan bank has different IFSC codes. For instance, Ujjivan Bank Alappuzha Haripad branch IFSC code is UJVN0001623, and the same for the Kottarakara branch is UJVN0001641.
You will need the Ujjivan Small Finance Bank IFSC code while making fund transfers through NEFT or RTGS or receiving funds from other senders. Without inputting the IFSC code, you won't be able to make a successful transaction.
Also, make sure you place the beneficiary IFSC code correctly. If you misplace even a single character, the money will be transferred to someone else's account. Hence, it's better to be extremely careful about that.
Ujjivan Small Finance Bank MICR code
MICR or Magnetic Ink Recognition Code is also used for identifying the branches of a bank. MICR code is a system for pattern recognition and is used to identify the document's originality and authenticity. It also helps in the faster processing of paper based documents like cheques. The MICR code is easily readable even if there is a sign or stamp over it. The magnetic ink is almost impossible to replicate; hence, there are very few chances of forgery.
Ujjivan Small Finance bank MICR code is a nine-digit code containing numerics only. The nine numbers can be broken down into three parts. The first three parts represent the city, the following three digits are for the bank name, and the final three digits stand for the branch code.
The MICR code of Ujjivan bank Agartala branch is- 799761005. Likewise, other branches of the bank have different MICR codes following the same format.
Ujjivan Small Finance Bank Swift Code
SWIFT code is assigned by the Society of Worldwide Interbank Telecommunication (SWIFT) to banks for exchanging messages and transferring funds internationally. It's known as the Bank Identifier Code or BIC code as well. Ujjivan Small Finance Bank does not have any SWIFT code or BIC code.
How to Find the Ujjivan Small Finance Bank IFSC Code, MICR Code?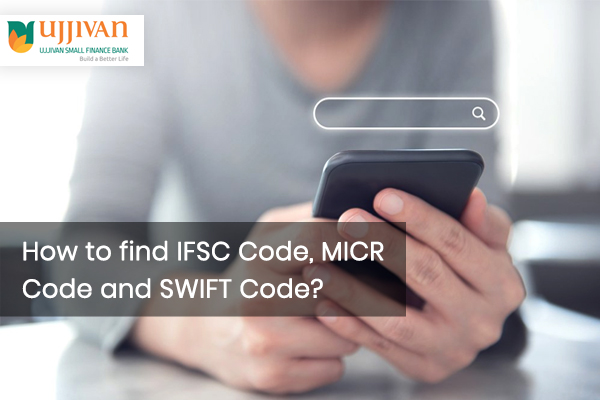 You can find the Ujjivan Small Finance Bank IFSC code, MICR code and the SWIFT code through Find Your Bank website and in the Find Your Bank mobile app. To find the codes on the website, you need to-
Open the https://findyourbank.in/ website
On the homepage, you will see options for selecting bank name, state, district and branch
After selecting all the options, you will find the IFSC code for the Ujjivan Bank branch you are looking for.
You can find these codes through other means as well. Let's look into them one by one.
Net banking platforms
You can check for Ujjivan bank IFSC and MICR codes on the bank's net banking platforms like its own website and mobile app.
Passbook and cheque books
The IFSC and MICR code is always printed on the passbook and cheque book. Therefore, make sure to look for these codes there.
Reserve Bank of India Website
The Reserve Bank of India Website has records of all banks' IFSC, MICR, and SWIFT codes; hence, it is a reliable source to get this information.
Customer care
You can also call the Ujjivan Bank Customer Care team to enquire about the IFSC and MICR code. It's one of the easiest and convenient ways to find these codes. Customer care also will help you get the SWIFT code if you can't seem to find it anywhere else.
Another way to find the SWIFT code is by checking your recent bank statements. Just log in to the online baking portal and check your recent bank statements.
How to Transfer Money through NEFT, RTGS, and IMPS processes?
Below we will discuss the NEFT, RTGS, and IMPS process of fund transfer. Please note the Ujjivan Bank IFSC code plays a crucial role in the NEFT and RTGS fund transfer modes, and without it, money transfer won't be a success.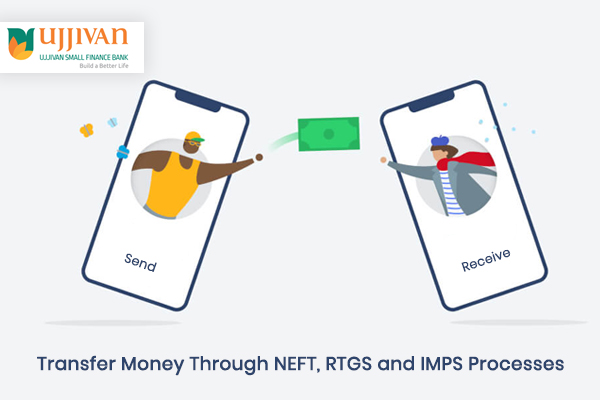 To transfer money by NEFT and RTGS, you will need-
Beneficiary bank name
Account number
Beneficiary name
IFSC code
Phone number/email ID
After placing all these details, put in the amount you want to transfer, and your money will be sent successfully.
The process for sending money via IMPS is a bit different. Differing from the NEFT and RTGS mode, IMPS is for immediate fund transfer, and you can avail this service via SMS, ATM, bank branch as well.
To send money via IMPS, you will need-
Your Mobile Money Identifier code (MMID)
Your phone number
Beneficiary MMID
Beneficiary account number
Beneficiary IFSC code and AADHAR number
Now let's look into the maximum and minimum limit, charges and timings of the three fund transfer methods-
Payment service
NEFT
RTGS
IMPS
Maximum Limit
None
None
2 Lakhs
Minimum Limit
Re.1
2 Lakhs
Re.1
Timings
Available 24*7 all through the year
9am to 3.30 pm- Monday to Saturday (not available on 2nd and 4th saturdays)
Available 365 days including bank holidays.
Transaction Charges

Upto Rs. 10,000- Rs. 2.5 plus tax

From Rs. 10,000 to Rs. 1 lakh- Rs. 5 plus tax

Rs. 1 lakh - Rs. 5 lakh- Rs. 15 plus tax

Above Rs. 2 lakhs- Rs. 25 plus tax

Rs. 2 lakhs to 5 lakhs- Rs. 25 plus tax

Rs. 5 lakhs to 10 lakhs- Rs. 50 plus tax

Unto Rs. 15 plus tax (tax depends on the transferred amount)
About Ujjivan Small Finance Bank
Ujjivan Small Finance Bank was established in 2016, and the bank's main motto was to help rural India become financially stable. The bank has its headquarters in Bangalore, India and has over 464 branches across 24 states.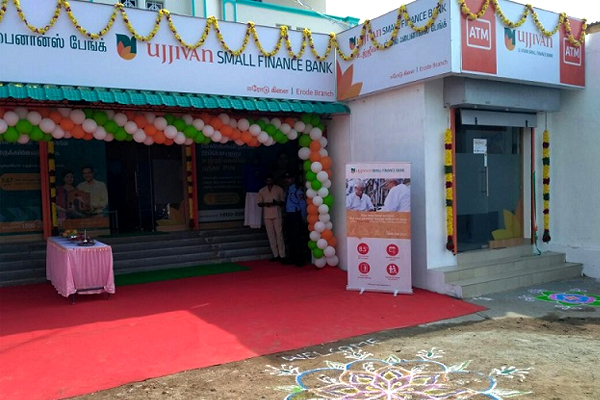 Any Indian resident above 18 years is eligible to open accounts in Ujjivan Small Finance Bank. Also, the individual will have to submit photocopies of their PAN card, AADHAR card, address proof etc., to open the account.
The interest rates for saving accounts of Ujjivan Small Finance bank are as follows-
| | |
| --- | --- |
| Amount | Interest rate |
| Upto 1 lakhs | 4.00% p.a |
| 1 lakhs to 25 lakhs | 7.00% p.a |
| 25 lakhs to 10 crores | 6.00% p.a |
| Above 10 crores | 6.75% p.a |
Interest rates for fixed deposits
| | |
| --- | --- |
| Deposit term | Interest rate |
| 1 to 2 years | 6.00% p.a |
| 2 to 3 years | 6.50% p.a |
| 3 years to 5 years | 6.25% p.a |
| 5 years to 10 years | 6.00% p.a |
FAQs
1) Is Ujjivan Small Finance Bank Safe?
Yes, Ujjivan Small Finance Bank is an authorised bank of India, and it is safe.
2) Is Ujjivan bank private or government?
Ujjivan Small Finance Bank is a private bank. It was originally established as a financial service private limited under the companies act 1956.
3) How can I know my Ujjivan Bank account number?
You can contact Ujjivan Bank customer care service to know your account number.
4) Why do I need to know Ujjivan Bank IFSC code?
You need to know the Ujjivan Bank IFSC code to make online fund transfers via NEFT, RTGS or IMPS.