Canara Bank IFSC Code, MICR Code and SWIFT Code
You might agree that most of the world is now operating remotely. In this scenario, online banking is of enormous support to us. Thanks to advanced web services and mobile apps, digital banking has come into the spotlight. We all rely on Canara Bank IFSC Code to meet our baking needs.
Online banking has now limited in-person visits to the bank. It offers several web-based features to make financial transactions easy and quick. It helps you carry banking activity right from your sofa at any time of the day or night, thus enabling you to manage your finances more manageable.
The critical requirement of online banking is to find the right Canara Bank IFSC Code. But, let me tell you that digital banking needs to be done carefully at each step. Don't worry! The article will help you know the basics of internet banking.
Canara Bank IFSC Code
Do you have a net banking account? You must have been asked to give some necessary details like the account holder's name, account number, and IFSC Code while doing transactions online? Does the term IFSC confuse you?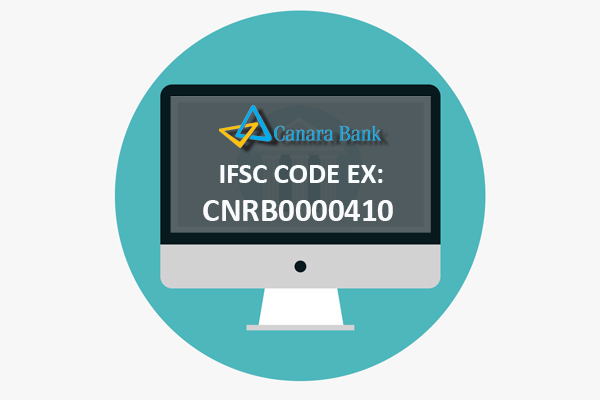 RBI allots the Canara Bank IFSC Code. It is a unique 11-digit code that is alphanumeric, having both letters and alphabets. What do these indicate? The initial four characters are alphabets that signify the bank name. The fifth character is a common zero. The remaining six are either digits or numbers that indicate the branch code. The last characters make the IFSC Code unique.
For example, the Canara Bank Broadway Branch IFSC Code is CNRB0001374.
Canara Bank IFSC Code enables you to transfer funds electronically from your bank account to another of the same bank or different bank. The code recognizes each bank that participates in the payment and settlement systems known as NEFT and RTGS. IFSC Code eliminates any discrepancy in the transactions. Indeed, the code helps to make the payment more comfortable and smoother.
Canara Bank MICR Code
Have you seen a code printed at the bottom of a cheque? Do you know what it is? Magnetic Ink Recognition Code or MICR is an innovative technology that authenticates authority and legality of paper-based documents in the bank.
MICR is a product of CRT or Character Recognition Technology that banks use to verify cheques for clearance. It is located at the bottom of a cheque leaf adjacent to the cheque number. It has details like bank code, amount, account details, and cheque number.
Canara Bank MICR Code is a 9-digit code that helps identify bank-branches participating in Electronic Clearing System or ECS. The code is explicitly required in case you are filling up different financial forms like SIP forms as it enables quick cheque clearance. The initial three characters of the code signify city code, the next three are bank code, and the last 3 are branch code.
For example, the MICR Code of Canara Bank Ltd, Kirari Suleman Nagar Branch New Delhi is 110015228.
Canara Bank SWIFT Code
A SWIFT Code facilitates international funds transfer between two banks. It is a standard format of BIC or Bank Identifier Code that specifies a branch or bank. Banks also utilize the codes to exchange messages between them.
SWIFT Code is more or less similar to Canara Bank IFSC Code. SWIFT Code is accepted by the ISO or International Standard Organization and is valid for financial and non-financial institutions.
SWIFT Code consists of 8-11 characters. All 11-digit codes indicate the bank branches, while 8-digit codes specify the primary or head office.
The first four characters are letters representing bank code; the next two are branch code that is only letters. The following two characters can be a combination of digits and letters. The last three characters indicate the branch code.
For example: SWIFT Code of Canara Bank Ltd, Chennai Overseas Branch, Chennai is CNRBINBBMFD.
How to Find IFSC, MICR Code & SWIFT Code of Canara Bank?
No doubt, the Canara Bank IFSC Code, MICR, and SWIFT Code are critical to any online banking transaction. Now that you have enough information about the codes, it is also essential to know the way these. Right?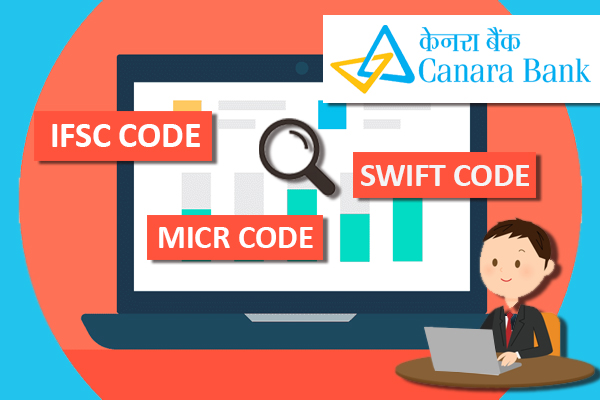 There are many sources to find the codes, like bank resources and third-party search engines. However, there is an easier way too. You can use an online search tool known as 'Find Your Bank.' The platform consists of a website and an app where you can access the details anytime you want.
Let us see how it works –
Open the app or visit Find Your Bank.
Land on the home page
Enter the details that are, bank name, district, state, and branch
IFSC code generates.
You will also find MICR and SWIFT codes.
Don't you agree that Find Your Bank is a user-friendly tool that helps you find the correct codes for a bank and branch? You can also trace the address from a known Canara Bank IFSC Code, SWIFT, and MICR code for a branch.
The app on your Android is also handy searching for the codes. You have the option to install the app from the Playstore. But do you know there are sources apart from Find Your Bank from where you can find SWIFT, IFSC, and MICR codes? Yes, there are. Let us discuss the additional sources to search the correct codes.
Canara Bank Passbook
Your bank passbook consists of IFSC and MICR code details of the bank's branch.
Canara Bank Cheque Book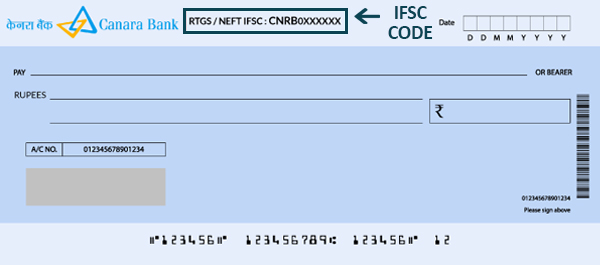 You can trace the bank's MICR and IFSC code on the chequebook. Canara Bank IFSC code is found on the cheque's top corner, while MICR is present at the bottom.
RBI Official website
The Reserve Bank of India (RBI) allotted IFSC and MICR codes to all banks and branches. RBI has its official website from where you can quickly locate the codes.
Canara Bank Net banking
You can find various code details on Canara Bank net banking or any other bank's digital platform for your convenience.
Canara Bank Customer care
It is ok if you sometimes find it challenging to trace the correct SWIFT code to conduct international transfers. The solution to the problem is to contact Canara Bank Customer Care to get the needed SWIFT Code. You can also get the code by having a look at the recent bank statements. For this, all you have to do is sign in to your Canara Bank account and click on 'view statement' and get the code.
How Can you Transfer Money Using Canara Bank NEFT, RTGS & IMPS?
Are you aware that there are different methods to facilitate the digital transfer of funds? Canara Bank has three other methods to carry funds transfer. Let us have an insight into the different ways of transaction.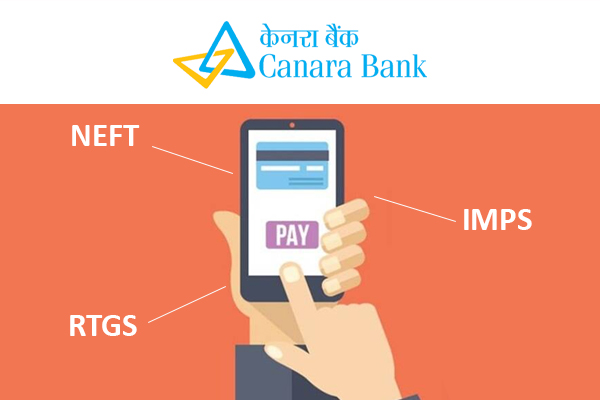 NEFT
One of the most used methods to transfer money online is National Electronic Funds Transfer. RBI has introduced the NEFT that facilitates the quick transfer of funds between banks across India. It is a secured platform that does not require a cheque or demand draft for funds transfer.
NEFT allows cash transactions in batches that operate hourly. The transaction depends on time, as it will take place the next day if the transfer request is made beyond NEFT working hours. The available timings for NEFT transactions are set as Monday -Friday from 8 am to 6:30 pm and 8 am to 12 pm on Saturday.
To your surprise, RBI has not set any limitation on the amount to transfer through NEFT. However, the setting of the limit depends on the specific bank. Canara Bank has a minimum limit of Rs 1 lakh and a maximum of Rs2 lakh for NEFT.
It also adds a transaction charge of Rs 15 +GST on transfer amount between Rs1 lakh -Rs2 lakh while above Rs2lakh has transaction charge of Rs25+GST.
Canara Bank NEFT form needs to have the following details –
Beneficiary's IFSC Code and account number.
Name of beneficiary and remitter.
Remitter's account and mobile number.
RTGS
Known as one of the quickest ways to transfer money is named Real Time Gross Settlement or RTGS. It is so fast that once you transfer money, the receiver will receive the amount immediately. Rarely, you might face a delay of only 30minutes.
RTGS is convenient as it does not result in an inter-bank settlement issue. You can make a transaction through RTGS to anyone across the world.
Canara Bank has set a minimum limit of Rs 2 lakh while there is no maximum cap. However, RTGS is costly than NEFT. You need to have the below details –
IFSC Code.
Beneficiary's name and account number.
IMPS
A smooth and convenient way to transfer funds between two bank branches is the Immediate Payment Service (IMPS). You have the convenience to send or receive money at any time of the day, including bank holidays and Sundays.
Canara Bank has set the limit of Rs 2 lakh per day for IMPS transactions. A transfer of Rs 5000 through mobile and internet banking does not have an additional fee. However, Rs.5 service charges are levied upon a transfer of Rs5000-Rs25,000.
You will need a net or mobile banking account to transfer funds from one account to another by Canara Bank IMPS. You need to have the recipient's Aadhar or account number or IFSC.
About Canara Bank
Canara Bank is considered one of India's largest public-sector banks owned by the Indian Government. With its headquarters in Bangalore, the bank is well known for its customer-centric service.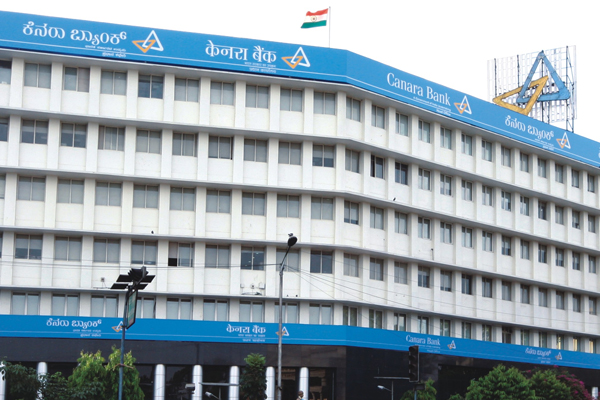 Canara Bank provides personal or retail banking, corporate banking, investor relation, and NRI banking. It also offers services in net banking and MSME banking. As of 2020, Canara Bank has 10,403 branches with 13,406 ATMs.
You can open Canara Bank Savings Account with the following documents -
PAN card.
Duly filled form.
Passport-sized photographs.
Identification proof- Voter's ID, Passport, driving license, PAN card.
Account Types

Interest Rate

Savings Bank account
3.25%-3.75%
Canara Basic Savings Bank Deposit
Account
4.00% -4.00%
Canara Small Savings Bank Deposit
Account
4.00%-4.00%
FAQs
Is There an Option to Open a Zero Balance Account in Canara Bank?
Yes, a Canara Bank Basic Savings Deposit Account is a zero-balance savings account. Any resident of India can apply to open an account.
Does Canara Bank Credit Card have IFSC Code?
Yes, Canara Bank has an IFSC Code. The bank provides the code. You can visit Canara Bank's official website or visit a branch to get the IFSC Code. It is required to add a credit card as a beneficiary by IFSC code to make payment through NEFT.
What is the Canara Bank CIF Number?
CIF or Customer Identification File is an 11-digit code number digitally generated used by the bank to individualize their customers. It avoids mismatching as it is unique information given to every account holder. CIF contains information of account holder's name, occupation, address, and bank account statements. You will find the CIF number on your Canara bank account while using internet banking services.
How Can I Place a Query Related to an Account Statement with Canara Bank?
You can place a query by either making a request through online banking or visiting the nearby branch. You can approach the customer care center of Canara Bank.
How Can I Stop a Cheque Payment with Canara Bank?
You can do it by visiting the branch. You can also use the net or mobile banking, SMS, or calling the Canara bank's customer care.