State Bank Of India IFSC Code, MICR Code and SWIFT Code
The use of codes like IFSC and MICR has made the banking system secure and systematic for regular use. Today, you need specific IFSC codes to make online money transfers to the desired bank account. For a wire transfer to a desired SBI bank account, you would need the particular SBI IFSC code of the receiver's bank branch.
IFSC codes, as assigned by the RBI throughout the country, are available and allocated to every bank and branch to uniquely identify them. While these are a mandate for cross-bank or interbank wire transfers, banking codes such as the MICR and SWIFT codes fulfill a specific purpose. In this article, you will explore different banking codes, why and how they are used, along their purposes.
You will read about the components of each code, what the digits indicate, and where you can find the desired code for a bank account/branch. The SBI IFSC code, MICR code, and SWIFT code, as discussed below, can be found easily through your banking portals and other documents. However, they can often be confusing, and it is easy to end up with a similar but wrong code.
Read along to find even easier ways of finding the right IFSC code and other banking codes quickly. To understand why you need a valid code, you need to start by understanding how these codes actually work and what could go wrong if you use the wrong ones. We will also explore the change in the SBI IFSC code scenario post the bank's merger with SBI Associate Banks and how this change impacts the listings and other provisions for customers.
Let's begin with talking about the State Bank of India's IFSC codes, how they work, what each digit indicates, and most importantly, where you can find them!
SBI (State Bank of India) IFSC Code
The SBI IFSC code is an 11-character alphanumeric code assigned to each SBI branch for unique electronic transactions. For instance, SBI Anand Nagar Bhopal branch IFSC code is SBIN0016153.
The first four characters, "SBIN," are indicative of the code of the bank, followed by a "0", and the next six digits, "016153", in this case, are the specific bank branch's code that is uniquely assigned to each SBI branch. Next, we come to why you need an IFSC code and how exactly it works. You must be aware that you cannot initiate any online banking transfers without an IFSC code of the receiver's bank branch.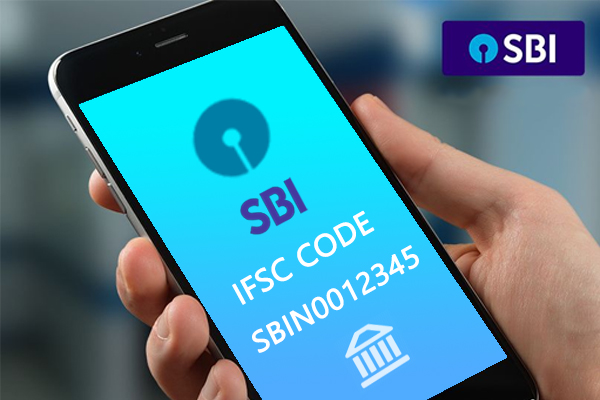 Whether it is NEFT, RTGS, or IMPS, you will need to fill in the SBI IFSC code of the bank branch in consideration before a transfer can be made. So, why are you required to fill an IFSC code, and what purpose does it serve? Well, the benefits are pretty straightforward. Sharing the apt IFSC code helps ensure that the transfer is being directed to the right bank branch and account.
This also helps avoid any discrepancies or wrong transfers in case the account details are mixed up. Without the correct IFSC match, the transfer will not be carried through, and a more secure system is in place for all online money transfers.
SBI (State Bank of India) MICR Code
MICR codes or Magnetic Ink Character Recognition codes are printed in distinct black magnetic ink and used for the unique identification and authentication of cheques. The use of MICR technology ensures that these codes can only be printed by authorities, and no duplicates or fraudulent versions can exist in circulation.
This technique is popularly used to ensure the authenticity and legality of a number of physical documents that are inked with a magnetic ink code that isn't duplicable. SBI's MICR code can be found on cheques, passbooks, and other documents, along with being indicated on other online banking platforms.
Each cheque or concerned document can be verified with a MICR machine that can detect the unique ink used and speed up the process of clearing cheques and authenticating paper documents.
The MICR code is printed in a 9 digit format wherein the first three digits represent the city, the middle three digits refer to the specific bank, and the last three digits are indicative of the specific bank branch. The SBI MICR code is very different from the SBI IFSC code or SWIFT code. While the IFSC codes are a prerequisite for online bank transfers, MICR codes are used to process cheques authentically and faster.
SWIFT codes of SBI, on the other hand, are limited to international banking transfers and communications between specific branches.
SWIFT/BIC code of SBI
While everyone out there isn't readily dealing with international transfers, some engage in regular banking transactions with international banks for their business or other purposes. If you need to transfer money internationally, you will need to provide a SWIFT code of the receiving bank for the same.
The SBI SWIFT code is an 8-11 digit alphanumeric code that acts as the unique identifier of an SBI bank branch for all international banking communications.Assigned by the Society for Worldwide Interbank Financial Telecommunication or SWIFT, the SBI SWIFTBIC Code is the Bank Identifier Code for communication exchanges or fund transfers between internationally distinct banks.
For example, the SBI SWIFT BIC Code for the LINKING ROAD, BANDRA branch is SBININBB520. Here, the 1st 4 letters are the code for the SBI Bank, the next two "IN" represent the country code, and two alphanumeric characters, "BB," follow this sequence specifying the location code. The last three characters (520) represent the exact SBI bank branch in consideration, which is Linking Road, Bandra, in this case.
How to Find IFSC Code, MICR Code, and Swift code of SBI?
Now that you have walked through the different banking codes that could be useful for fund transfers and cheque processing, the next pressing question is where to find them? Your desired IFSC, SWIFT, and MICR codes can be found in multiple ways, both online and offline. Here are some quick and easy ways of finding the IFSC codes for your SBI bank branch or the MICR or SWIFT codes for a specific branch that you want to make a transfer to: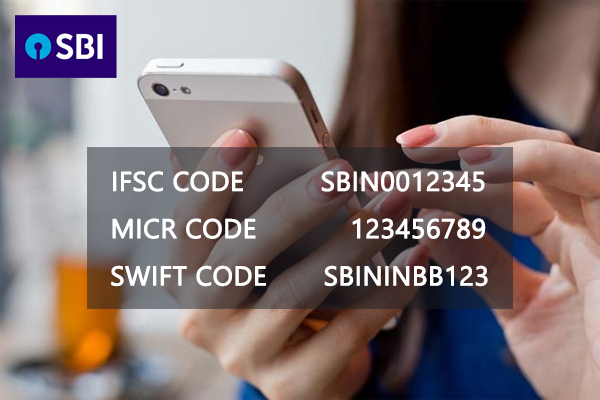 IFSC Search Tool - Find Your Bank
A pretty straightforward way to find the IFSC that you're looking for is FindYourBank's search tool, where you can look up any code for any bank branch. Find Your Bank is robust and popular as an IFSC search tool, where you can easily find the SBI IFSC code, MICR, or SWIFT code for any SBI branch that you're looking for.
You can follow these steps to find the SBI IFSC code, MICR, or SWIFT code that you're looking for:
1. Visit the website - https://findyourbank.in/.
2. Fill out the code finder or scroll down to select your bank from the list.
3. Select the bank of your choice.
4. Select the state of location and the district from the menu.
5. Select the specific bank branch you are looking for.
Once you've filled these out, the page will be redirected to the IFSC code search results, listing out the IFSC, MICR, and SWIFT codes, along with other details of the SBI branch that you run the search for. If you can't bother to log onto your system and run a search on the website, Find Your Bank also has a handy mobile app that makes the search process even smoother.
Download the app from the Play Store and search for your desired SBI code whenever needed. You can also find the IFSC code or MICR code that you're looking for in one of the following:
SBI Cheque Book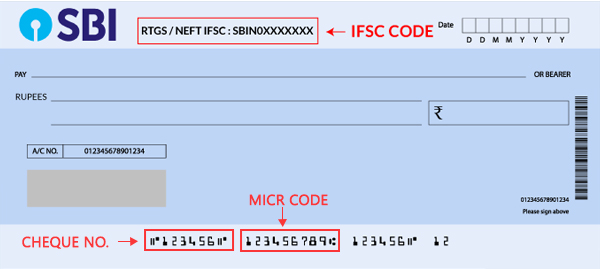 You can find the IFSC as well as MICR code on any of the cheque leaves in your SBI cheque book. The IFSC code is indicated at the top center, along with the bank address and other details. You can find the 9-digit MICR code at the bottom of the leaf, next to the cheque number as shown in the cheque below:
SBI Passbook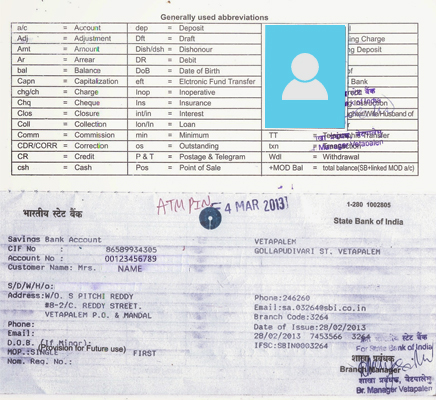 Your SBI passbook can also give you a quick glance into the IFSC code. Just have a look at the first page of the Passbook under the account holder's details and other information. The IFSC code is mentioned along with the branch details.
RBI Official Website
Visiting RBI's official website - https://www.rbi.org.in/Scripts/IFSCMICRDetails.aspx can be another quick way of searching for the SBI IFSC code that you're looking for. Simply select the Bank Name from the drop-down menu to access the banking codes and other details.
Net Banking
Net Banking can be another easy way to check out a specific IFSC or SWIFT code. Just head over to glance at any previous transaction details, and the IFSC code for a specific branch will be indicated in the details. You can also login to your account online at https://retail.onlinesbi.com/retail/login.htm and check your recent bank statement to find a certain SWIFT code or IFSC code that you're looking for.
Revised SBI IFSC Code after the Merger of SBI Associate Banks
SBI IFSC particulars have been altered after the 2017 merger of SBI with five associate banks. State Bank of India's decision for the merger was triggered by an expected 30% boost in assets without any impact on asset quality. The banks merged with SBI for the potential advantage that could be observed through the rationalization of costs.
The banks involved in this merger are the 5 associate banks: State Bank of Patiala, State Bank of Travancore, State Bank of Bikaner and Jaipur, State Bank of Hyderabad, and State Bank of Mysore. While the associate bank customers have nothing major to get concerned about, you can note that the old IFSC codes for these banks are altered as follows:
State Bank of Bikaner and Jaipur - SBBJ0010001 to SBIN0031001.
State Bank of Patiala - STBP0000001 to SBIN0050001
State Bank of Travancore - SBTR0000001 to SBIN0070001.
State Bank of Hyderabad - SBHY0020001 to SBIN0020001.
State Bank of Mysore - SBMY0040001 to SBIN0040001.
How to Transfer Money using SBI NEFT, RTGS & IMPS?
SBI offers various modes of money transfer, and the primary ones in use include NEFT, RTGS, and IMPS. All of them have distinct uses and requirements listed as follows: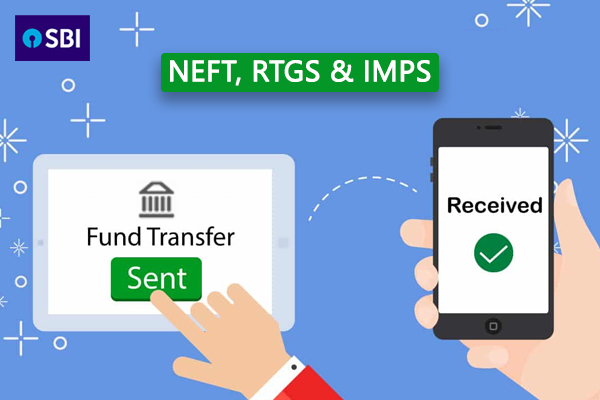 SBI NEFT
NEFT or National Electronic Fund Transfer is one of the most popular methods used for online money transfer. It is based on the DNS system, where transfer takes place in distinct batches. For SBI banks, NEFT is available 24/7 and 365 days of the year. Since the transactions occur in batches, if yours isn't cleared in the current one, it will go through with the following batch.
These transfers are not happening in real-time, and half-hour batches are scheduled for the same. The minimum transfer amount is Re1 with no cap on the maximum amount you can transfer. NEFT charges range from Rs. 2.5 to Rs. 25 + service tax, depending upon the amount transferred. Some banking details need to be filled out for each NEFT transfer. To initiate an NEFT transfer, you will require the following details:
Amount for the transfer
Sender's account number
Beneficiary's account number
IFSC code of receiver's bank branch
Destination branch name
Beneficiary's Name
SBI RTGS
SBI RTGS or Real Time Gross Settlement is a real-time fund transfer mode that is typically used for high-value fund transfers that are urgent. RTGS is available from 7 AM to 6 PM on working days, with the exception of Sundays and bank holidays. The minimum transfer amount is Rs. 2 Lakh with no maximum limit. Since these are carried out in real-time and involve higher amounts of money, RTGS is definitely costlier than NEFT transfers.
SBI RTGS charges range from Rs. 25 to Rs. 56 + service tax, depending on the amount of transfer as well the timing. For RTGS, the following banking details are required regarding the beneficiary's bank as well as your bank account:
Amount to be transferred
Sender's Account Number
Beneficiary's Account Number
Destination Branch Name
Destination Bank Branch IFSC code
Beneficiary's Name
SBI IMPS
IMPS or Immediate Payment Service is a mode of instant fund transfer at any time and any day. SBI IMPS operates 24/7, every day, and the transfers occur instantly. You can transfer as low as Re. 1 with a maximum limit of up to Rs. 2 Lakh. The cost of SBI IMPS fund transfer is up to Rs.15 for Rs. 1-2 Lakhs and even lower for lesser amounts. You can even make multiple transfers, and the receiver will receive the money instantly without any hassle. These are the details you'd require to get started with an IMPS transfer:
MMID of the beneficiary
Beneficiary's Bank Account Number
Beneficiary's AADHAR number
Destination Bank Branch's IFSC Code
Sender's MMID or Mobile Money Identifier
Sender's Mobile Number
About State Bank of India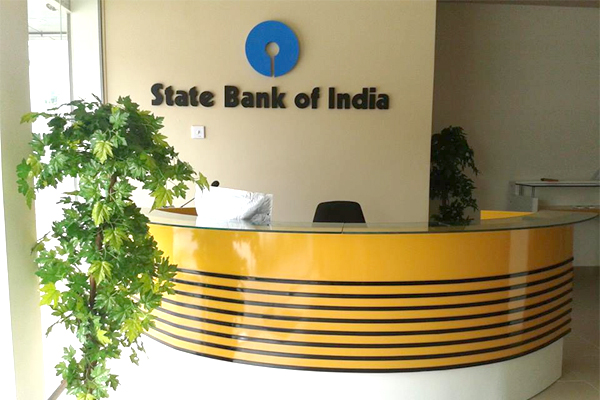 State Bank of India is a multinational and largest public sector bank in India. With its headquarters in Mumbai, the bank descended from the Bank of Calcutta, founded in 1806. SBI has over 59,000 ATMs, 24,000 branches, and 191 overseas offices spread across 36 countries over the world. SBI offers different kinds of accounts, including savings accounts, salary accounts, and a recent SBI Insta Saving Bank Account in provision. SBI interest rates for general and senior citizens are as follows as of 11th Jan 2021:
| | | |
| --- | --- | --- |
| Tenure Peroid | Interest Rates for General Citizens (%) | Interest Rates for Senior Citizens (%) |
| 7 Days to 45 Days | 2.90 | 3.40 |
| 46 - 179 days | 3.90 | 4.40 |
| 180 - upto 1 yr | 4.40 | 4.90 |
| 1 yr - upto 2 yrs | 4.90 | 5.40 |
| 2 yrs - upto 3 yrs | 5.10 | 5.60 |
| 3 yrs - upto 5 yrs | 5.30 | 5.80 |
| 5 - 10 yrs | 5.40 | 6.20 |
In order to open an SBI bank account, you need to be an Indian citizen, and the following prerequisites are listed:
18 years of age and above for eligibility or a legal guardian is required
Proof of Identity: Driving license, Voter's ID, Passport, etc.
Proof of Address: Driving license, Voter's ID, Passport, etc.
PAN card or Form 16
Two passport size photographs
FAQs
1) Where to use the IFSC code of SBI?
Your SBI IFSC code can be used for NEFT, RTGS, and other modes of online transfers. For any wire transfer, while filling in the account details, you will also be asked for the IFSC code of the receiver, which is where you can use it.
2) Is the IFSC code changed after the SBI merger?
Yes, the IFSC codes for associate banks have changed majorly with a change in the first four digits of the bank code. These include the IFSC code change for State Bank of Bikaner and Jaipur - from SBBJ0010001 to SBIN0031001, State Bank of Patiala - from STBP0000001 to SBIN0050001, State Bank of Travancore - from SBTR0000001 to SBIN0070001, State Bank of Hyderabad - from SBHY0020001 to SBIN0020001, and State Bank of Mysore - from SBMY0040001 to SBIN0040001.
3) Can I still use the old IFSC codes for SBI associate banks post the merger?
Old IFSC codes cannot be used to initiate transfers for the SBI associate banks. Only the new SBI IFSC codes stand valid for any fund transfers to post the merger.
4) What happens when the wrong branch's IFSC code is used for a fund transfer?
While most transfers cannot proceed without the correct IFSC code, with an account holder with the same account number in a different branch, there are chances of a wrong transfer being carried through if you fill in the wrong branch's IFSC code.