HDFC Bank IFSC Code, MICR Code and SWIFT Code
With the sophistication of online banking, one no longer has to stand in long lines for a simple wire transfer. However, taking the plunge into online banking, you need to become more aware of every step of the process. You cannot rely on asking bank officials over the counter about the details of a branch that you're making a transfer to. Finding out the right HDFC Bank IFSC Code or understanding how to deal with MICR and SWIFT codes, now become the prerequisites of digital banking.
This article helps you explore exactly that! Let us start by understanding how HDFC Bank IFSC Code works for a specific branch along with MICR and SWIFT Code and how you can find yours easily.
HDFC Bank IFSC Code
Online banking has made money transfers much simple, provided you know how to use the right IFSC code with the account holder's bank information. The IFSC code is essentially an 11-digit alphanumeric code that the RBI allots to every single bank branch. Here, the first four digits refer to the code of HDFC bank, with the next one being a 0 and the last 6 indicating the branch code.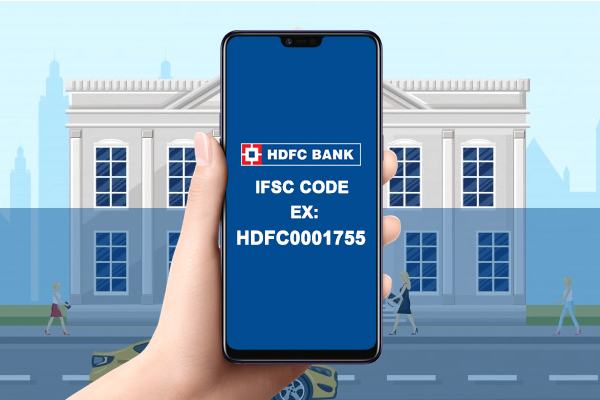 For instance, the HDFC bank Ashok Nagar branch IFSC code is HDFC0000136. Here, the first four digits' HDFC' clearly refers to the bank, followed by a '0' and '000136' - which is the actual branch code for the Ashok Nagar branch.
But what is the use of an IFSC code? Why is it compulsory to provide one while starting a bank transfer?
An IFSC code uniquely identifies every bank branch and helps establish that unique identification during NEFT, RTGS, and other transfers. With a distinct HDFC Bank IFSC Code, you can ensure your transfer is made to the right branch without the possibility of any inconsistency with the same.
HDFC Bank MICR Code
The MICR code is actively used for the secure processing of cheques. This isn't one that you need to provide but is already printed on cheques in distinct Magnetic Ink for the process of authentication.
MICR or Magnetic Ink Character Recognition Code is a nine-digit code that is printed on the bottom of cheques for the unique identification of a bank branch and authenticating the genuineness of the cheque. A MICR machine detects the bank branch that the cheque belongs to and only authenticates when the right code can be recognized printed in magnetic ink.
This helps to process cheques faster but makes it difficult for counterfeits to exist due to the use of unique MICR technology. For instance, 400240004 is a distinct MICR code of the HDFC Bank Ltd, Mumbai Khar branch.
HDFC Bank SWIFT Code
A SWIFT code is typically less heard of and used for any international money transfers made. It acts much like an HDFC Bank IFSC Code, just being a unique identification code for the bank worldwide.
Also known as the BIC or Bank Identifier Code, the SWIFT code is typically an 8-11 digit code that internationally identifies your bank and branch. The code also depends on the currency involved and the specific bank in concern. Sometimes a SWIFT code is also employed for the secure exchange of authentic banking messages between banks.
Here, the first four digits indicate the bank, followed by two digits of the country code and two digits indicating the location code. The branch code is often kept optional here as the last three digits. The SWIFT code for HDFC Bank Ltd will be of the format HDFCINBBXXX as approved by the International Standard Organization (ISO).
How to Find IFSC Code, MICR Code, and Swift code of HDFC Bank?
After understanding how these banking codes are structured and work, the next obvious question is how to find them? With different branches in the same bank, it can often be confusing to confirm whether a certain code is actually the right one.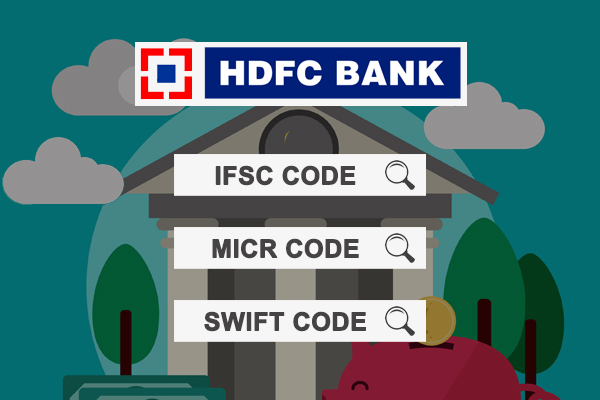 Finding the correct IFSC, MICR, and SWIFT code can be particularly difficult if you track down the same for a particular district bank. Find Your Bank offers a quick and easy way to find exactly the code that you're looking for.
Knowing the location for which you want to search an HDFC Bank IFSC code or any other code, you can find results in just a few simple steps:
Visit the Find Your Bank website.
Fill in the bank of your choice.
Specify the state and district.
Select the branch that you want to find the code for.
Click search, and you'll find the details of the exact IFSC, MICR, or SWIFT code you're looking for.
As a user-friendly search tool, Find Your Bank offers multiple options to find the branch codes and, inversely, their addresses. You can even use a known HDFC Bank IFSC code to find the address and consequently the MICR and SWIFT codes for the same branch.
Even when you're on the go, Find Your Bank's mobile app can be handy for a quick search. Install it from the Playstore and be ready to find any of these details whenever you need them.
Other than running a reliable search on Find Your Bank, you can find your HDFC Bank IFSC code, MICR code, and SWIFT code in the following distinct areas:
HDFC Bank Cheque Book
Your bank IFSC and MICR codes can be best found on the leaves of the bank cheque-book. The MICR code can be easily spotted at the bottom, while the HDFC Bank IFSC code​ is listed on top.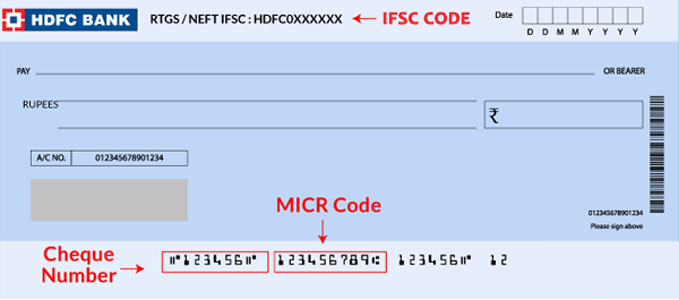 HDFC Bank Passbook
The bank passbook also indicates the IFSC and MICR code concerned with your specific bank branch. You can avail of this even if you don't apply for a cheque-book.
RBI Official website
The RBI assigns all unique IFSC and MICR codes. These can be easily found on the official website.
HDFC Net Banking
A specific HDFC code can also be found on the HDFC Bank Ltd net banking platform or other digital banking platforms
HDFC Customer Care
Sometimes, the SWIFT code seems to be difficult to find or confirm for international transfers. You can contact HDFC Customer Care to find a desired SWIFT code. Having a look at your recent bank statements can also help you check the code you're looking for. Log in to your HDFC bank account and click on 'view statement' to find your desired banking code.
How to Transfer cash using HDFC Bank NEFT, RTGS & IMPS process?
Now that you understand how the different banking codes work, let's move on to the other methods you can use to transfer money online. With HDFC Bank Ltd, three primary methods of money transfers can be initiated - NEFT (National Electronic Funds Transfer), RTGS (Real Time Gross Settlement), and IMPS (Immediate Payment Service).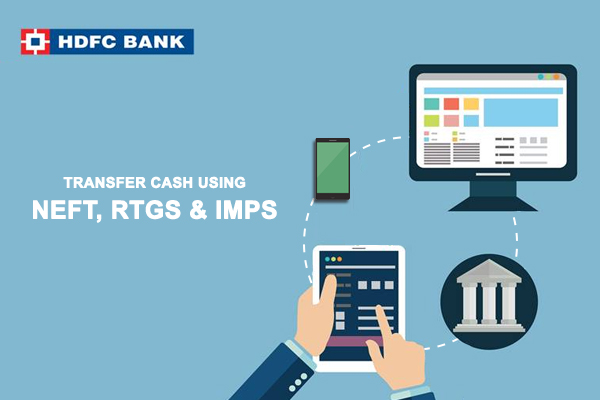 NEFT
Using NEFT for online bank transfers is one of the most common methods of transferring funds digitally. In this method, the cash is transferred in batches that operate on an hourly basis.
In this method, your money transfer depends on the operation of the specific batch. Thus, NEFT transfers are time-dependent and will be transferred to the next day if initiated beyond the bank's NEFT operation hours.
For HDFC Bank Ltd, as well as all other banks, RBI has allowed NEFT facility for 24 hours 365 days a year.
NEFT transactions for HDFC bank are capped at a maximum of Rs. 25 Lakh per day in case of online transfers. However, there is no minimum transaction amount. A transaction fee between Rs. 2.50 and Rs. 25 are applied, in addition to the applicable GST for NEFT transactions, depending on the amount transferred.
The following details are required to initiate an NEFT transfer:
Account number of you and the beneficiary.
Fund amount to be transferred.
Name of beneficiary.
Destination branch name and it's IFSC code.
RTGS
RTGS facilitates a payment system for high-value transfers almost instantly. RTGS is often used for important and urgent fund transfers as these get transferred individually.
A minimum amount of Rs. 2 lakhs is required to be transferred for an RTGS transaction via HDFC bank. However, there is no upper limit for the transaction when done from a branch. However, for online transactions, the maximum amount transfer per day is decided based on the customer's TPT limit, which is up to 50 lakh.
RTGS tends to be slightly more costly than NEFT, with the exact same information needed for processing.
The HDFC Bank charges Rs. 25 + GST for transactions between Rs 2 lakh and Rs. 5 lakh, and Rs 50 + GST for transactions above Rs. 5 lakh. The transaction timing is set from 8 AM to 4 PM from Monday to Friday, including first and third Saturdays.
IMPS
IMPS or Immediate Payment Service is the one that you'd use when you want to wire money instantly. This is the mode of transfer that is available 24x7, even on bank holidays, without any timing limitation either.
A maximum transfer of Rs 2 lakh per transaction can be made with HDFC IMPS as per the NPCI circular. You can make multiple transfers easily with the receiver getting the funds almost instantly with the transfer.
The IMPS charges effective from October 2020 for HDFC bank is Rs 3.50 + applicable GST from 0 to 1000. It is Rs. 5 + GST for transitions between Rs 1001 to Rs. 1 lakh. Rs. 15 + GST is charged on any amounts from Rs. 1 lakh to above.
The following details are needed to get started with an IMPS transfer:
MMID of the beneficiary and sender
Sender's mobile number
Beneficiary's AADHAR number
Beneficiary's Bank account number
Destination Bank's Branch IFSC code
About HDFC Bank
HDFC Bank stands to be a top-charting private bank in India, with one of the first RBI approvals in operation since 1994. Headquartered in Mumbai, HDFC Bank Ltd gained traction with a wide range of banking services extended in the commercial and investment strata.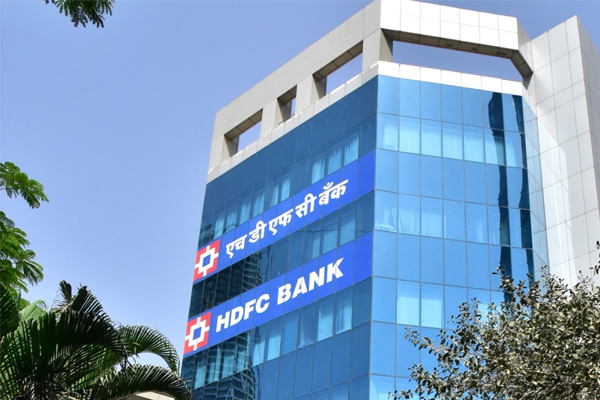 With 5,500 bank branches listed across 2,764 cities, it is listed as the No. 1 bank by Indian customers as per Forbes World's Best Bank Survey.
To start an HDFC account, the following documents are needed:
PAN card
Proof of identity - Passport or voter's ID
Proof of address - Passport, driver's license, etc
Form 16, in case of no PAN
2 passport size photographs
Interest rate of Saving account (Domestic, NRE, and NRO)
| | |
| --- | --- |
| Bank balance in Saving account | Rate (revised from 11 th June, 2020) |
| INR 50 lakh and above | 3.5% |
| Below INR 50 Lakh | 3.00% |
FAQs
Does HDFC Bank Credit Card have IFSC Code?
You will find an 11-digit HDFC Bank IFSC code on your HDFC credit card that is typically used for clearing an outstanding credit card bill through NEFT.
What is the HDFC Bank BSR Code?
The HDFC Bank BSR code is the Basic Statistical Return Code that is uniquely provided by RBI for all HDFC bank branches. 0510470 and 0511860 are BSR codes of HDFC Bank in the Bhiwani region.
What is the maximum transaction limit for NEFT transactions in HDFC?
The maximum limit for online NEFT transfer in HDFC is Rs. 25 lakh per day. For NEFT from branch office transfers, there is no minimum limit.
What are RTGS transaction timings for HDFC bank branches?
RTGS can be carried out in HDFC from Monday to Saturday, 8:00 AM to 4:00 PM with the expectation of bank holidays and all second and fourth Saturdays of the month.