Saurashtra Gramin Bank IFSC Code, MICR Code and SWIFT Code
You might come across terms like the IFSC code during bank transfers and wonder what it is. The IFSC code is a credential required for banking operations. Likewise, your Saurashtra Gramin Bank IFSC Code is a code that aids in the identification of your bank branch.
As stated, the IFSC is vital for identification. This code is also mandatory to complete transactions through various electronic transaction systems. The RBI utilizes the IFSC code to observe and monitor your transactions to ensure that all of them are safely completed.
MICR code is another distinct code, which is crucial to complete cheque transfers. You can obtain your MICR code from the cheque leaf, and it is required to process and verify cheque payments. If you're further interested in getting more information on these codes, keep reading.
Saurashtra Gramin Bank IFSC Code
Your Saurashtra Gramin Bank IFSC Code is an eleven-digit alphanumeric code made of distinct codes. You can acquire this code from your bank passbook and other bank documents that are provided to you.
IFSC code is among the most vital details that you will be required to fill in while completing several online transactions. This code is beneficial for completing quick and secure digital transactions. It is needed for the identification of your branch.
The IFSC code is always in the format CDEF0123456. For example, the Saurashtra Gramin Bank Head office located in Rajkot IFSC Code is SBIN0RRSRGB. You can segment this code into three parts where:
The first four digits (SBIN) represent the name of your bank,
the fifth digit is always a zero (0),
The final six digits (RRSRGB) represent the branch code.
Your bank uses this coded information to recognize the payment source as well as the destination. It also aids in interbank communication.
Saurashtra Gramin Bank MICR Code
Your Saurashtra Gramin Bank MICR Code is also a special code made of nine digits. However, it differs in the function altogether. This code is needed in the processing and clearance of cheque transfers.
You can find your MICR code on the cheque leaf. This code is printed through the MICR or Magnetic Ink Character Recognition technology. The nine characters in the MICR code are always present in the format 123456789. Here:
The first three digits (123) indicate the city name and are aligned with the PIN code,
The following three digits (456) represent your bank,
The last three digits (789) indicate the bank branch.
How to find the IFSC Code & MICR Code of Saurashtra Gramin Bank?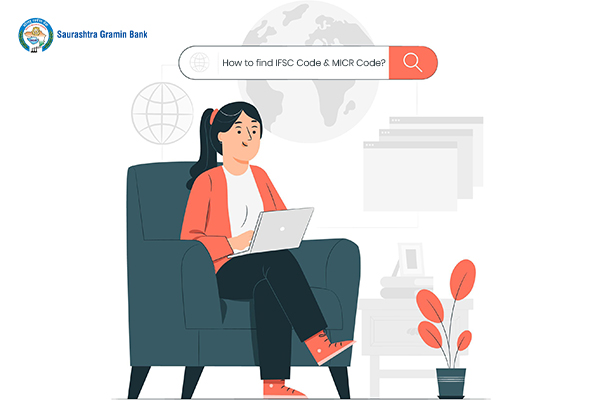 The Saurashtra Gramin Bank IFSC code and MICR code are some credentials that you will always need while making payments through electronic methods, and you should always know the same.
You can acquire these codes in several different methods. Some are explained ahead:
Find Your Bank
Find Your Bank is a website that should be among your top choices to redeem your IFSC and MICR codes. It offers other banking-related information and services as well, and you can enjoy them online.
To obtain the IFSC and MICR code of your bank branch, you need to simply go to the official website of Find Your Bank and enter the following data:
Name of the bank
State
District
Branch
Click 'Enter'
Once you're done with entering all of the required information, click enter, and you will be given all the necessary codes in the search results. Find My Bank has also developed a mobile application that lets you get these codes in a matter of clicks.
Bank Documents
The bank documents that are given to you always contain your essential credentials. You can get your Saurashtra Gramin Bank IFSC and MICR codes from the bank passbook and cheque book.
In the passbook, you can find these codes printed on the first page, and in the cheque book, you can locate them among the other details mentioned on the cheque leaf.
RBI
Your Saurashtra Gramin Bank IFSC code and MICR code can also be acquired through the official website of the Reserve Bank of India. RBI has an inventory that contains all the IFSC and MICR codes for the branches of all the banks located in India.
Netbanking or Mobile Banking
The Net Banking or Mobile portal of Saurashtra Gramin Bank is another way to get your codes. You need to first log in with your username and password. Once logged in, you can surf all the given options and find the appropriate one to get the respective codes.
Contact the Bank
Suppose all these methods do not work out for you; no need to worry. You can always approach your home branch or call the customer care unit of your bank, and they will guide you with the necessary details.
How to Transfer Money through NEFT, RTGS & IMPS processes of Saurashtra Gramin Bank?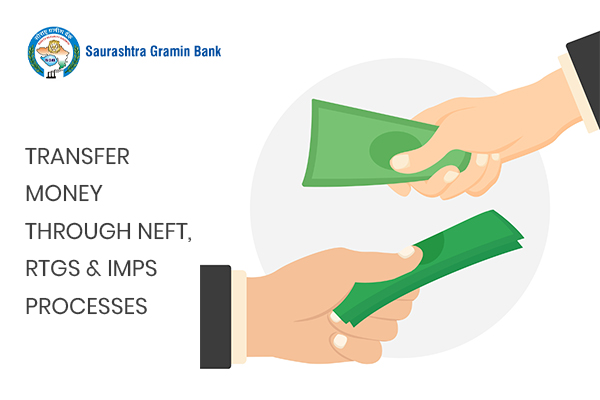 In this digital world, where there are paperless transactions everywhere, people mostly opt for electronic funds transfer. Methods like NEFT, RTGS & IMPS are becoming prevalent rather than using offline banking services for convenience and quick completion.
Another advantage with online payments is that you can complete them from the comfort of your space just by using a few details. Along with the Saurashtra Gramin Bank IFSC code, you will require the following credentials:
The amount of transaction
Beneficiary's bank name
Beneficiary's name
Account number of the remitter
Account number of the beneficiary
IFSC Code of the beneficiary's branch
Sender to receiver information, if applicable
You will always be required to fill in these details, and they will come in handy to you when you carry out fund transfers via electronic transaction systems.
NEFT or National Electronic Fund Transfer
National Electronic Fund Transfer, or NEFT, is a type of electronic payment system, and the Reserve Bank of India founded it. It is a popular transaction method due to its speedy delivery and ease of completion.
NEFT transfers are completed in settlements of batches and are based on the DNS or Deferred Net Settling system. The details of the NEFT service provided by Saurashtra Gramin Bank are mentioned ahead:
Timings
Available at all Times
Charges applicable

Rs. 3/- up to Rs.10000

Rs.6/- for Rs.10001 to Rs.1.00 lac

Rs.18/- for above Rs.1 lac to 2 lac

Rs. 30/- for above Rs.2 lac

Settlement
Batches
Maximum and Minimum limits
No limits on NEFT
GST applicable.
Payments through NEFT can be made through the Netbanking or Mobile banking service of your bank. First, log in to the respective platform with your username and password and select the NEFT option.
After that, add your beneficiary by entering the required information. Before you complete the transaction, make sure to read all the terms and conditions thoroughly.
RTGS
RTGS or Real-Time Gross Settlement is another electronic transaction method that works on a real-time settlement. In real-time, it means that the settlement of transactions is done at the time of receipt only.
These payments are based on an individual or gross system. Transactions made through RTGS are not reversible, and therefore, this service is usually used for higher amounts of fund transfers.
Timings
Bank working hours
Charges applicable

Rs.30/- for Rs.2 lac to Rs.5 lac

Rs.59/- for above Rs.5 lac

Settlement
Real-time
Minimum and maximum limit

The minimum limit is Rs. 2 lakhs

There is no maximum limit
To make a transaction using the RTGS service, first, log in to the online or mobile banking service using your username and password. Then, go for the RTGS option from the fund transfer menu and fill in the Saurashtra Gramin Bank IFSC Code along with all other credentials.
Once you enter everything, make sure to check the entered information and also read the terms and conditions carefully.
IMPS or Immediate Payment Service
IMPS or Immediate Payment Service is an instant electronic transaction system, and it is available at all times around the year, even on bank holidays. It is opted mainly by people because of the instant settlements of the transactions.
At the same time, IMPS is said to be a very convenient method. To send money using the IMPS service, go to the net or mobile banking portal of Saurashtra Gramin Bank. To complete a successful IMPS transaction, you will need the following details:
MMID or Mobile Money Identifier code
MMID code of the beneficiary
Account number of the beneficiary
Your mobile number
The AADHAR card number of beneficiary
IFSC code of beneficiary's branch
Timings
Available all times
Settlement
Instant
Charges

Rs. 3/- up to Rs.10000

Rs.6/- for Rs.10001 to Rs.1.00 lac

Rs.18/- above Rs.1 lac to 2 lac

Rs. 30/- above Rs.2 lac

Minimum limit
Rs. 10
Maximum limit
Rs. 2 Lakhs
You need to first log in to the mobile application of Saurashtra Gramin Bank with your credentials. Then, you need to select the 'IMPS' option from different fund transfer options available and then enter all the details required, as stated above.
During the transaction, a passcode will be sent to you, which you need to fill in, in order to complete the transaction successfully. Once you enter the passcode and complete the verification process, an affirmation message will be sent to you on your registered mobile number, along with a transaction number.
This implies that your transaction was completed successfully. You can use the transaction number sent to you to keep track of your transaction and also to seek help if any inconvenience occurs.
To receive money through these electronic methods, in the same way, you need to provide the remitter with all the required details of your bank account and branch.
About Saurashtra Gramin Bank
Saurashtra Gramin Bank is among the various Regional Rural Banks present in India. The bank was set up under the RRB Act in 1976. Saurashtra Gramin Bank was formed by the amalgamation of three banks, namely JRGB, JAGB & SBGB.
It was prompted by SBS (now State Bank of India) in 1978. The bank is spread across 11 districts of Gujarat, namely Rajkot, Jamnagar, Junagadh, Amreli, Surendranagar, Porbandar, Gir Somnath, Botad, Morbi, Dev Bhumi, Bhavnagar, Dwarka.
It is a reliable and trusted bank committed to uplifting all the sections of the society in order to bring economic development throughout the state. They have various deposits, loan schemes, and other products for their customers, all aimed to benefit their customers.
FAQs
1) How can I check my Saurashtra Gramin bank account balance?
To check your Saurashtra Gramin Bank balance, you can either give a missed call to the balance inquiry number 9289200123 from your registered mobile number to get the account balance immediately through SMS.
Other different ways to check the account balance are through internet banking or by using the ATM service.
2) What's the eligibility criteria for opening a bank account in Saurashtra Gramin Bank?
All resident individuals above the age of 18 or associations, businesses, and other groups that the RBI permits can open a bank account successfully. Minors who are above the age of ten can also open an account under the guidance of a guardian.
3) Where are the headquarters of Saurashtra Gramin Bank?
The headquarters of Saurashtra Gramin Bank is located in Rajkot, Gujrat, India.
4) What do you require for transferring funds using Saurashtra Gramin Bank?
To transfer funds using various services provided by the Saurashtra Gramin Bank, you will need your Saurashtra Gramin Bank IFSC code. Other essential credentials like the account and branch details, as stated in the article, might also be needed.
5) What is MMID?
MMID is the short form for the Mobile Money Identifier code. It is a seven-digit specific number that is issued by the bank, and it is provided to all the registered customers who are on the Mobile banking platform. MMID code is essential to complete a successful IMPS transaction.