Net banking has changed the way of banking from what it used to be earlier— no more visiting the branches often, no more standing in queues and struggling with the cashier for your banking needs. The same concept applies to Indian bank net banking as well.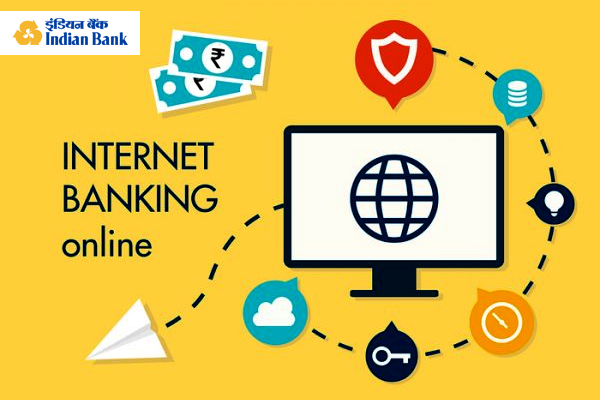 In the context of net banking, the IFSC code plays a critical role. The code helps to conduct error-free internet banking transactions and instant money transfers. IFSC code enables paperless transactions with quick validation and confirmation.
It also identifies the specific bank and branch involved in funds transfer. IFSC code allows the user to transfer money instantly without delay anytime from any place. All you need is an online banking account with the bank.
However, you need to have complete information on net banking and the way it works. Here is the blog that gives you a detailed insight into Indian bank net banking.
How to activate internet banking in Indian bank?
1) Visit the Indian Bank online portal https://www.indianbank.net.in/jsp/startIB.jsp.
2) Click on New User.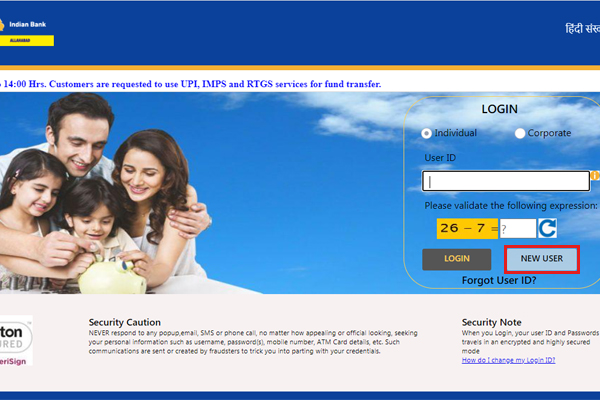 3) Enter the account number, mobile number, and captcha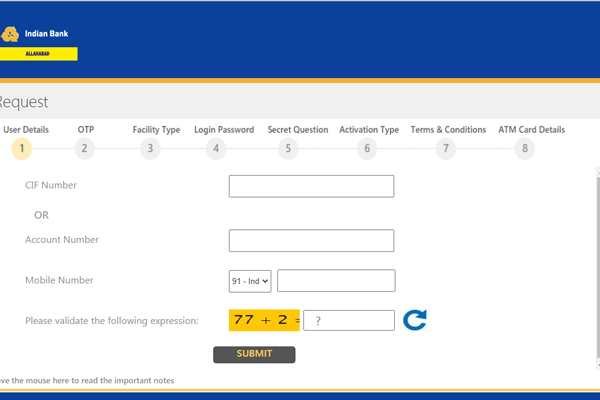 4) Submit the OTP that you will get on the registered mobile number
5) You can choose either View and Transaction facility or View facility only.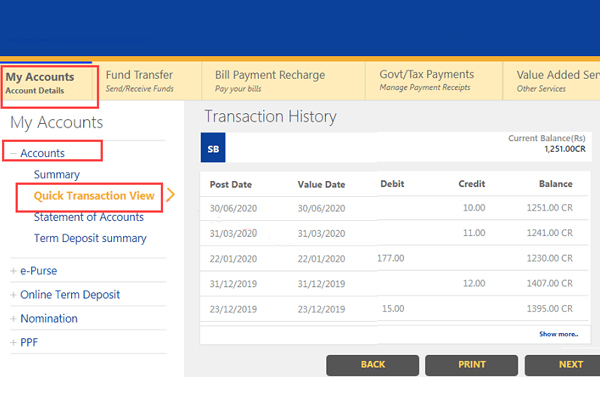 6) You will get a login ID and password.
7) Enter the details and select
8) Activate through branch – Customer has to print the downloaded application and visit the branch to activate net banking.
9)Activate through ATM – Enter the ATM details.
10)Accept terms and conditions.
11) Click on submit
How to Transfer Funds Online using IFSC Code?
Customers can transfer funds online through NEFT, RTGS, and IMPS. There is a need for the IFSC code of the specific bank branch to which you have to transfer the funds. 
The same applies to the Indian Bank as well. NEFT transfers money online in batches, while the RTGS does real-time fund transfers any time of the day.
RTGS is specially used in large value transactions that require immediate clearing. With IMPS, Indian Bank enables online transactions immediately and is available 24*7 throughout the year. It is also available on public holidays and Sundays.
1) Login to Your Indian bank net banking account
2) Click on Funds Transfer
3) Click on other IB accounts to transfer funds to another Indian bank account.
4) Enter your details in the 'From account section. Enter beneficiary's Indian Bank IFSC code in 'From account section
5) If you have to transfer funds to another bank apart from the Indian bank, select 'Other banks for NEFT.'
6) Enter the transaction password
7) Click confirm
How to add beneficiaries in Indian bank?
1) Visit the website portal of Indian bank https://www.indianbank.net.in/jsp/startIB.jsp.
2) Login to your Indian bank online account
3) Click on Add beneficiary.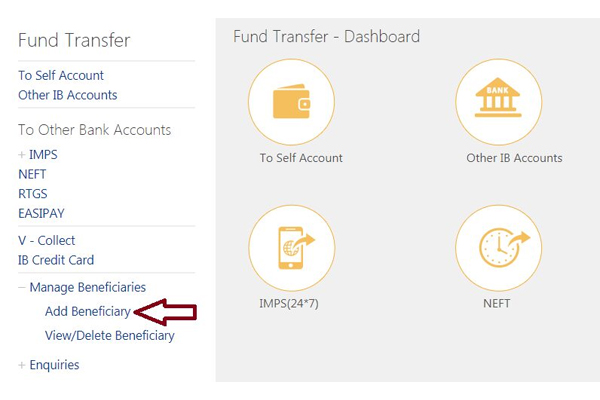 4) A new page will arrive on the website that displays a form.
5) Fill up the required details of the beneficiary that you have to add.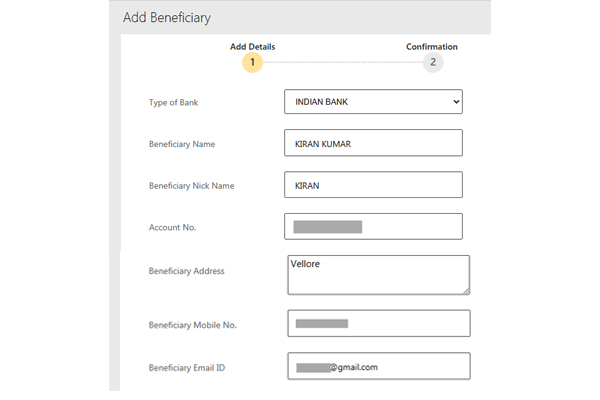 6) Click on Add
7) You will get an OTP on the mobile number.
8) OTP is a five-digit number. Enter it and click on
How to Reset Transaction Password in the Indian bank?
1) Enter User ID and password on the Indian bank net banking portal.
2) After logging in successfully, click on Options on the screen's top
3) Select Forget Transaction Password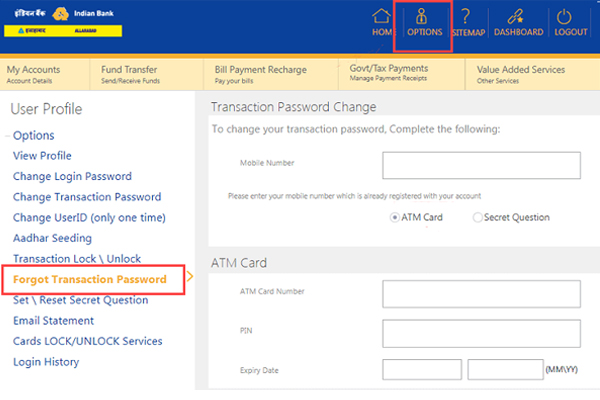 4) Select the option of ATM card
5) Fill in the details like the debit card number, ATM pin, and expiry month and year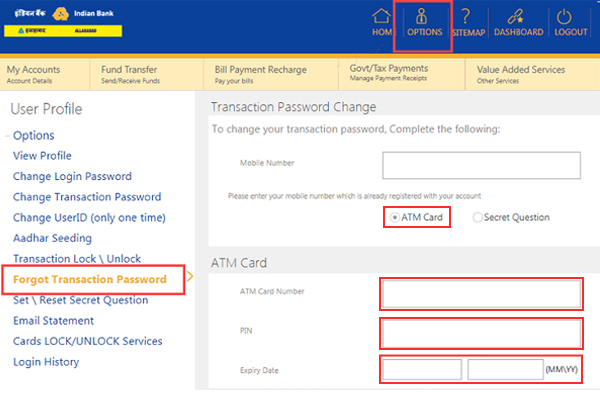 6) Enter the OTP
7) On entering the correct OTP, the website will direct you to another screen
8) Now, you can create a new transaction password. Confirm the new password and submit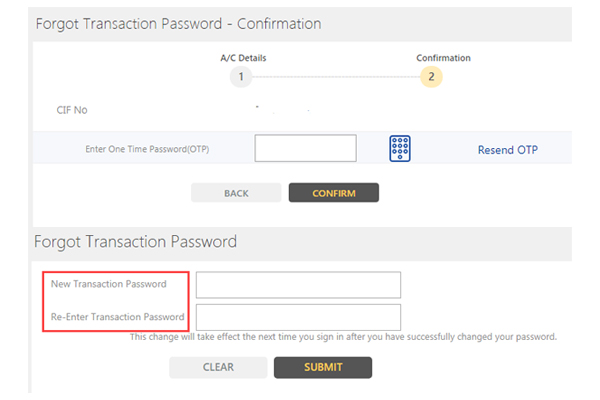 How to Check the Balance in Indian bank?
1) Log in to your Indian bank net banking account
2) Once you logged in, click on the accounts tab. It is on the screen's left side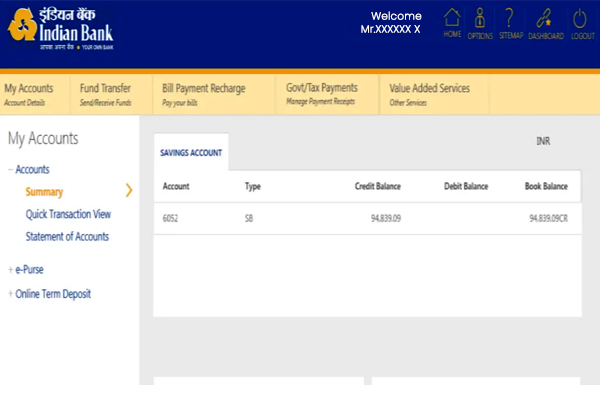 3) The page will show the balance in the account
4) Click on the statement to check the latest transactions
How to Register a Mobile Number in Indian bank?
1) You have to write an application letter. Mention your name, account number, and mobile number
2) Carry with you a photocopy of ID proof
3) Do not forget to sign the application and photocopy
4) Visit the branch in which you hold an account and submit it to the bank
Transaction Limits and Charges Applicable
Transfer Mode
Maximum Transfer limit
(Per Day)
Charges

NEFT

Rs 25 lakhs
Up to Rs 10,000; Rs 3 / transaction
Rs 10,000- Rs 1 lakh – Rs 6
Rs 1 lakh – Rs 2 lakh – Rs 14
Rs 2 lakh and above – Rs 29
IMPS
Rs 2 lakhs
Up to Rs 25,000 – none
Rs 25,000 – Rs 2 lakh – Rs 6
RTGS
Minimum – Rs 2 lakh
Maximum – Rs 25 lakhs
Rs 2 lakh – Rs 5 lakh – Rs 29 plus tariff
Rs 5 lakh and above – Rs 58 plus tariff
FAQs
1) What is user ID for the Indian Bank net-banking?
The Indian bank net banking user ID is the user's unique identity that the bank provides to log in to the net banking. It is either the account number or a combination of letters and numbers you get at the time of enrolling.
2) Can I withdraw or deposit funds using IMPS?
No, the Indian bank IMPS allows transferring funds only. You do not have an option to withdraw or deposit funds.
3) What will happen if I provide the wrong Indian bank IFSC code?
The Indian bank IFSC code identifies the correct branch and location of the payee account for quick process of funds. If you enter an incorrect IFSC code, the transaction will not complete, and then you will get the transfer amount back into your account. You will not lose money, but the process will take time.
4) How to unlock the Indian Bank online banking transaction password if I locked it accidentally?
You need to log in to the Indian bank net banking account. Here, click on Options. You will get the option to Lock/Unlock the transaction password. Click on it to unlock the password.
5) What are the security tips while using Indian bank net banking services?
Your net banking password should be strong with a blend of letters, numbers, and characters. The customer should also change the net banking password occasionally. Do not make the mistake of using public PCs for net banking.
Public PCs and wi-fi will expose the account details that threaten the customer's account. The user should never share their ID and password with any other individual who shows to be from your branch.