Punjab National Bank is an Indian public sector bank headquartered in New Delhi and extends a wide range of zonal and online banking services. With the PNB net banking service, you can book online tickets, make TNEB payments, and conveniently shop online quickly and securely.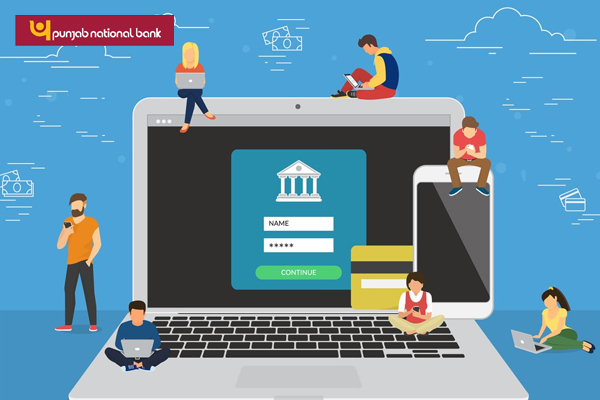 In the age of impulse shopping, people really prefer to pay on the go. PNB's net banking facility makes that possible since it can be availed both through their website as well as mobile banking. You can transfer funds, manage multiple accounts, make investments, and transfer funds smoothly with PNB net banking.
All you need to do is register for PNB internet banking, and you can access the net banking services through multiple devices. But, how do you register for it, and what are the different fund transfer options available?
How to Register for PNB Internet Banking?
To get started with the process of registering for PNB net banking, you can follow some simple steps and register through their website.
1) Visit the official website of Punjab National Bank – https://www.pnbindia.in and click on the e-services tab to access Internet Banking.
2) Click on Retail Internet Banking Login, and the page will be redirected to the User ID login.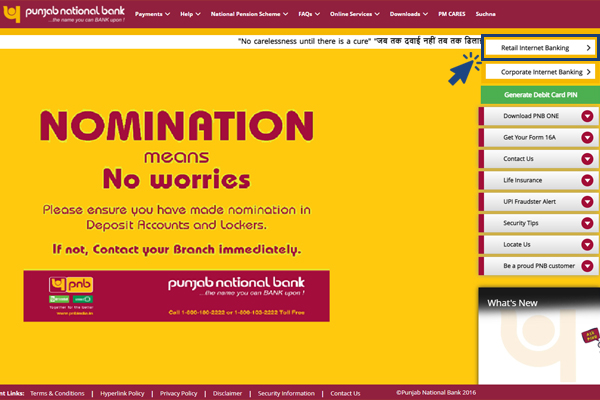 3) Click on 'New User' to start a new registration.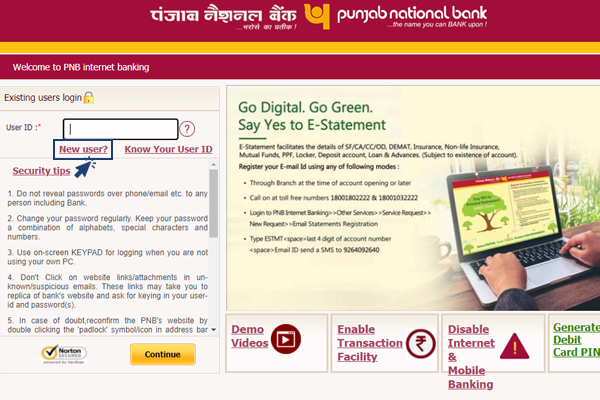 4) Fill in your account number details and select 'Internet Banking' under registration type.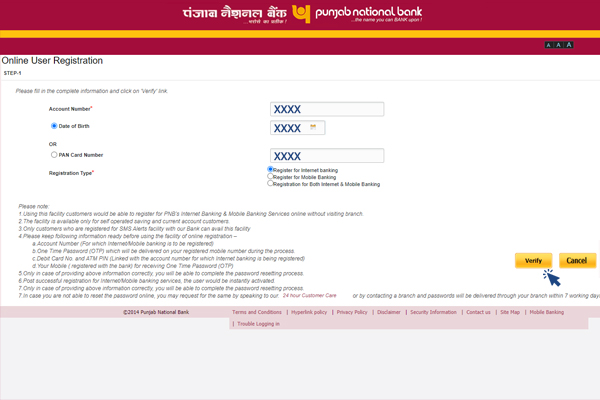 5) Select 'Verify' and proceed to enter the 'Type of Facility.
6) Enter the OTP received on your registered mobile number to complete the verification.
7) Fill in your PNB debit card details and click on 'Continue.'
8) After setting up your login and password, confirm the password and accept terms and conditions to complete registration.
You will receive a message of successful registration and can use your activated PNB net banking service with the registered login details.
How to log in to PNB Internet Banking?
1. Visit (https://www.pnbindia.in/retail-Internet-banking.html)
2. Enter user ID and click Continue. User ID and customer ID are the same.
3.     Enter the Punjab National bank login ID and click on the login
4. You will get an OTP to the mobile number you registered with PNB. Login successfully.
5. When you log in on the PNB net banking portal for the first time, you will have to select seven security questions from a set of 50 questions. Enter the answers to the questions you choose. To verify logging, you will have to answer any of the selected questions correctly.
6. Click on 'Register'.
7.     You will have to choose an image and write a relevant phrase in the first login.
8.     Click on Submit.
How to Set and Reset PNB Internet Banking Password?
1. Visit (https://www.pnbindia.in/retail-Internet-banking.html)
2. You will have to set the login and transaction password when logging in for the first time.
3. After visiting the official page, enter the user ID and click on 'Continue'.
4. Click on 'Forgot password' on the next screen.
5. Enter the user ID again and click Submit.
6. Enter the OTP correctly and click Continue.
7. Enter the PNB account number, PNB debit card number, and ATM pin. Then, continue.
8.     A screen will arrive where you will have to reset the password. If you want, you can change your login and transaction password. Click continue.
9.     You will get a success message on the screen after resetting the password.
How to Add a Beneficiary?
Adding a beneficiary makes the online funds' transfer process convenient and accessible.
1. Navigate the website (https://www.pnbindia.in/retail-Internet-banking.html)
2. Enter the correct login password.
3. Click on the menu 'Transactions'.
4. A new menu will appear. Click on 'Manage beneficiary.'
5. It will show different options like 'Add within PNB,' Add NEFT Payee,' and Add RTGS Payee.' If the beneficiary has a PNB account, select Add within PNB. The other two options are for beneficiaries not having a PNB account.
6. After selecting an option, click ok.
7. The next page will request you add beneficiary details like account number and nickname.
8. Validate the process and choose to provide global or local access.
9. Enter beneficiary's IFSC code and transaction limits.
10. Enter transaction password for security.
11. Click submit.
12. You will receive OTP.
13. Enter it and confirm the beneficiary.
Online Transfer Modes with Punjab National Bank
The different modes of online money transfer available with Punjab National Bank include NEFT, RTGS, and IMPS transfers. These three modes are varyingly used under PNB net banking for different purposes.
While NEFT is used for 24×7 money transfers, it can often take longer than IMPS transfers, which transfer funds almost instantly. The IMPS transfers do get capped at a certain limit, whereas NEFT has no upper limit for transfers.
The RTGS transfer mode offers yet another channel for Real-Time Gross Settlements. If you're looking to transfer a large amount of money that needs to be sentacross immediately, RTGS is the PNB net banking mode preferable for you.
How to Transfer Funds Online from PNB to PNB via Net Banking?
If you want to transfer funds to a fellow PNB bank account through net banking, the process is pretty straightforward. All you need to keep ready is the receiver's account and bank branch details, and you can initiate a transfer with the following steps: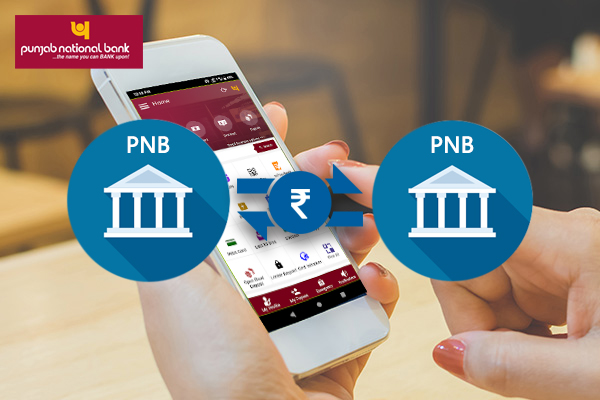 1) Log onto the Punjab National Bank website – https://www.netpnb.com/.
2) Click on the relevant user account, enter your user ID and click 'continue.'
3) You need to re-enter the User ID and password and head to the NEFT or the desired form page.
4) Fill in the details, including the name, address, and account details of the intended receiver, along with the Punjab National Bank IFSC code of the beneficiary's concerned bank branch to add a beneficiary.
5) Once the beneficiary is authorized, click on 'transactions' and select 'NEFT' or any other desired mode of transaction.
6) Select the account that you want to transfer from and the PNB beneficiary account, enter the transfer amount and proceed to 'continue'.
7) Enter the transaction password and submit.
8) Your payment will be processed successfully.
Thus, PNB to PNB banking can be swift with the basic knowledge of the account holder's details and bank branch. What does one do to initiate a transfer to a different bank?
How to Transfer Funds from PNB to Other Banks?
Well, the process of transferring funds from PNB to other banks is quite similar, with some differences in the time taken to transfer funds and the confirmation of the right beneficiary details with their other bank IFSC codes.
With a similar process of logging into your PNB account through the official website, you will need to find the IFSC code of the beneficiary's specific bank branch and fill it in along with the other details of the account holder. You can easily find the IFSC code to any bank branch on https://findyourbank.in/ifsc-code/punjab-national-bank with a quick search.
Proceed to add a beneficiary and initiate a transfer in the same manner, and the transfer will be made within 8-24 hours on the same or next working day.
Transaction Limits and Charges Applicable for Online Fund Transferring
Punjab National Bank does implement transaction limits and charges on each of the available PNB net banking options. The applicable charges for NEFT, RTGS, and IMPS also differ as per the amount transferred and the taxes applied on the same. These are listed below as per different fund brackets:
NEFT
| | |
| --- | --- |
| Amount Transferred (INR) | Charges |
| Under 10,000 | Rs.2.5 + GST |
| 10,000 to 1 lakh | Rs.5 + GST |
| 1 lakh to 2 lakh | Rs.15 + GST |
| Above 2 lakh | Rs.25 + GST |
RTGS
| | |
| --- | --- |
| Amount Transferred (INR) | Charges |
| Between 2 lakh to 5 lakh | Rs.25 + GST |
| Above 5 lakh | Rs.50 + GST |
IMPS
| | |
| --- | --- |
| Amount Transferred (INR) | Charges |
| 50,000 per day | Rs.5 + GST |
While there is no maximum limit for fund transfer under PNB NEFT, a maximum of up to Rs. 50,000 per day can be transferred through IMPS. A minimum transfer of Rs.2 lakh needs to be made to avail RTGS with no maximum limit defined. NEFT and IMPS transferred can be scheduled for as low as Re. 1 through PNB net banking.